Great efforts made to protect Tibetan culture, experts say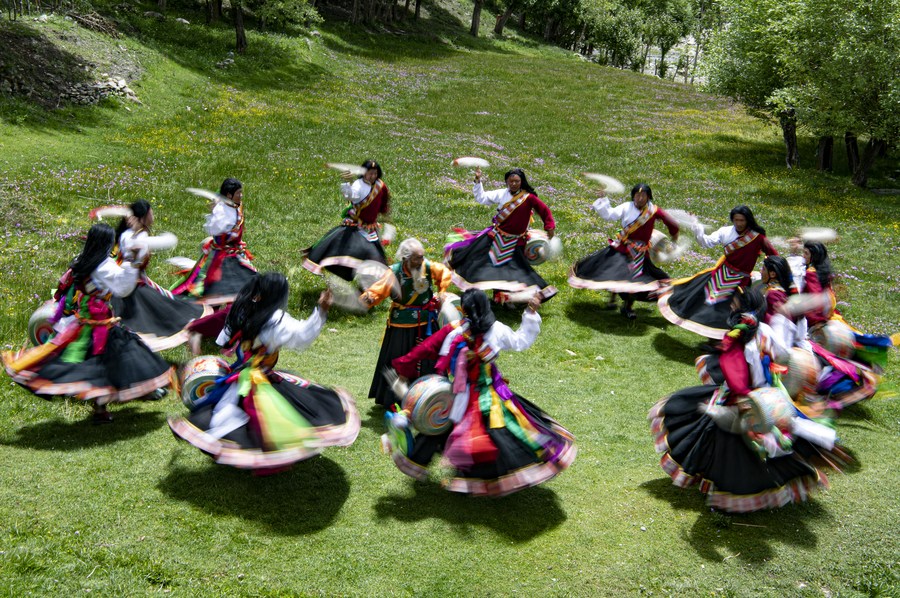 Dancers perform Jiuhe Zhuo Dance, a national intangible cultural heritage, in Jiuhe village of Qonggyai county in Shannan, Southwest China's Tibet autonomous region, on July 1, 2020. [Photo/Xinhua]
China has made unremitting efforts to protect the traditional culture of the people of the Tibet autonomous region as well as their rights and their development, experts said during an online events on the sidelines of the 49th session of the United Nations Human Rights Council on Monday.
Sherab Phapa, assistant researcher of the Institute of Social Economy at the China Tibetology Research Center, said efforts to protect and promote Tibet's intangible cultural heritages has made great progress.
One of the region's intangible cultural heritages was named an Intangible Cultural Heritage of Humanity by the UN in 2012. Furthermore, the region has 13 events being listed as State-level intangible cultural heritages, according to Sherab Phapa.
The nation has also channeled investments to restore museums in Tibet to help preserve the regional culture.
Liang Junyan, a researcher with the center's Institute of History, said that the nation invested 3.4 billion yuan ($530 million) to restore 155 cultural relics and units in the region from 2006 to 2020.
Liang said the region has established a management system to oversee the museums, which have played a key role in protecting and promoting the culture.
"As to the progress achieved in protecting the region's museums, the Tibetan traditional culture is burgeoning," Liang said.
Yang Liyuan, an assistant researcher with the center's Institute of Contemporary Studies, said the Chinese government has recognized Tibetan traditional culture as a national treasure, and it has made every effort to protect and pass down the culture while proceeding with measure to intensify socioeconomic development in the region.
He added, however, that Dalai Lama supporters and anti-China forces have long ignored the achievements and progress made in the regions and instead choose to slander the Chinese government.