New paved roads linking Tibet's regions together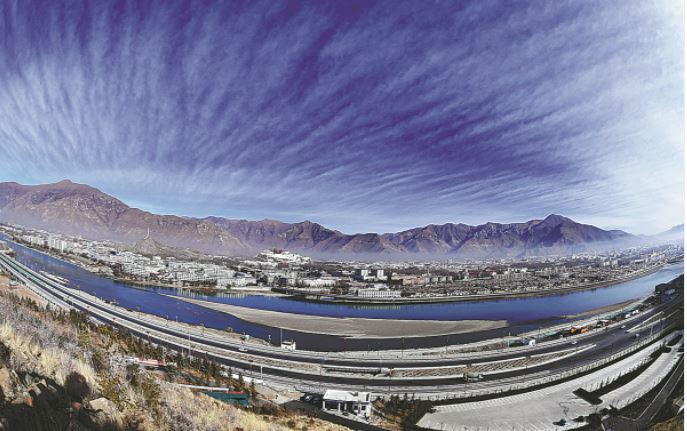 The Lhasa South Ring Road is one of the new roads completed last year in the Tibet autonomous region. [Photo by PALDEN NYIMA/CHINA DAILY]
Southwest China's Tibet autonomous region will invest 21.6 billion yuan ($3.4 billion) in its transportation and traffic sector this year, according to the region's traffic and transportation department.
The money will be used to resurface more than 600 kilometers of national and provincial highways, and more than 1,700 km of rural roads.
Last year, the region allocated more than 36 billion yuan to transportation, completed 20 billion yuan of fixed asset investment in highways and extended the region's highway network to more than 120,000 km.
Thanks to heavy investment, five townships and 67 villages were linked by paved roads last year. As a result, 94 percent of Tibet's townships and 77 percent of its villages are now connected by such roads.
Last year, the Lhasa-Nagchu Expressway, the world's highest, opened to traffic.
"With the exception of Ngari prefecture, all other cities in the region are now linked to expressways," said Xu Wenqiang, head of the department. "Thanks to expressway construction projects, 33,200 farmers and herdsmen were given migrant job opportunities over the course of the year and received about 210 million yuan in salaries."
Xu said that this year, Tibet will continue to work on improving its transportation network. "We will work hard to improve traffic conditions in rural areas and comprehensively extend the benefits of living in a well-off society to rural residents."
Tsering Tsodan, a village official in Driru county, said that residents live on steep hillsides where the roads are narrow and are often blocked by mud and rain in the summer, and snow and ice in the winter.
"An 8-km road project was funded by the government after we proposed it in 2020. The project is expected to start this year," she said. "Once the road is operational, travel between our township and the village will be greatly improved."