Preservation of Tibetan woodblock engraving focus of forum in Lhasa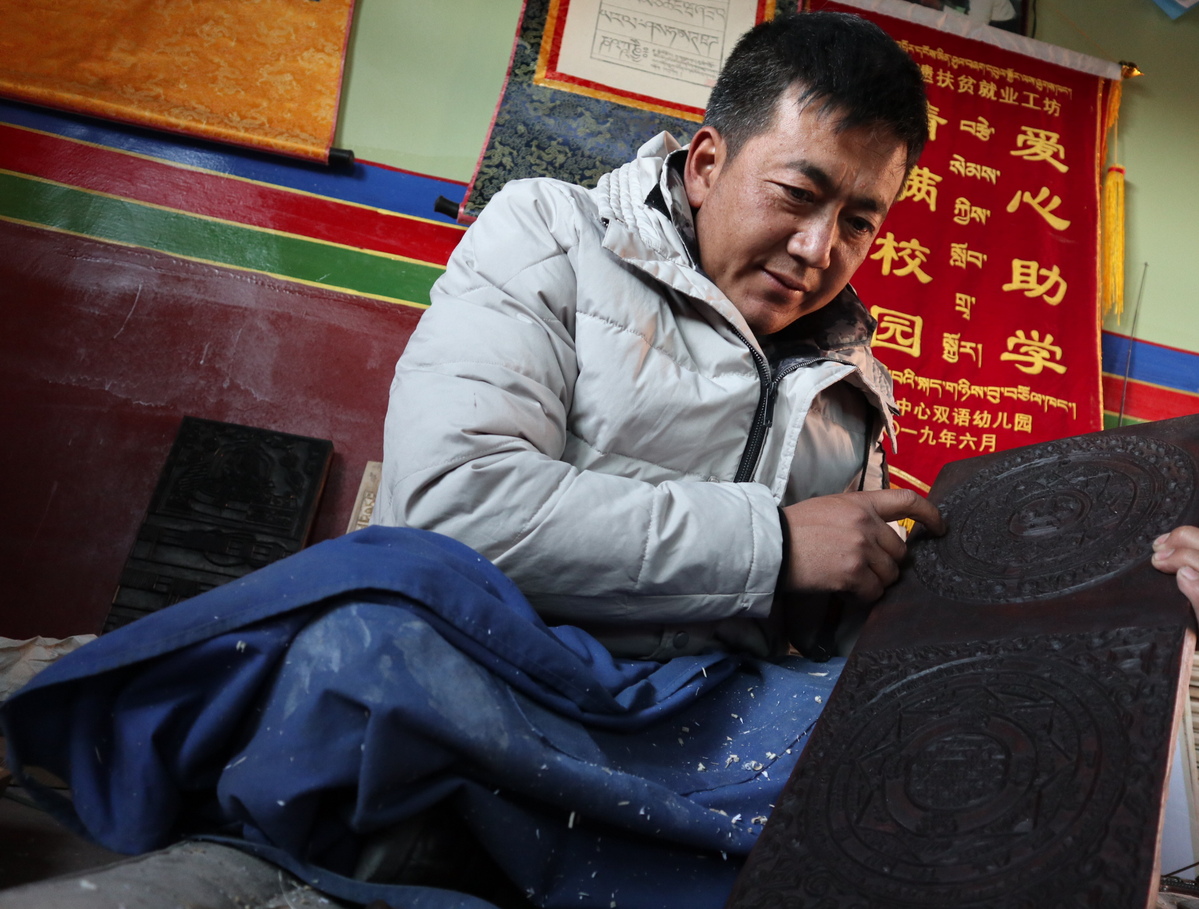 A forum on Tibetan woodblock engraving skills and poverty reduction was held last month in Lhasa, capital of the Tibet autonomous region, attracting experts who gathered to discuss the development of the ancient craft.
With a history of at least 400 years, Tibetan woodblock engraving is regarded as a "living fossil" in the history of printing. The innovation and development of the ancient cultural heritage in the new era has become an eye-catching topic today.
Yu Youxin, a prominent artist in Lhasa who is an enthusiast of the craft, was invited to attend the forum.
"Traditional woodblock engravings were a historical means of cultural communication and civilization exchange, and they have irreplaceable aesthetic value. Therefore, it's important to maintain and protect this ancient craft," Yu was quoted as saying by the China News Service.
Numo, director of the region's institute of ethnic art research, agreed.
"Tibetan woodblock engraving is a national intangible cultural heritage. It not only belongs to China, but is also a common intangible heritage shared by all humanity," he said.
"Tibetan woodblock engraving has played the role of an important carrier of historical memory and culture in the past few hundred years. We should be more aware of its significance to Tibetan ethnic culture and roots in the process of inheritance and protection."
In terms of the specific paths of maintenance and development of Tibetan woodblock engraving in the modern era, most experts commonly believe that marketizing it is a smart way to go.
More woodblock products that meet modern demands and make them more attractive to today's consumers must be developed, they said.
"We should promote the integration of intangible cultural heritage with the market, encouraging the development of Tibetan woodblock engraving skills through economic benefits. Otherwise, continuation of the craft will face obstacles," said Norbu Sithar, founder and head of the Tibet Academy of Thangka Painting.
Losang Tashi, a professor at Tibet University in Lhasa, said that with the improvement of livelihoods, attention to handicrafts is increasing, and it is time to make woodblock engraving part of people's daily lives.
"Relevant institutions and departments should set up more exhibitions and special museums to give people an opportunity to experience the beauty of woodblock engraving," he said.
"Only when people generally understand and accept this craft will the market open, and with a market system, cultural continuity will be much easier."
Karma Chodrak, a renowned woodblock craftsman in Tibet's Nyemo county, said he has been using the tourism market to develop his business for years.
"With the growth of the tourism sector in recent years, I have started producing tourist products to help carvers earn more money," he said.
In 2009, he began to make souvenirs to sell to tourists.
"In recent years, I have created many products for tourists using traditional carving skills and materials, and I have received many orders from tourists and outsiders from everywhere in China," he said.
"Society's needs change as time goes on, and as it does, it is crucial to make sure the ancient art survives."