Giant thangka exhibited in Tibet to mark monastery anniversary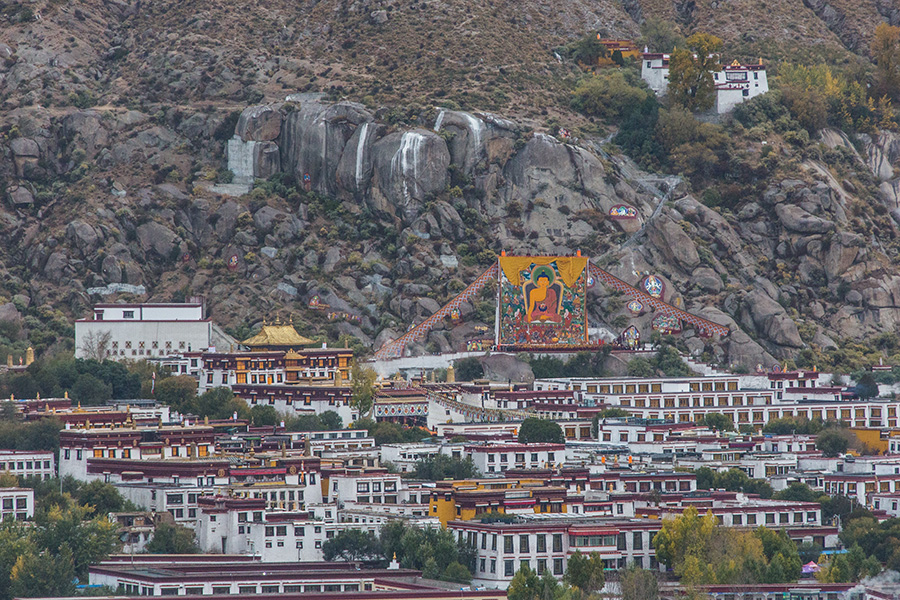 A giant thangka painting of the Buddha is exhibited at the Sera Monastery in Lhasa, capital of Southwest China's Tibet autonomous region, on Oct 21, 2019 to mark the 600th anniversary of the monastery's founding. [Photo by Palden Nyima/chinadaily.com.cn]
Thousands of people braved the rain to pay a visit to a giant thangka - a religious image embroidered in silk - of the Buddha at Sera Monastery in Lhasa, capital of Southwest China's Tibet autonomous region. The pilgrimage took place on Monday to mark the 600th anniversary of the monastery's founding.
Built in 1419 on the northern outskirts of Lhasa, the Sera Monastery is one the six largest monasteries of Tibetan Buddhism's Gelukpa School, and is one of the three major Gelukpa School monasteries of Lhasa. The monastery was founded by Chamchen Choje, one of the eight main disciples of the Je Tsongkhapa, the founder of the Gelukpa Sect of Tibetan Buddhism.
Continuous rain early in the morning and the chill autumn air did not stop people from finishing their journeys.
According to local residents, the four-day long activities during the 600th anniversary included religious rituals, a thangka show, a Tibetan opera show and a short holiday for the monks, and all visitors to the event were provided with a Tibetan-style lunch by the monastery.