Holiday consumption shows robust recovery
New Year 'spending enthusiasm' welcomed as Spring Festival nears
Restaurants, hotels and shopping malls across the country saw a return of the long-lost hustle and bustle of crowds during the New Year holiday, following China's optimization of COVID-19 control measures and as a large number of people recovered from coronavirus infections.
The daily service sector saw robust recovery during the three-day holiday from Saturday to Monday, and daily online consumption in the sector was 75 percent higher than for the New Year holiday in 2019, before the pandemic, according to a new report by online platform Meituan, which provides a range of lifestyle and delivery services.
In particular, the amount of spending recorded in Guangdong, Jiangsu and Zhejiang provinces, as well as Beijing and Shanghai, ranked at the top nationwide.
Meanwhile, nonlocal spending — the amount spent by travelers — jumped significantly and helped drive overall holiday consumption, the report said.
"Chinese consumers have shown their spending enthusiasm as Spring Festival draws near, and there was pent-up demand, which was earlier limited by the pandemic, that needed to be released," said Song Xiangqing, vice-dean of Beijing Normal University's School of Government.
"Retail, catering, accommodations and scenic spots nationwide are expected to embrace another round of a spending spree," Song added.
During the first two days of the holiday, many restaurants, especially large-scale ones, saw people waiting in line to dine, and the total amount that dine-in customers paid in online transactions at restaurants was double that of the previous week, according to Meituan.
Liu Zihao, the owner of a flower shop in Beijing, said that as of the afternoon of New Year's Eve, which was Saturday, the volume of orders gradually began to increase. As of Sunday morning, he had sent out dozens of bouquets via express delivery, China Media Group reported.
Local entertainment, such as visiting karaoke venues and hot springs, was also favored by young consumers during the holiday. The volume of orders at do-it-yourself handmade workshops surged 242 percent over the pre-holiday period, and the number of orders for having New Year-themed photos taken also jumped remarkably, according to Meituan.
Meanwhile, vacations at high-end hotels or bed-and-breakfast stays with distinctive features also were popular. On Dec 31, the occupancy rate of high-end hotels available through Meituan hit a record high for 2022, and more than 80 percent of those booking rooms were under 30 years old, the report said.
Many hotels at popular tourism destinations, such as Sanya in Hainan province, Xishuangbanna in Yunnan province and Zhangjiakou in Hebei province, saw their rooms fully booked during the holiday.
Prices of hotel rooms, especially those in warmer destinations, climbed significantly during the holiday, according to Suzhou-based online travel agency Tongcheng Travel.
"Chinese consumers have shown a gradual recovery in their confidence to take trips, and this has contributed to the fast warming-up of the domestic tourism market over the New Year's holiday. In particular, the demand for long-haul travel picked up," said Cheng Chaogong, a senior researcher at Tongcheng Travel.
"The business performance and the recovery of the tourism markets in some destinations have been better than expected, and this has laid a solid foundation for the further rebound of the tourism market for the whole year," Cheng said.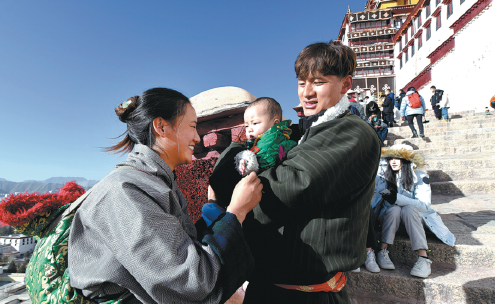 Tourists from Gansu province visit Potala Palace in Lhasa, Tibet autonomous region, on Tuesday. The scenic spot, which is also a UNESCO World Heritage site, reopened to the public on Tuesday after its temporary closure on Aug 9. All visitors will be exempted from entrance ticket fees until March 15. LI LIN/CHINA NEWS SERVICE
By ZHU WENQIAN