Tibet powers up clean energy development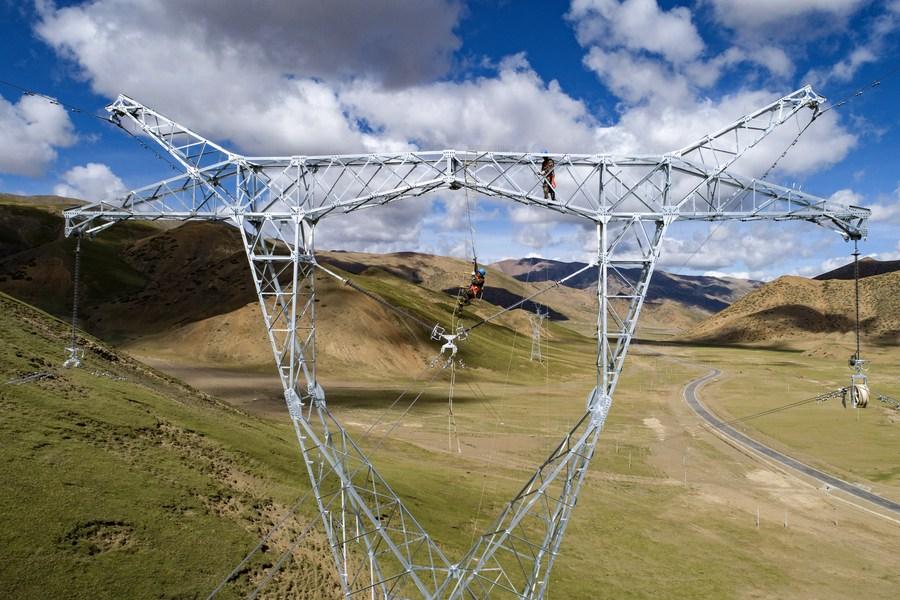 Aerial photo taken on Sept. 8, 2020, shows workers operating on the power line in Jilung County, Xigaze City of southwest China's Tibet Autonomous Region. (Xinhua)
LHASA, Dec. 30 (Xinhua) -- Despite the biting cold at an altitude of about 4,500 meters on the "world roof," workers were busy installing photovoltaic (PV) panels.
With the last module switched on, the 120,000-kW PV power generation project in the city of Nagqu, southwest China's Tibet Autonomous Region, started operation on Dec. 25.
Hu Chunqing, a manager from the Tibet branch of Huadian New Energy Group Co., Ltd., said it took only 90 days for more than 1,000 workers to complete the project, adding warmth and light to the residents in northern Tibet in the cold winter.
As the biggest PV power generation project in Tibet, it is expected to help cut 219,600 tonnes of carbon dioxide emissions, an equivalent to 76,300 tonnes of standard coal, every year.
Konggar, a maintenance worker along the Qinghai-Tibet Highway stationed on a mountain pass, said as his station was too remote to be covered by the state grid, they had to rely on a power generator, which was both expensive and unstable in power supply.
"With the project put into use, we no longer worry about the power problem," said Konggar.
With abundant solar, water and wind resources, Tibet has been accelerating the development of clean energy in the past five years.
In November, Tibet started constructing a county-level distributed PV power generation project on rooftops, the first of its kind in the region.
Also in November, a 1.2-million-kW hydropower project started operation on the border of Tibet and Sichuan Province, the first hydropower station at the upper reaches of the Jinsha River.
According to the region's five-year plan from 2021 to 2025, Tibet will facilitate the development of PV power generation, and the total installed capacity in the region is expected to exceed 10 million kW by 2025.
In 2023, the country will continue to intensify energy infrastructure construction with more efforts to optimize power production and transmission, and actively promote the upgrading of distribution networks and the construction of rural power grids, according to the Central Economic Work Conference held in mid-December.
The conference also pointed out that the construction of large-scale wind power and photovoltaic bases will be accelerated to improve the efficient use of clean energy.
"Developing clean energy shows the idea of 'lucid waters and lush mountains are invaluable assets' and the harmonious coexistence of humanity and nature in Tibet," said Chen Pu, deputy director of the institute of the economic strategy of the Tibet Academy of Social Sciences.