49 sites identified for national park system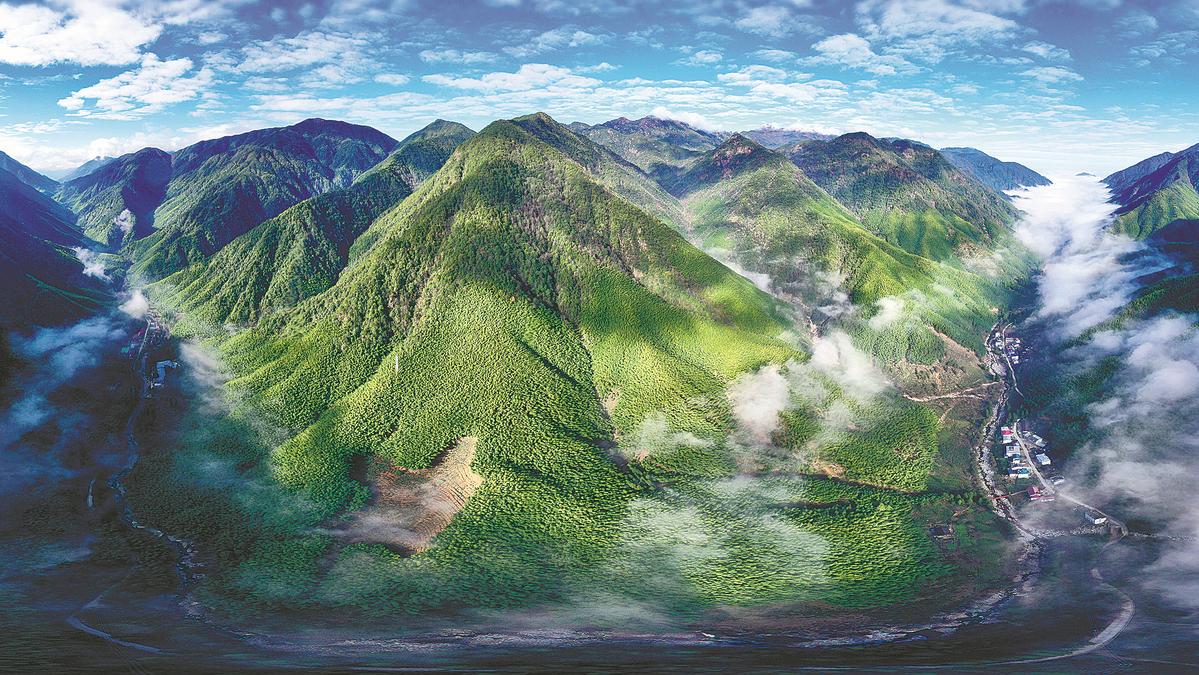 A village nestles in a valley in the Wuyi Mountain National Park. JIANG KEHONG/XINHUA
Forests, grasslands, wetlands, deserts involved to protect wild flora, fauna
China has identified 49 sites in 28 provinces where national parks have already been established or can be potentially built, a move aimed at creating the largest national park system in the world.
The details were outlined in the National Park Spatial Layout Plan recently released by the National Forestry and Grassland Administration.
Li Chunliang, deputy head of the administration, said at a news conference on Thursday that the selected areas represent the country's most important natural ecosystems and rarest natural landscapes, and also have the richest biodiversity.
"China will complete the development of its national park system by 2035. It will be the largest in the world in terms of coverage, biodiversity and public participation," he said.
Of the sites identified, 13 are in the Qinghai-Tibet Plateau and account for 70 percent of the total area of the national park candidates. The Yellow River Basin has nine candidates, while 11 are in the Yangtze River Basin.
The spatial layout plan involves forests, grasslands, wetlands and deserts, which will help protect more than 80 percent of the wild flora and fauna.
The national parks will be jointly developed through franchising, volunteer services and ecological management, Li said.
The 49 sites include the five national parks that were established last year — the Three-River-Source National Park, the Wuyishan National Park, the Giant Panda National Park, the Northeast China Tiger and Leopard National Park and the Hainan Tropical Rainforest National Park.
The comprehensive national park plan was jointly developed by the National Forestry and Grassland Administration, the Ministry of Finance, the Ministry of Natural Resources and the Ministry of Ecology and Environment.
Wang Zhigao, director of the administration's Nature Reserve Management Department, said at the news conference that efforts will be made to periodically assess the parks' protection and management once these are officially established.
After the assessment, they will allow the parks that do not meet required standards or cause major losses to natural resources to correct matters within a stipulated period. Those that are still not able to meet the required standards will have to exit the national park system, Wang said.
In 2017, the central government had approved the "Overall Plan for Building a National Park System "and set up some pilot national parks. The facilities were designed to unify the management of nature reserves for wild species.
Guo Jinlong, deputy head of the Ministry of Ecology and Environment's Natural Ecological Conservation, said at the news conference that since 2018 the ministry has begun monitoring human activities in protected areas of the pilot national parks.
"The supervision aims to achieve closed-loop management and reduce the impact of human activities on the environment in protected areas," he said.
The five existing national parks have achieved good results in terms of biodiversity conservation, Guo said. For example, 14 new species have been found in the Wuyishan National Park in Fujian and Jiangxi provinces in the past three years, he added.
By LI HONGYANG