For border police, duties include animals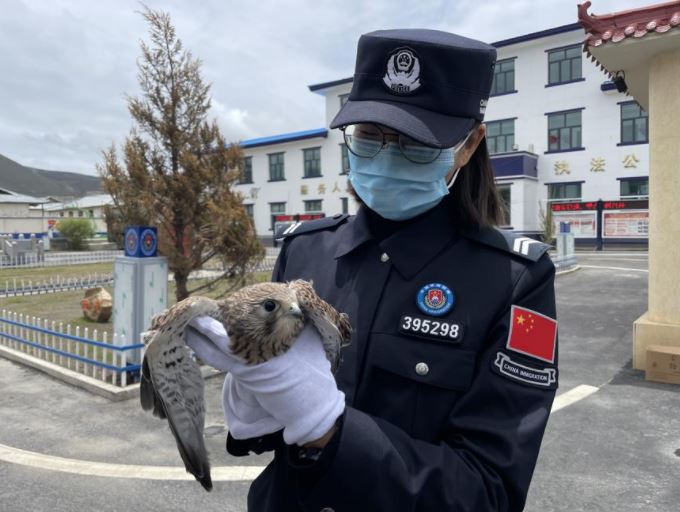 A police officer of the Pari border police station in Dromo county of the Tibet autonomous region poses for a photo with the wounded golden eagle chick that was rescued. [Photo provided to chinadaily.com.cn]
Police officers in Dromo county of the Tibet autonomous region rescued a wounded golden eagle chick while on patrol recently. The species is under national first-class protection in China.
The chick was discovered on the road by Pema Tsetan and Tenzin Sonam, two Tibetan police officers assigned to the county's Pari border station, during a routine patrol on Saturday night. The chick was in critical condition and could only walk slowly.
"Using protective equipment, we took it carefully back to the station," Pema Tsetan said. "It was placed in a carton and given water and food."
The next day it was transferred to the county's forestry and grassland bureau for professional treatment.
"Besides providing safety for people in the community, a policeman's duty includes protecting animals. I feel proud and pleased that we saved the life of a rare animal," Pema Tsetan said.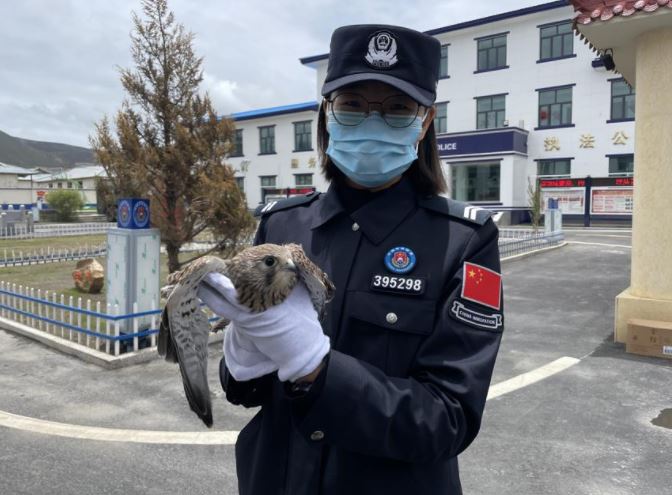 A police officer of the Pari border police station in Dromo county of the Tibet autonomous region poses for a photo with the wounded golden eagle chick that was rescued. [Photo provided to chinadaily.com.cn]
The wounded chick will be released back into the wild after it makes a full recovery, officers said.
In October, Pema Tsetan's station received a call from the local villagers to rescue a wounded adult golden eagle. Together with forestry and grassland bureau, they saved the big bird.
Pari township, at an average altitude of 4,000 meters, is known for the Pari Grassland, which is a stable home for many rare species, including black-necked cranes and golden eagles.
"We will continue to work with local residents to safeguard Mother Nature and to promote their awareness of ecological preservation," said Nyima Drokar, another police officer at the station.
By Palden Nyima and Daqiong