Borders no boundary to protecting cranes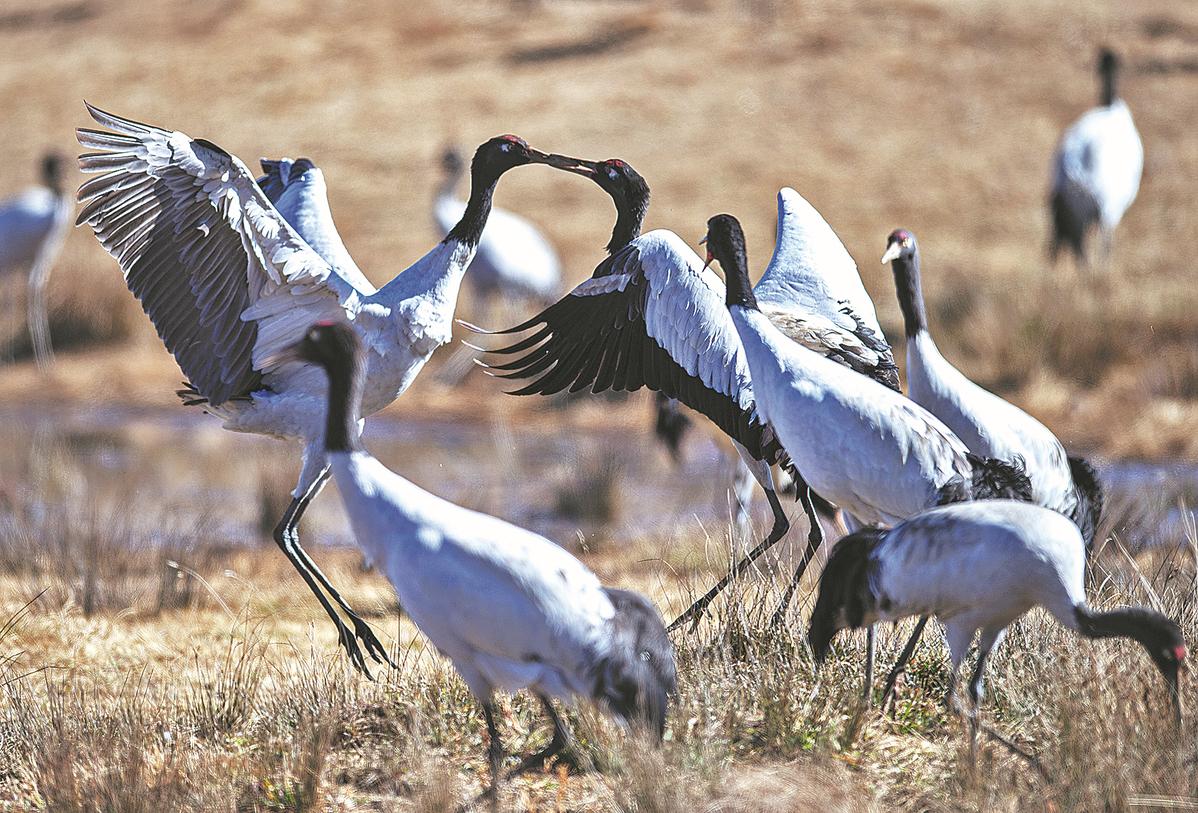 Black-necked cranes winter at Dashanbao Nature Reserve in Zhaotong, Yunnan province, in December. WANG GUANSEN/XINHUA
China is expected to cooperate with Bhutan this year to protect black-necked cranes along migratory routes as the bird's rising population has made conserving their shrinking habitats all the more urgent, according to a researcher.
Wu Heqi, an associate researcher at the Kunming Institute of Zoology of the Chinese Academy of Sciences, said that black-necked cranes fly from Bhutan to the Tibet autonomous region in spring to breed and return to Bhutan to winter, so collecting information about habitats and their conservation status in China and sharing this between two countries is important to the species.
"Both Bhutanese and Chinese researchers are eager to share this information," Wu said.
"If we learn more about the threats cranes face along migratory routes and summer breeding areas, we can develop protective measures between the two countries."
The cranes usually inhabit alpine areas, so shrinking habitats and climate change pose a major challenge, Wu said.
In their wintering areas in Yunnan and Guizhou provinces and their breeding grounds in Sichuan, Qinghai and Gansu provinces, and the Xinjiang Uygur and Tibet autonomous regions, habitable areas are shrinking due to construction of infrastructure.
For example, extensive fencing that enclose pastures on grasslands can disturb cranes, especially young birds, while they are attempting to take wing.
"Cranes need to run to gain speed to take off. However, they can run into fences in the process, which is dangerous. On foggy or rainy days, cranes also risk flying into high-voltage lines while airborne," he said.
Cranes fly at altitudes of more than 7,000 meters during migration, and their routes range from several hundred to nearly 2,000 kilometers in length.
Additionally, too few nature reserves are ready to support them, Wu added.
"Even during short trips of just three or four days, the birds have to stop in the middle to rest. The situation on the ground determines whether they are able to complete migration successfully," Wu said.
The cranes like to feed on insects in open grassland and fish in shallow wetlands.
Planting trees or shrubs in wetland habitats can lead to a decrease in food and an insecure environment as birds may become wary of predators lurking in vegetation.
Black-necked cranes reside in high-altitude areas mostly in China, India and Bhutan. In 2020, they were downgraded from "vulnerable" to "near threatened" on the International Union for Conservation of Nature Red List of Threatened Species.
Today, the number of the cranes globally has risen to about 15,000.
By Li Hongyang