Work stepped up on wetlands protection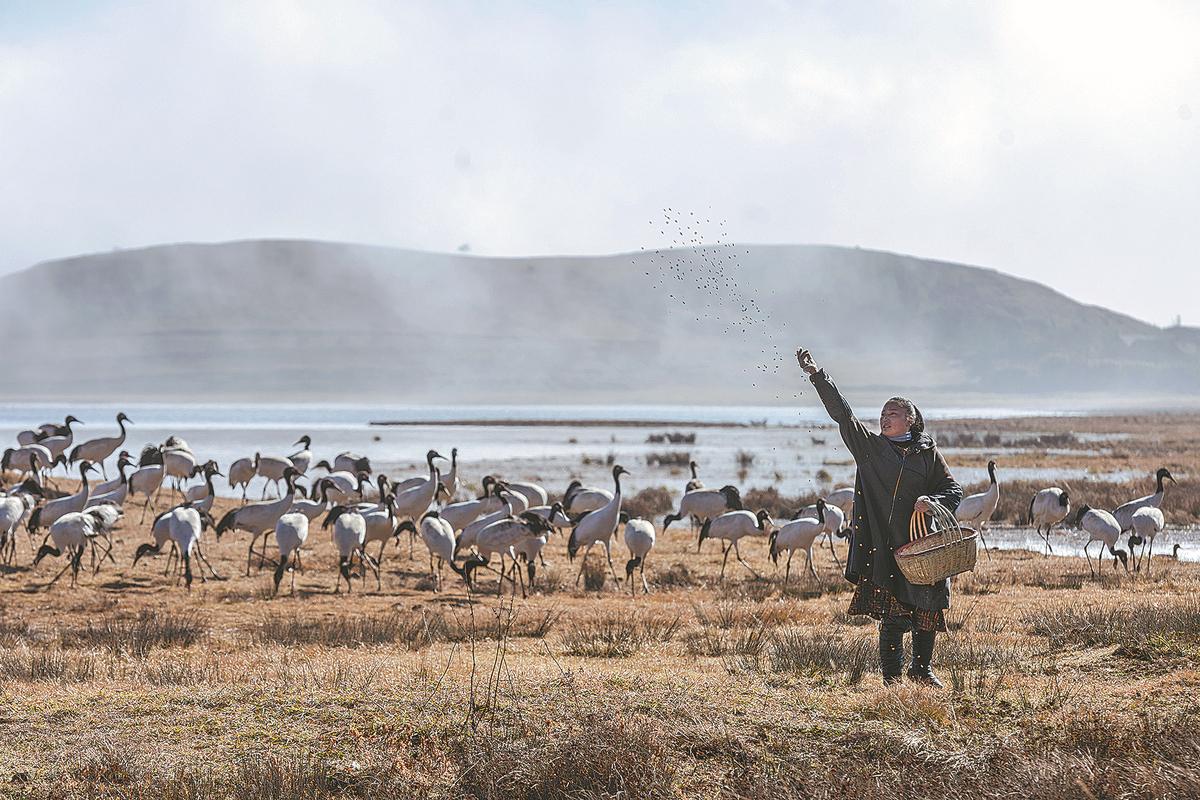 A worker feeds black-necked cranes at a wetland reserve in Zhaotong, Yunnan province. CAO MENGYAO/XINHUA
Field monitoring stations and information platforms play key roles
In November, China announced that about 11 million hectares of wetlands would be included in its national parks system.
This important decision was made at the 14th Meeting of the Conference of the Contracting Parties to the Ramsar Convention on Wetlands, an intergovernmental treaty that provides the framework for the conservation and wise use of wetlands and their resources.
Several wetlands management committees and bureaus are pressing ahead with plans to build national parks, including the Yellow River Estuary National Park in Shandong province and Qinghai Lake National Park in Qinghai province.
In June, the Shandong provincial government applied to the National Forestry and Grassland Administration to set up the Yellow River Estuary National Park to protect the waterway's delta.
The authorities in Shandong have since completed the preparatory work and will start the project soon.
Xu Mingde, director of the Yellow River Estuary National Nature Reserve Management Committee, said an area of 3,518 square kilometers has been allocated for the national park.
The reserve is a global breeding ground for the Oriental White Stork and black-billed gull.
To prepare for the national park, the reserve returned thousands of hectares of farmland to wetlands and beaches. It also invested billions of yuan in projects such as connecting water systems, dredging tidal ditches, restoring sea grass beds, and treating invasive species.
After it is established, the national park is expected to integrate sea and land resources, Xu said.
Since the National Park Administration approved Qinghai Lake National Park in April, the Qinghai Lake National Nature Reserve has completed plans for ecological and water protection, and a scientific research and monitoring system in the lake's basin.
Some 16 key projects, including grassland treatment, sand prevention and control, and wetland protection and restoration, have been launched, according to officials at the reserve.
Visitors enjoy Qinghai Lake National Park in Qinghai province. [Provided to China Daily]
Consensus important
At the opening of the 14th Meeting of the Conference of the Contracting Parties to the Ramsar Convention, or COP14, in Wuhan, Hubei province, President Xi Jinping said via video link that it is important to build global consensus on valuing wetlands, respecting nature, minimizing disruption and damage to wetlands caused by human activity, and protecting the ecological security of wetlands for future generations.
"China has recently drawn up a layout plan for national parks, under which a number of such parks will be designated, accounting for about 10 percent of the nation's land area," Xi said.
He added that wetlands national parks include Three-River-Source National Park, Qinghai Lake National Park, Ruoergai National Park, Yellow River Estuary National Park, Liao River Estuary National Park, and Songnen Plain Crane Homeland National Park.
COP14 was held from Nov 5-13 in Wuhan and Geneva, Switzerland. Every three years, representatives of contracting parties meet at COP, where they adopt decisions on administering the Ramsar Convention and guiding its implementation. Last year was the first time that such a meeting had been held in China.
After becoming a contracting party to the convention in 1992, China embarked on wetland protection. It was one of the first countries to complete three national wetland resource surveys via field monitoring stations and information management platforms.
Zhang Mingxiang, a professor at Beijing Forestry University's School of Ecology and Nature Conservation, explained the importance of wetland protection.
As one of the three major ecosystems, along with forests and oceans, wetlands store carbon within their plant communities and soil, instead of releasing it to the atmosphere as carbon dioxide. In this way, they help moderate global climate conditions, he said.
"While plants on land store carbon dioxide in the air through photosynthesis to produce what we call green carbon, creatures in the oceans store carbon dioxide, or blue carbon."
Tan Guangming, deputy head of the National Forestry and Grassland Administration, said at a news conference during COP14 that China will place more importance on protecting wetlands and restoring such areas.
As home to 4 percent of the world's wetland areas, China has met the needs of 20 percent of the global population for wetland-related life and culture, Tan said.
He added that wetlands protection work includes improving overall planning, a legal system and related technology.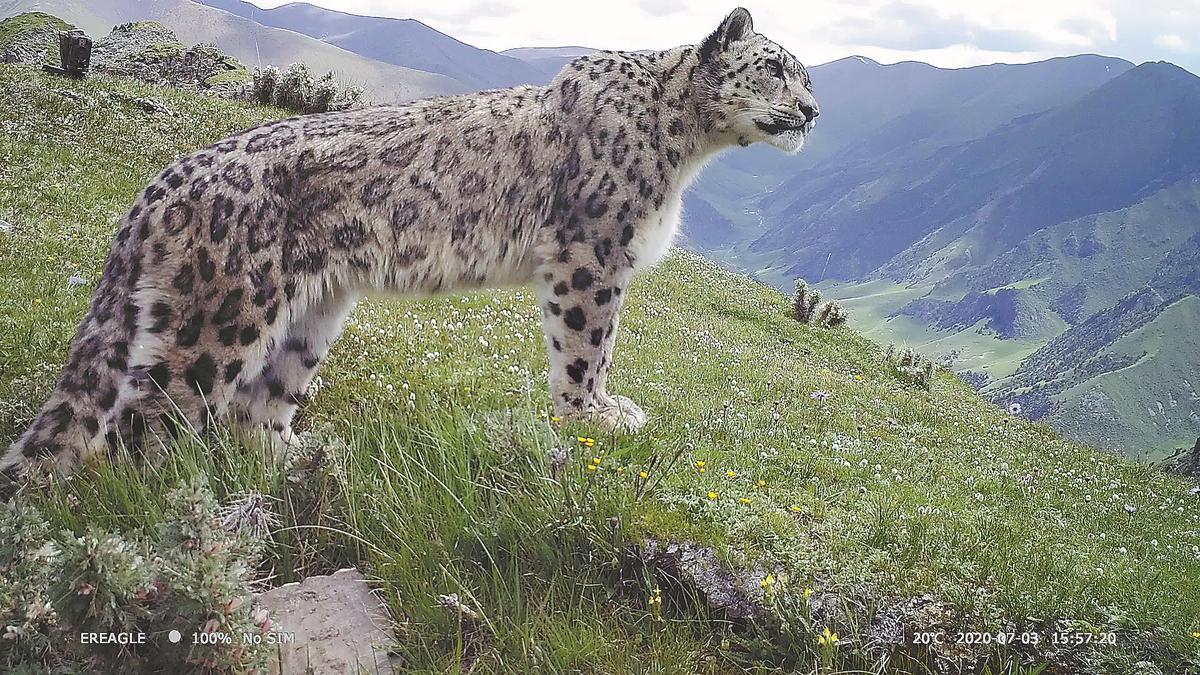 A snow leopard stands in Three-River-Source National Park, Qinghai province, in July 2020. XINHUA
Protection bolstered
According to a plan released by the central government in October, by 2025, China will have protected 55 percent of its wetlands and added 20 such areas of international importance and 50 of national importance.
After the nation's first specialized law on protecting wetlands was introduced on June 1, comprehensive protection was strengthened, according to the National Forestry and Grassland Administration.
The wetlands protection legislation clarifies the division of management and introduces harsher punishment for damaging wetland areas.
The law restricts construction at important national wetlands and bans harmful activities, including land reclamation, overgrazing, overharvesting and discharging wastewater.
Human activities at wetlands, such as tourism, planting, animal husbandry, aquaculture and shipping, must be undertaken carefully to minimize adverse impact.
In July, a monitoring system, the first of its kind in Hubei, was given a trial run at Chenhu Lake Wetland in Wuhan. It has since recorded real-time data and helped with patrol work.
In 2021, the wetland was home to some 86,000 birds from 227 species, according to figures from the monitoring system.
Officials at the reserve said bird watchers and patrol guards may inadvertently miss counting some of the birds, but the system performs this task accurately. It detects the type of birds arriving or leaving the wetland, and the areas they prefer, by identifying species through the sounds they make. It also monitors bird sounds in the wild and compares them with those in its database.
Yan Jun, head of the Wuhan Bird Watching Society, said that before 2015, just 30,000 birds spent the winter at Chenhu Lake Wetland, as the local environment was not ideal for them.
"At the time, nets were used for cage aquaculture in the lake, which should have been the wintering ground for birds. Fishing boats operated on the lake, and nets dotted the water surface," Yan said.
Since 2015, the local government has removed illegal fishponds in the lake and introduced environmental restoration projects. By January last year, the lake was home to about 86,000 birds, according to surveys carried out by Yan's team.
Central government data show that China's wetland protection rate now exceeds 50 percent, up from 43.5 percent in 2015, and the nation now has 64 wetland areas of international importance and 29 such areas of national importance.
Bao Daming, deputy head of the National Forestry and Grassland Administration's wetland management department, said at a news conference in November that despite the achievements made in conserving wetlands, China needs to strengthen their restoration scientifically and systematically.
"Specific measures are needed for wetland governance in different regions to improve the integrity of wetland ecosystems," Bao said.
"We still need more measures that mirror the natural way to restore wetlands, and also to protect wildlife habitats and vegetation."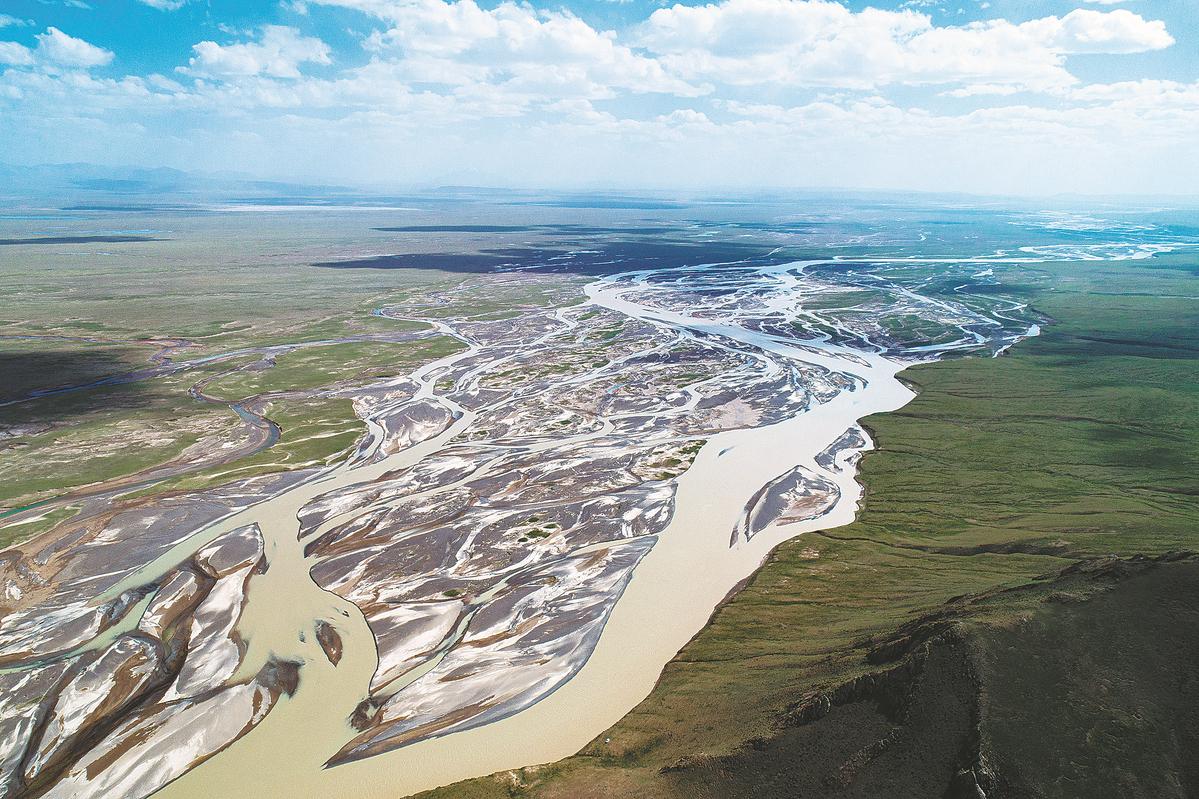 Water levels have risen at the source of the Yangtze River in Three-River-Source National Park, Qinghai province. XIAO YIJIU/XINHUA
By Li Hongyang