Tibet residents welcome New Year with yak stew, mask dance performances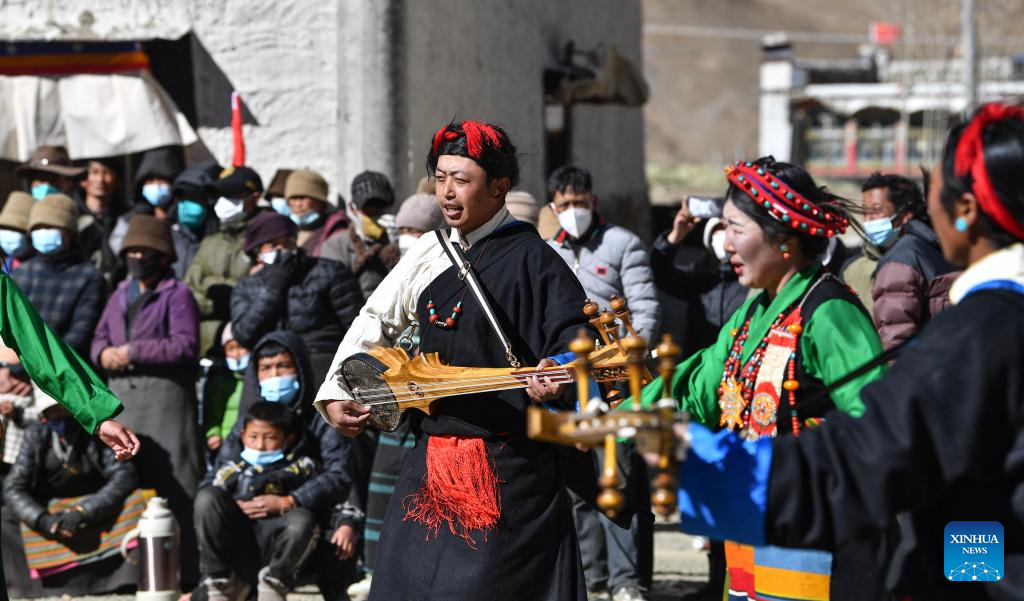 Actors play musical instruments during a village gala performance to celebrate Sonam Losar and the Spring Festival in Pucun village, Mangpu township of Xigaze, Southwest China's Tibet autonomous region, Jan 21, 2023. [Photo/Xinhua]

The atmosphere is festive in Lhasa, Tibet autonomous region, as residents gear up to celebrate Losar and usher in the Year of the Rabbit with religious rituals, lavish feasts and family reunions.
Losar, or Tibetan New Year, is set according to the lunisolar Tibetan calendar. Due to differences in elevations and harvesting times, the festival is celebrated at different times across the region.
In Lhasa, celebrations for Losar, which falls on Tuesday this year, began on Sunday, which was the 29th day of the 12th month on the Tibetan calendar.
Residents thronged one of the busiest wholesale markets, Barkhor, to buy dried yak meat, dried cheese, butter, dried fruits, pastries and candies, as well as prayer flags.
Guthuk, a nine-ingredient stew, is a culinary tradition during Losar to prepare for a fruitful new year. It is prepared with yak meat, cheese, vegetables and dough balls with meat fillings.
Some dough balls may contain symbolic ingredients such as salt, pepper and beans, and even thread, wool, paper and coal dust.
"Every ingredient has a meaning. If you bite into a dough ball made with pepper, it means you have a sharp tongue, but a soft heart," said Dekyi Drolma, a Lhasa resident.
According to Tibetan beliefs, if one picks a dough ball that's too salty, it means one is lazy; beans indicate one is not good at making decisions; wool is symbolic of a good heart; and paper means one is gullible.
"My family enjoys a warm pot of guthuk on Losar, and the dough ball ritual makes the meal far more interesting," Dekyi Drolma said.
While most people in the region mark Losar on the first day of the first month on the Tibetan calendar, residents of Shigatse and Nagchu celebrate at the start of the 12th month. People in eastern Nyingchi celebrate Losar in the 10th month and a few places in Ngari prefecture mark Losar in the 11th month.
People who work in government sectors in cities get a seven-day holiday for Losar, from Feb 20 to 26, but the celebrations may last for 15 days in rural areas.
Besides rituals, feasts and family gatherings, a new year gala is organized at most places. On Sunday, a Cham (a dance ritual by monks) performance was held at Tsurphu Monastery. Monks in colorful costumes and masks matched steps "to evoke the good and ward off evil forces".
In some parts of Tibet, Losar activities include horse racing, rolling dice, hosting Tibetan opera performances and hanging prayer flags.
Tashi Choten, a village in Nedong county of Lhokha city, is known as the "Village of Tibetan Opera". It is known for Yarlung Tashi Sholpa, or the yellow-mask opera, which is a national intangible cultural heritage.
"We will perform (at Tashi Choten) on Tuesday, and villagers will sing and dance with us to usher in the new year," said Nyima Tsering, whose opera troupe will tour three different villages.
Apart from the Tibet autonomous region, Losar is also celebrated in other provincial-level regions in China. Art shows, traditional dances and ethnic concerts will be held on Tuesday and Wednesday in Dechen Tibetan autonomous prefecture, Yunnan province.
By Daqiong and Palden Nyima in Lhasa