Forestry scientist devoted to greening Qinghai-Tibet Plateau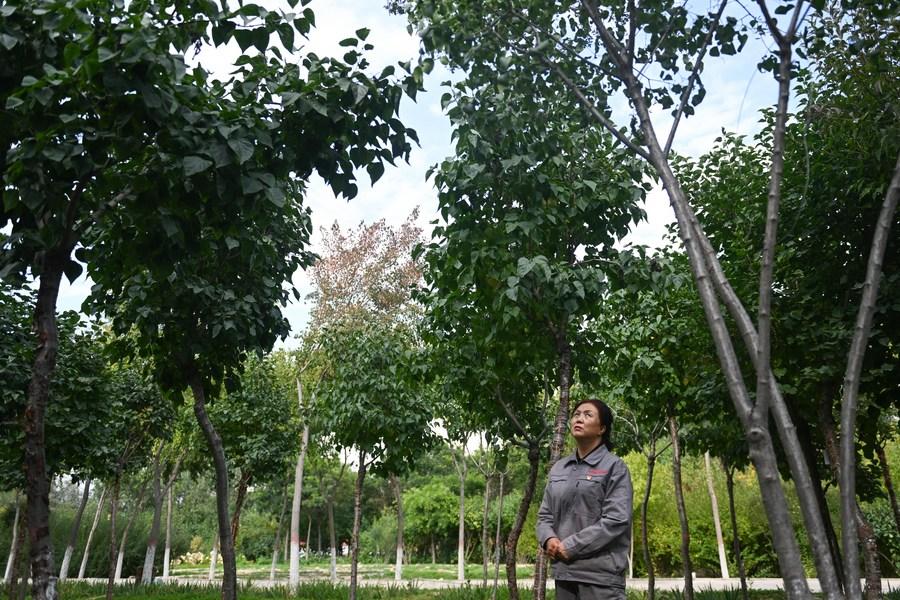 This file photo taken on Sept. 14, 2022 shows Zhang Jinmei, director of the Xining forestry science research center, observing the conditions of trees in Xining, northwest China's Qinghai Province. (Xinhua/Zhang Long)
XINING, Feb. 17 (Xinhua) -- In a big field by a research center in northwest China's Qinghai Province, Zhang Jinmei assigns tasks while observing the growth conditions of the poplar tree saplings there.
When the weather gets warmer, these Populus cathayana Rehd. and Populus przewalskii Maxim. saplings will be transplanted to areas in Qinghai for afforestation, including the cities of Golmud and Delingha, said Zhang, director of the Xining forestry science research center.
Located on the Qinghai-Tibet Plateau, Qinghai is home to the headwaters of the Yangtze, Yellow and Lancang rivers, and it acts as an ecological shelter for the country.
With small quantities and varieties of indigenous plant species, the province used to rely on introducing tree seedlings from outside the province for its afforestation. Seedlings can be planted only after being cultivated and becoming acclimatized to the plateau.
"The breeding of tree species that are suitable for planting on the plateau is a top priority in our work," Zhang said, noting that it is a tough job.
In 2008, Zhang and her colleagues were informed that a stand of 200-year-old wild trees of Populus przewalskii Maxim., an endangered poplar tree species native to the province, had been spotted in Balong Township in the Haixi Mongolian and Tibetan Autonomous Prefecture, the main body of which is the Qaidam Basin in Qinghai.
Upon hearing the news, they immediately set off for the village to look for the trees, which are drought-tolerant, cold-hardy and useful for sand stabilization.
"We had to walk across a desert on our way to the wood for at least an hour, and we all got badly burned by the ultraviolet rays," Zhang said.
However, the harsh weather did not stop them from pursuing the precious seedlings. As soon as they located the straggling poplar trees, Zhang marked and collected the seedlings.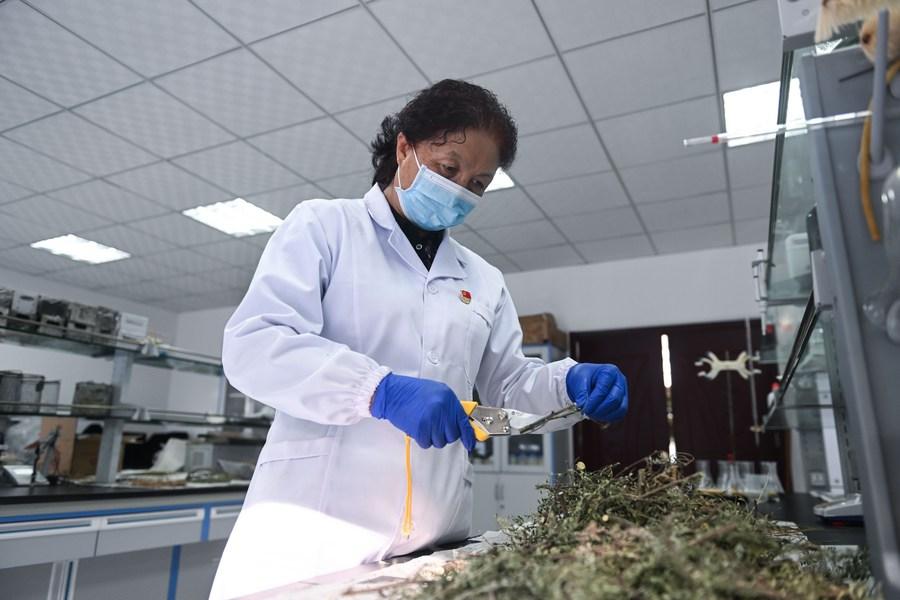 This file photo taken on Sept. 14, 2022 shows Zhang Jinmei, director of the Xining forestry science research center, working in the laboratory in Xining, northwest China's Qinghai Province. (Xinhua/Zhang Long)
The collected seedlings then required multiple rounds of breeding, including cutting propagation and regional experiments.
"It takes at least eight years if everything goes smoothly, and another five years are needed to carry out sexual propagation," Zhang said.
And years of efforts have borne fruit. In 2017, Zhang successfully bred improved varieties of Populus przewalskii Maxim. with straight trunks and high growth levels, and developed a breeding method capable of shortening the breeding cycle to three to five years.
"Good seedlings must be widely cultivated as soon as possible," said Zhang, who is passionate about establishing tree seedling bases.
According to statistics from forestry departments at various levels in Qinghai, Zhang's team has established three tree seedling demonstration bases, with a total seedling production scale of 57.3 hectares and an annual poplar tree seedling production in excess of 1 million.
These improved Populus przewalskii Maxim. varieties have been spread to the Qaidam Basin and the Ali Prefecture in southwest China's Tibet Autonomous Region, and the seedlings have grown into a green wall guarding the plateau.
Having won various domestic awards, Zhang continues to breed tree seedlings all year round. "It's also kind of romantic to get along with trees," she said.