Migratory birds discover paradise in Yunnan lake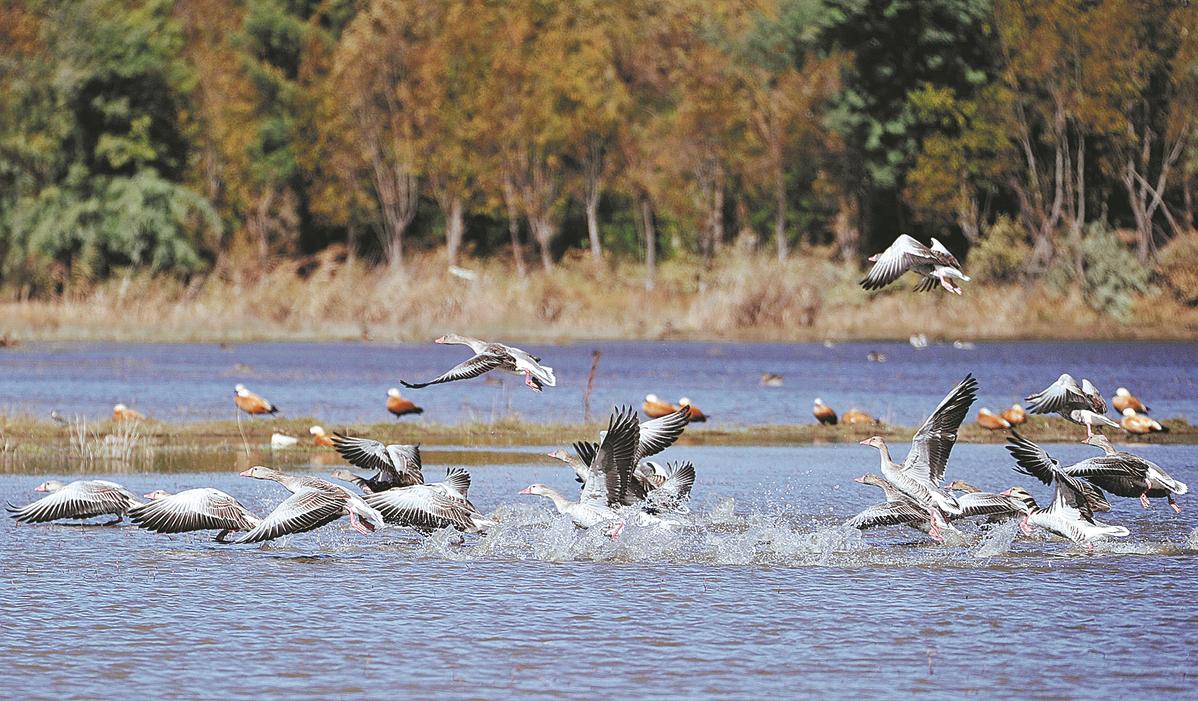 Graylag geese frolic in the waters of Lashi Lake in Lijiang, Yunnan province. [Photo by HE YUNFENG/FOR CHINA DAILY]
Among the snow-capped peaks of Yulong Snow Mountain and the tranquil waters of Lashi Lake in Lijiang, Yunnan province, migratory birds flock to feed and play as they overwinter in the warmth of Southwest China.
The annual avian rendezvous in Lijiang began again last month at Lashihai Plateau Wetland Nature Reserve, a scenic spot dubbed a "paradise for migratory birds "where more than 100,000 birds are observed every year.
The 6,523-hectare reserve hosts more than 238 kinds of birds, including great crested grebes, Eurasian coots, red-fronted coots, mallards, black storks and cranes. Thirty-six species are under national first- and second-class protection, according to the reserve's management and protection bureau.
He Xiaoka, an expert from the bureau, said part of the reason the reserve attracts so many birds is that it offers an ideal living environment with its varied landscape of lakes, rivers, marshes, farmland, forest and meadows, where the birds find it easy to rest, feed and shelter from danger.
"It has diverse aquatic plants and fish to provide sufficient food sources. Thanks to the boom in tourism, local people have higher incomes, so their awareness of protecting the birds has been raised," she said.
"After years of environmental protection efforts by the government and residents, the number of migratory birds is rising annually."
The migratory birds arrive in mid-October and leave from late March to mid-April. Some spend the whole winter there while others rest for a few days and then continue to fly south, according to He.
Most of the birds come from Qinghai province, Mongolia and Siberia. In recent years, one or two new kinds of birds have been observed every year, she said.
The reserve, which lies at about 2,400 meters above sea level, was included on the List of Wetlands of International Importance in 2004.
It offers protection for the plateau wetland ecosystem, wetland birds and their habitats.
It is home to 329 animal species and 566 species of plants, including 150 wetland plants, making it one of the most biodiverse wetland areas in Yunnan. It also provides water resources to Lijiang's urban areas.
The migratory birds attract a lot of tourists to the reserve in winter and spring.
However, to reduce the impact of human activity, visitors are not allowed to enter the core areas and they are encouraged to observe the birds at a distance with binoculars and cameras, He said.
Zhang Suju is one of 25 local people employed to patrol the reserve. "My work is to guide tourists to observe the birds in a suitable way and prevent misconduct that may disturb the birds," said the 43-year-old, who has worked at the reserve for about 20 years.
"In the past, the environment was not very good, so there were not many migratory birds. I have seen a lot of changes in the past decades."
Zhang added that the number of migratory birds has risen from about 20,000 in 1998, when the reserve was established, to 100,000 in recent years.
In addition to undertaking patrol work, the reserve prohibits fishing and aquatic recreational activities, undertakes the detection and prevention of infectious diseases related to migratory birds, and builds wetland restoration areas to enlarge their habitats as part of efforts to protect birds and nature, according to the reserve administration.
"The wetland provides habitats for numerous creatures. It purifies and conserves water, produces food and is closely linked to our lives. We should protect the wetland like we protect our eyes," He said.
By LI YINGQING in Kunming and CHEN MEILING in Beijing