Xi's visit continues to inspire villagers in Tibet
President Xi Jinping talks with the Dawa Gyaltsan family at Kala village of Nyingchi, Southwest China's Tibet autonomous region, July 21, 2021. [Photo/Xinhua]
Dawa Gyaltsan from Kala, a village in the city of Nyingchi, which is widely known as the "peach village" in the Tibet autonomous region, still clearly remembers the day when President Xi Jinping visited his home.
"It's one of the most unforgettable moments in my life," Dawa Gyaltsan said. "He came to sit with us and asked about the health of my parents and the education and dreams of my two children. I also told him about my dream to become a truck driver."
Xi, who is also general secretary of the Communist Party of China Central Committee, visited the region from July 21 to 23 last year to commemorate the 70th anniversary of the peaceful liberation of Tibet. On the first day of the tour, he visited Dawa Gyaltsan's family.
"When President Xi Jinping sat by me and chatted with my family, I was moved to tears. At first I was so excited that I couldn't say a word," said the 38-year-old.
Dawa Gyaltsan recalled that Xi took a close look at the plums and peaches on the trees in his yard and also touched the sacks of grain stacked in a storage room, and asked how much land the family owned and what they had planted.
Dawa Gyaltsan said that the visit inspired many villagers, and encouraged them to work harder for a better life and a brighter future.
Now the dream he told the president about has come true, and he works as a truck driver at construction sites.
"Our life is getting better", he said, pointing out that his family's total income exceeded 300,000 yuan ($44,600) in 2021.
His two children, who are in grade 7 and 8 respectively, enjoy free education, accommodation, and allowances at school, and his family's medical needs are largely covered by a rural public healthcare program. "The clinic in the village provides free medicine when we get sick," he added.
He said that life in the village has witnessed dramatic changes over the past decade.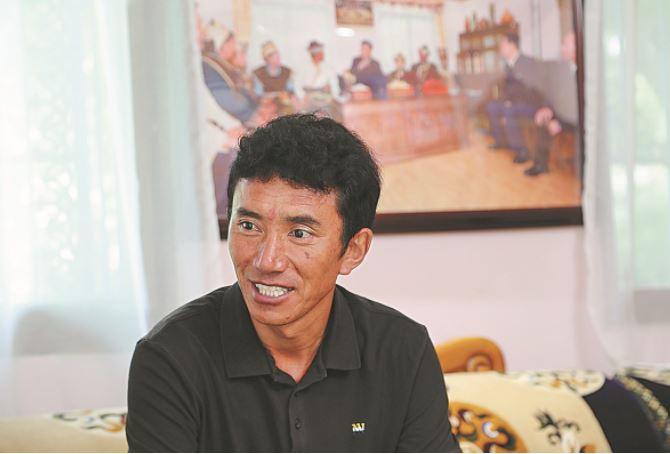 Dawa Gyaltsan from Kala, a village in the city of Nyingchi, Tibet autonomous region. [Photo/For China Daily]
When Dawa Gyaltsan built his house 10 years ago, he got special government subsidies for its construction. In 2018, a new road was built in the village and a water pool project was completed to provide safe drinking water.
"Transportation has become much more convenient. Since a new railway opened last year, it only takes about three hours to travel from Nyingchi to Lhasa," he added.
"We villagers are traveling in the region and beyond, because people are becoming better off and it's getting more convenient."
Basang Gyalpo, Dawa Gyaltsan's father, is in his 60s and still herds yaks, but even his job is not as difficult as it was before, as the summer pasture is linked with a proper road and can be reached within one hour by car.
"In the past, herding and farming were our main sources of income, but today there are multiple ways to prosperity," said Basang Gyalpo.
Chen Dixiong, an official of Nyingchi township, said the village of Kala has 33 households, and its residents work in tourism, transportation and other sectors.
"The average disposable income of residents in Kala reached 35,000 yuan in 2021, up 12.9 percent year-on-year," said Chen.
Deemed the best place in Tibet to observe peach blossoms between March and May, the village attracts an increasing number of tourists every year from across China.
Last year, it welcomed around 140,000 visitors, bringing in a total income of 4.6 million yuan, and resulting in an average dividend of 100,000 yuan for each household from tourism.
In March, the village opened a museum showcasing ethnic and traditional culture.
Revenue from the tickets is expected to increase, Chen said. "The profits will be shared by everyone in Kala, which now boasts the fragrance of both peach blossoms and prosperity."
By DAQIONG and PALDEN NYIMA in Nyingchi, Tibet