Monks unfurl giant artworks as Shoton begins
Traditional holiday also known as Yogurt Festival attracts thousands of people
Thousands of people formed lines in Lhasa on Aug 16 to visit a giant thangka — religious images embroidered in silk — exhibition to mark the beginning of the annual Shoton Festival.
The festival, held in the Drepung Monastery as well as the rest of Lhasa, is one of the most important traditional holidays in the capital of Southwest China's Tibet autonomous region. It is also known as Yogurt Festival, as sho is yogurt in the Tibetan language, and ton means banquet.
The event usually lasts for seven days and the activities include artistic performances, Tibetan operas, horse racing, Tibetan chess competitions, family reunions and concerts, along with activities to promote investment in Lhasa.
On the first day at around 7 am, monks from the famed Buddhist monastery of Drepung started their preparatory work for the exhibition by transporting a giant thangka to the monastery.
Before the thangka was moved to the site of the exhibition, a Tibetan Buddhist religious ceremony was held at the monastery.
Accompanied by a cacophony of dharma horns, hundreds of locals followed the team carrying the thangka on its route to the exhibition platform.
At around 8 am, as the first rays of sunlight hit the tops of the distant mountains beyond the Lhasa River valley, the giant thangka was gradually unfolded from top to bottom — with its width reaching 37 meters and its height at 40 meters.
Nyagwang Choizin, deputy director of the Drepung Monastery Management Committee, said that with a history of at least 500 years, the monastery holds a thangka exhibition every year on the 30th day of the sixth month on the Tibetan calendar.
"The embroidery on the thangka being exhibited today was produced in 2016 to mark the 600th anniversary of the founding of the Drepung Monastery," Nyagwang Choizin said.
"The thangka exhibited before 2016 featured an image of the Buddha Sakyamuni, the founder of Buddhism. This thangka has a history of more than 500 years. Therefore, we chose to exhibit the new thangka this time to preserve the old one."
Nyagwang Choizin said displaying the thangka is related to the monastery's centuries-old religious traditions.
The date on which it is exhibited coincides with the "summer retreat" of monks of the Drepung and other Geluk School monasteries of Tibetan Buddhism. The summer retreat is a practice to get monks together to study Buddhist scripts, meditate and cultivate themselves according to Buddhist doctrines and improve their spiritual well-being.
Lhasa residents have a tradition of offering yogurt to the monks at this time. In return, the monks hold the exhibition for the residents and pray for blessings.
Tenzin Drolma, who lives in Lhasa, said she got up early in the morning to attend the event and was pleased to see the exhibition.
"By visiting the exhibition, I hope there will be peace all around the world, people will have longevity and not suffer from illnesses and all living beings will no longer suffer from sadness," she said.

A huge thangka artwork is unrolled in Drepung Monastery in Lhasa on Aug 16, marking the beginning of Shoton Festival. DAWA TSERING/FOR CHINA DAILY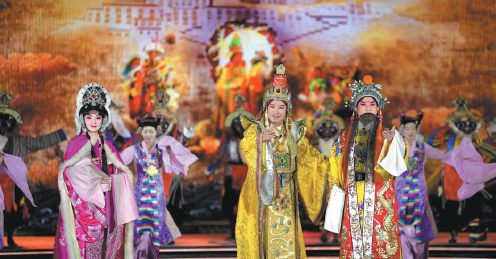 A show featuring multiple cultural elements is held in Lhasa during Shoton Festival. PHENTOG/FOR CHINA DAILY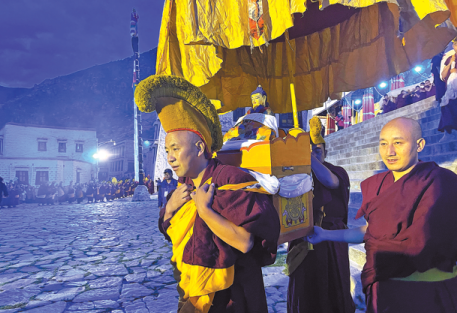 Monks at Drepung Monastery prepare for the festival on the early morning of Aug 16. DAQIONG/CHINA DAILY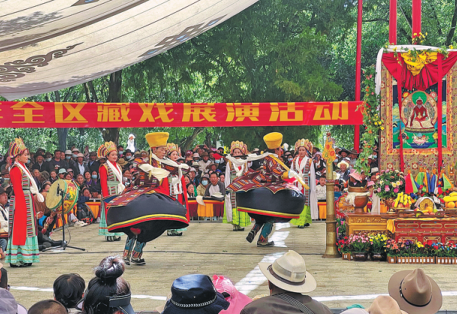 A Tibetan Opera show is held in Lhasa's Norbulingka park, as part of the Shoton Festival Celebrations. DAQIONG/CHINA DAILY