Tibet sees record air passenger volume in July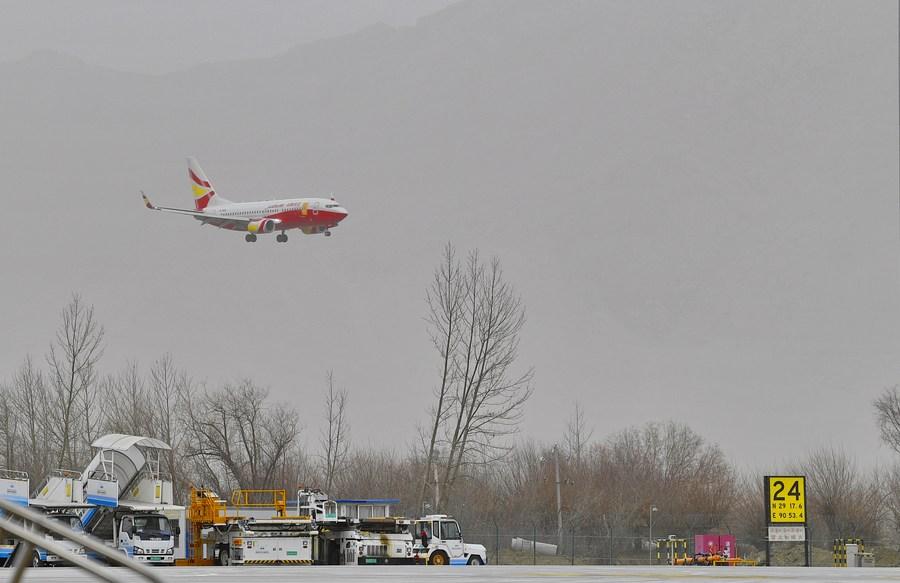 An aircraft flies over Gonggar Airport in Lhasa, southwest China's Tibet Autonomous Region, Dec. 30, 2021. (Xinhua/Zhang Rufeng)
LHASA, Aug. 3 (Xinhua) -- Southwest China's Tibet Autonomous Region logged a new record in single-month passenger throughput in July since the opening of civil aviation in the region in 1965.
In July, seven civil airports in Tibet handled a total of 770,000 passenger trips, an increase of 31.6 percent year on year. Meanwhile, the region's civil aviation also achieved a new record by handling 5,936 flights in July, up 2.4 percent year on year, according to the Tibet branch of the Civil Aviation Administration of China.
Tibet is rich in tourism resources, with its majestic mountains and rivers, magnificent grasslands and forests, and profound ethnic and religious culture. The region has seen surging passenger arrivals after China adjusted its COVID response.
From January to July, air passenger volume in the region hit 3.8 million, a year-on-year increase of 37.1 percent. Airports here handled 33,523 flights and 25,985.5 tonnes of cargo and mail in total, up 8.7 percent and 7.8 percent, respectively, compared with the same period in the previous year.