China strives to boost crop production on saline-alkali land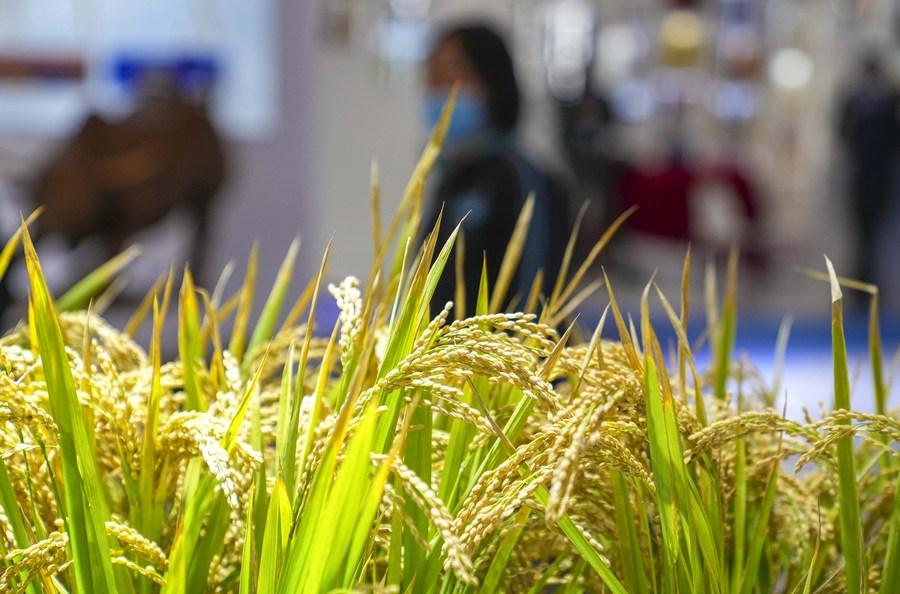 People watch samples of saline-alkali tolerant rice at the 13th China-Northeast Asia Expo in Changchun, northeast China's Jilin Province, on Sept. 24, 2021. (Xinhua/Xu Chang)
BEIJING, May 16 (Xinhua) -- In May, the west of northeast China's Jilin Province ushered in the spring ploughing season, and the once-barren saline-alkali farmland is now alive with the rumble of agricultural machinery.
Saline and alkaline soil is notoriously difficult to farm, producing low crop yields. However, farmers in the area are now benefitting from efforts to improve the land, using water to wash away the salt, thus making it suitable for agricultural production.
A number of major water conservancy projects have been carried out in western Jilin, channeling water sources such as the Nenjiang and Songhua rivers into major rivers and lakes in the region, forming a water network system to treat the soil.
Shen Qiang, a "post-90s" employee at a local agricultural enterprise, came to Haituo Township in the city of Da'an in 2019. He has witnessed the gradual transformation of the saline-alkali land into paddy fields.
When it is time to plant rice, Shen, who graduated from college with a computer science degree, sits in his office and remotely controls the valve on a canal, allowing water to flow into the field.
"We need to irrigate and drain the land several times to reduce the salinity and alkalinity of the soil so that the rice seedlings can grow better," he said.
China has about 1.5 billion mu (100 million hectares) of saline-alkali land, of which about 500 million mu is available for utilization. As China focuses on promoting agricultural modernization, localities across the country have been making great efforts to utilize saline-alkali land to increase the yield and boost farmers' incomes.
In recent years, Da'an has introduced more than 10 enterprises and research institutes to harness saline-alkali land through science and technology, with the rice yield reaching more than 5,000 kg per hectare.
"We will turn 2,000 hectares of saline-alkali land into high-standard farmland in Da'an this year," said Meng Xiandong, CEO of BIOGREEN AGRO, a Da'an-based company working on the ecological restoration of saline-alkali land and the comprehensive development of modern agriculture.
Saline-alkali land is becoming a new growth point for the grain supply in western Jilin. In 2023, the city of Baicheng, which administers Da'an, plans to sow 16.2 million mu of grain crops, including 3.79 million mu of rice, an increase of 40,000 mu over last year.
North China's Hebei Province has also seen great success in improving the productivity of its saline-alkali soil. The Xianzhuang area of Jiucheng Town, Huanghua City, has been cultivating wheat varieties that are able to tolerate high salinity and alkalinity, as well as improving its production and cultivation technology, gradually making the place a "big granary".
Local villager Yang Dongjin planted more than 20 mu of saline-alkali wheat, with a net income of 6,000 yuan (863 U.S. dollars)last year. He said it is expected that the yield of wheat could be about 200 to 250 kg per mu this year due to the good climate.
In the city of Dongying, east China's Shandong Province, a state-level technological innovation center for the comprehensive utilization of saline-alkali land has been set up in the Agricultural High-tech Industrial Demonstration Area of the Yellow River Delta, according to the provincial government.
Mei Xurong, vice president of the Chinese Academy of Agricultural Sciences, said the center will focus on three key areas: biological breeding, productivity improvement and the ecological utilization of saline-alkali land. It will strive to explore new paths for ecological protection of saline-alkali land and high-quality agricultural development.
An agricultural experiment and demonstration base has been built on 15,000 mu of high-standard saline-alkali land in the Agricultural High-tech Industrial Demonstration Area of the Yellow River Delta.
From 2023 to 2025, the center aims to make breakthroughs on several critical core issues in biological breeding on saline-alkali land. The promotion area for new varieties of the saline-alkali resistant crops is expected to reach 30 million mu.
Data reveals that China has kept its annual grain output steady at over 650 million tonnes for consecutive years, thanks to the vigorous development of agricultural science and technology.
Over the past decade, the contribution level of agricultural sci-tech progress in China had increased 7 percentage points to over 61 percent.