Exhibition displays diversity, charms of artifacts related to Tibet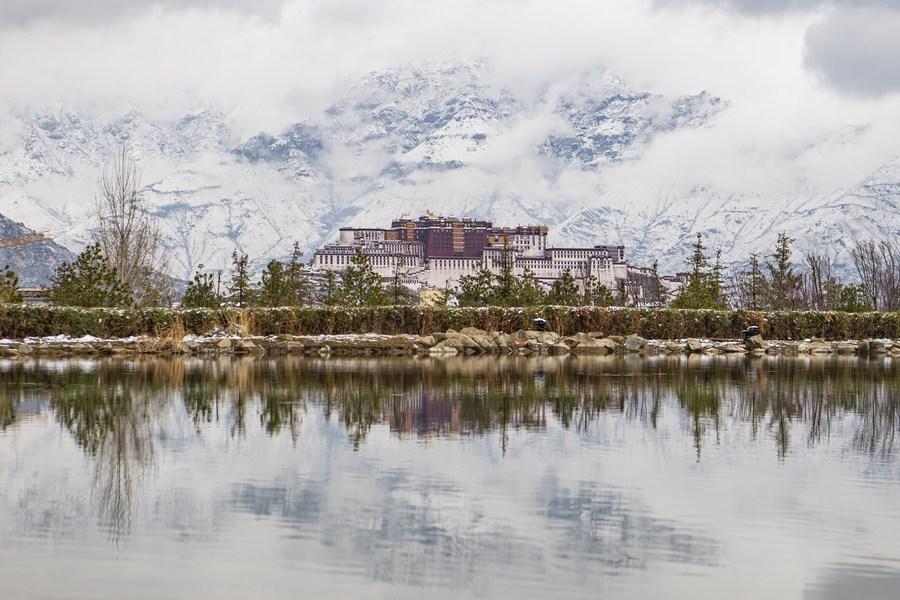 This photo taken on March 30, 2023 shows the scenery of Potala Palace after snow in Lhasa, southwest China's Tibet Autonomous Region, March 30, 2023. (Xinhua/Sun Fei)
BEIJIING, April 30 (Xinhua) -- A joint exhibition of Tibet-themed artifacts opened on Saturday at the Palace Museum in Beijing, demonstrating the diversity and artistic charms of cultural relics related to Tibet.
In total, 108 pieces or sets of artifacts are on display at the exhibition, including a handscroll depicting Emperor Taizong of the Tang Dynasty (618-907) receiving a Tibetan envoy and an inscription written by calligrapher Zhao Mengfu of the Yuan Dynasty (1271-1368) for a stele in memory of the imperial preceptor Dampa.
A large number of collections are displayed for the first time, such as a Manchu Buddhist canon from the Palace Museum and a portrait of Emperor Yongle from the Potala Palace, Lhasa.
The exhibition is co-organized by the Palace Museum and cultural heritage authority of Tibet. It will run until July 30.