Six decades on, senior still out planting trees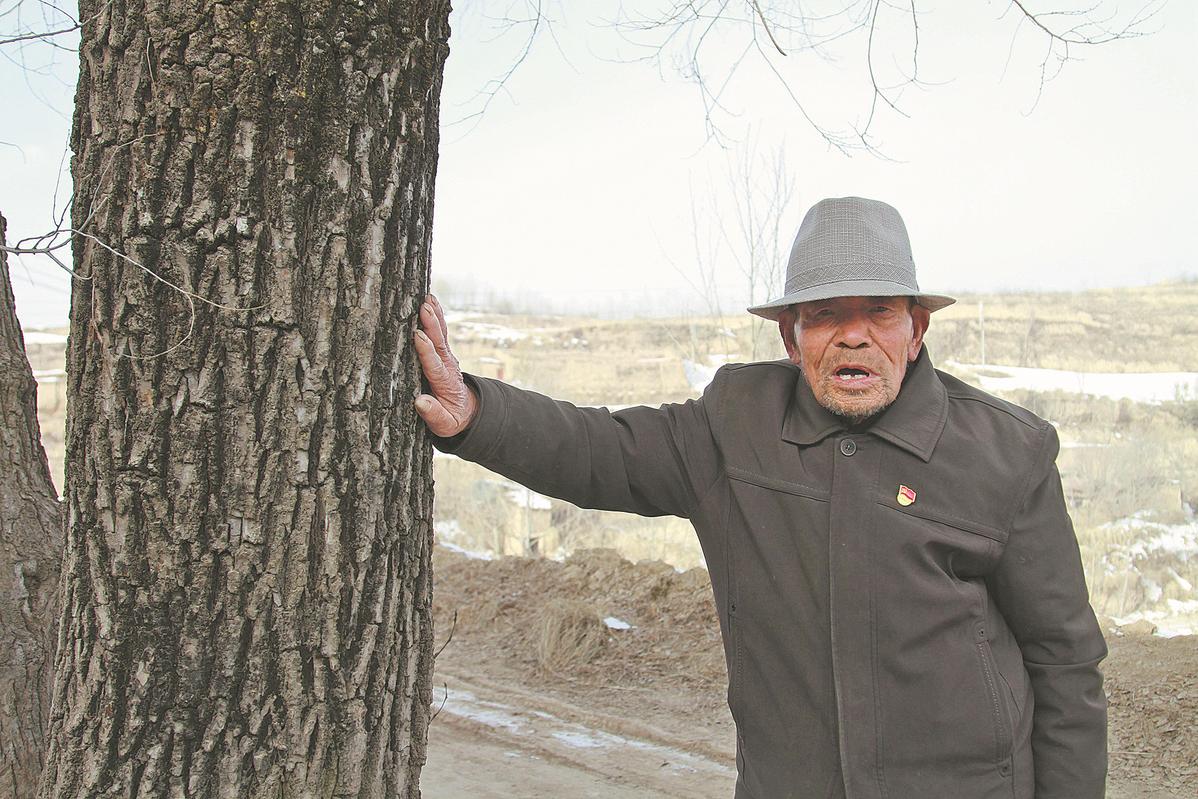 Li Hongzhan poses with a tree he planted 60 years ago in Houwan village, Qinghai province, in 2018. LI PEIYUAN/CHINA NEWS SERVICE
"I will keep planting, as long as I am alive and can walk," Li Hongzhan said.
He has been doing so for the last 65 years, and to date, he has planted 80,000 trees on 133 hectares of formerly barren land. Thanks to his efforts, trees now grow almost everywhere in his drought-plagued home village of Houwan, Qinghai province.
Although he has great difficulty walking, the 89-year-old has no plans to stop.
His good deeds have won him the honor of being selected as one of China's 100 model environmental protection volunteers this year, and in 2019, he was honored as a national model of high morality.
Greenery was scarce when Li was young. With little to no precipitation, Houwan was often subject to sandstorms.
Villagers traditionally hung willow branches over the gates of their houses during the Dragon Boat Festival, but there were only two willow trees in the village and they both belonged to the same villager. The willows were the only trees in the village.
"They protected the trees as if they were treasures," Li said. "In addition to building earthen walls around them, they also fenced them in to prevent people from cutting their branches."
At the beginning, Li only wanted to plant willows so that he could have branches to cut for the festival. He took some branches home from one of his relatives and planted them after soaking them in water for several days.
The then 23-year-old didn't expect this to ignite an enthusiasm for planting trees that still hasn't died. He was later hired by the village committee to plant more trees. Every spring for the past six decades, Li gets up before 6 am to plant trees and comes back after sunset.
He plants trees wherever he finds a plot of wasteland and said that he finds it hard to sleep if he isn't able to start planting.
In the early days, Li had great difficulty getting water for the saplings. In lots of places, he had to use a wheel barrow to transport water or carry it in buckets on a pole, though he could sometimes use horses, too.
In the early 1980s, he headed a team of eight planting trees in Xialianggou ravine. They trekked for about 5 kilometers through rugged mountainous terrain to reach the ravine, as there was no road.
"We carried seedlings on our backs. I was young and strong then, and I could carry 20 kilograms of saplings," he said, adding that they ate steamed buns when they were hungry and drank from creeks while working.
They planted trees in the ravine over the course of three springs, turning 53 hectares of wasteland green.
In recent years, it has become difficult for Li to carry saplings on his back, so he started planting Korshinsk pea shrubs instead, as they can be planted from seeds.
"Every year, I collect at least seven large jute bags of pods. After drying them in the sun, I'm left with two large jute bags of seeds," he said, smiling.
Li's perseverance has thickened and hardened the skin on his hands and often cracked the soles of his feet.
In 2018, as the country forged ahead with its poverty eradication campaign, Houwan village was relocated to the foot of a nearby mountain where conditions were much better. Many people expected Li would stop planting trees, but they were wrong.
When workers hired by the local government came to landscape the new village in 2019, they threw away saplings they believed were too small to survive.
Li collected them to plant the following year. He also volunteered to take care of willows the workers had planted.
"Afforestation is good for both the country and the people. It not only makes my hometown beautiful, but benefits future generations. Because of this, I will never give it up," he said.
By HOU LIQIANG