COVID-19 relief to aid vulnerable in Tibet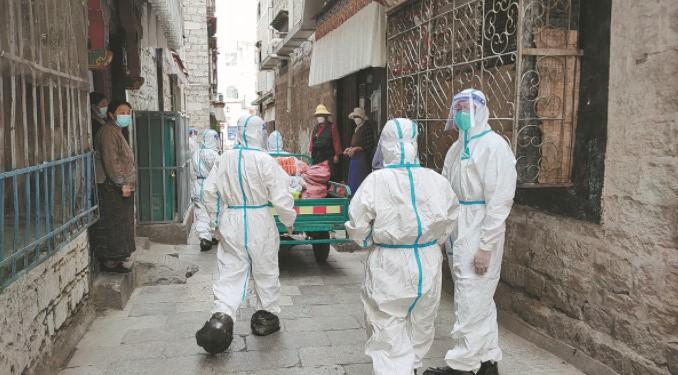 Community officials distribute daily necessities to residents under quarantine in Lhasa, Tibet autonomous region, on Saturday. [Photo/TIBET DAILY]
The Tibet autonomous region registered the most symptomatic cases of COVID-19 on the Chinese mainland on Tuesday and Wednesday, as the latest outbreak spread to all its seven prefecture-level regions.
The region reported 37 locally confirmed cases and 521 asymptomatic carriers on Wednesday. Of them, 150 infections were detected at the community level, indicating that community transmission has not yet been cut off.
On Thursday, it reported another 18 locally confirmed COVID-19 cases and 196 asymptomatic carriers as of 2 pm, health authorities said at a news conference.
The region has rolled out an epidemic relief package to ease the pressures on vulnerable people in COVID-affected areas.
In the relief package, low-income families and individuals are eligible for one-off subsidies of 600 yuan ($88). Those having financial difficulties caused by the outbreak can also apply.
As of 6 pm on Tuesday, more than 50 million yuan in relief funds had been allocated to more than 162,000 individuals.
More than 70 officials have been held accountable for dereliction of duty in the anti-epidemic efforts in Shigatse city of Tibet, including 10 removed from their posts, the city government said on Tuesday.
Secure harvest
Du Jie, deputy head of the region's department of agriculture and rural affairs, said the regional government has made all-out efforts to ensure the region's agricultural harvest despite the outbreak.
Based on the current conditions, the autumn harvesting progress is similar to the previous years, and is within a normal range, said Du, adding his department had worked hard to ensure grain safety and safe production since the start of the outbreak.
As of Sunday, the region had harvested crops on a farmland area of 52,200 hectares, accounting for more than 19 percent of the region's total sown area of crops, with the areas of grain crops reaching nearly 41,000 hectares and accounting for more than 22 percent of the total.
The region has replanted 7,700 hectares of crops, including 7,200 hectares of forage grass, 187 hectares of grain, and 373 hectares of vegetables.
Judging from the current situation, the progress of this year's autumn harvest is basically the same as that of previous years, Du said.
By DAQIONG and PALDEN NYIMA in Lhasa