Sheep breeding co-op boosts Tibetan incomes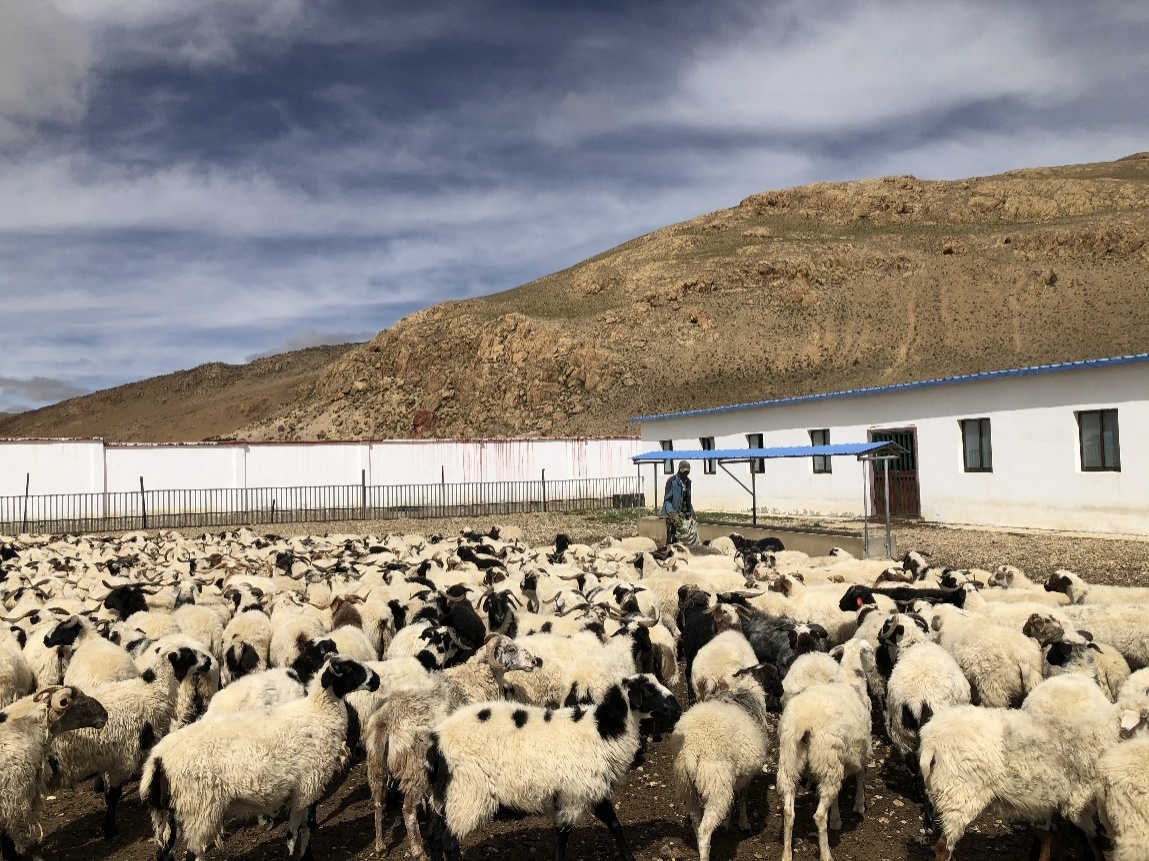 A shepherd feeds animals in the sheep breeding cooperative of Guru village in Tibet's Dromo county. The cooperative has brought higher incomes for residents. [Photo by Palden Nyima/China Daily]
Villagers in Guru village of Tibet's Dromo county have increased their incomes by operating a sheep breeding cooperative.
Residents of Guru, a semi-nomadic area, herded sheep individually in the past, consuming resources over a large grazing area but pulling in little profit.
With a government investment of more than 12 million yuan ($1.7 million) in a poverty alleviation project in 2017, all 75 households in the village invest some of their sheep in the more efficient enterprise and share the profits at the end of the year.
Lhakpa Phuntsok, Party secretary of the village, said that by combining animals and grassland in a single cooperative, villagers save labor, experience fewer disputes and make more money.
"They no longer have to worry about the herding work and the market," Lhakpa Phuntsok said. "The cooperative hires five local professional shepherds to carry out the herding, and the cooperative finds the markets."
Last year, more than 620,000 yuan of net income was generated by sales of sheep, with each family seeing an average annual income of 4,700 yuan. The year before, the average annual income of each family was 2,300 yuan.
"Traditionally, our villagers did not sell their sheep; they only kill a few at the autumn for the year's meat consumption," said Lhakpa Phuntsok, 42.
Lhakpa Wangdu, 24, one of the five shepherds working for the cooperative, said he was pleased with the job as it was stable and something he loved to do.
"In the past, I worked on construction sites to make a living for my family," he said. "It was hard work and unstable, and I could not make enough."
Now he gets a fixed daily salary of 120 yuan. With the stable income, he was able to repay the money he borrowed to build a new house years ago.
Datsam, a village leader, said residents underwent a dramatic transformation in their thinking with the guidance of the local government officials.
"In the past, they raised sheep only for meat. They did not see the potential for profit," she said. "Now, the villagers are eager to invest more sheep into the cooperative as they have been benefiting from the business."