Seals granted to Tibetans by Chinese central government in history
A book donation event was held by the Tibetan Culture Museum of China Tibetology Research Center in Beijing on May 18th, the International Museum Day.
The museum is the only one in Beijing to specialize in Tibetan culture. Its collections of Tibetan historical archives, Tibetan Buddhist artifacts, and folk utensils are the most distinctive.
A collection of seals issued to Tibet from governments of previous dynasties in Chinese history were exhibited on the day and caught a lot of attention. The seals are made by precious items and with exquisite craftsmanship, reflecting the history of the Chinese central government's sovereignty over Tibet.
The King Bailan Seal made of copper. The King Bailan is one of the secular titles for the chieftain of the Sakya sect of Tibetan Buddhism officially granted by the central government of Yuan Dynasty (1271-1368).
The imperial monk seal in Yuan Dynasty, jade. After the Yuan Dynasty unified Tibet in the 13th century, the central government implemented a series of policies and measures towards Tibet and named major religious figures as high-level imperial monks and teachers.
The Karmapa seal in Ming Dynasty, jade. During the fifth year in the reign of Emperor Yongle (1407), the emperor granted this seal to the fifth Karmapa, Deshin Shekpa of the Karma Kargyu sect of Tibetan Buddhism. The "Karmapa" title has been conferred to the reincarnations of Living Buddhas of the Karma Kargyu (black hat) sect.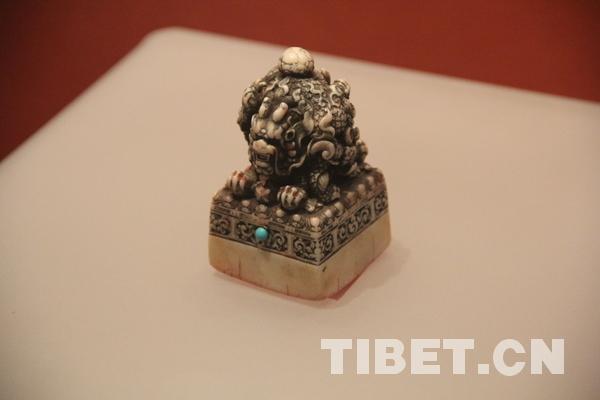 Seal of the imperial monk, King Chanhua in Ming Dynasty, ivory. King Chanhua was the leader of the Phagmodrupa regime in the mid 14th century in Tibet.
Seal of the fifth Dalai Lama, iron and sandalwood. In the ninth year during the reign of Emperor Shunzhi (1652), the fifth Dalai Lama Ngawang Lobsang Gyatso led an entourage of 3,000 people to Beijing to have an audience with Emperor Shunzhi. In the following year when they went back, the Qing court sent them to Daiga (now known as Hohhot). In April of the same year, the Minister of Rites was sent to Daiga to present him with a gold seal and gold book, thus formally determining the Dalai Lama's title and political status. "Dalai lama" means "vast ocean" in Mongolian. In Tibetan, "lama" means "guru" (great teacher).
Seal of the 8th Dalai Lama, jade.
The Tibetan Culture Museum was officially opened on March 28, 2010. It has an exhibition area of over 5,000 square meters. It is located at No. 131 on the North Fourth Ring East Road, Chaoyang District, Beijing, and it is open from 9:00 am to 5:00 pm every Tuesday, Thursday, and Saturday. Visitors can access the museum for free with valid identification.