Tibet pushing railway network forward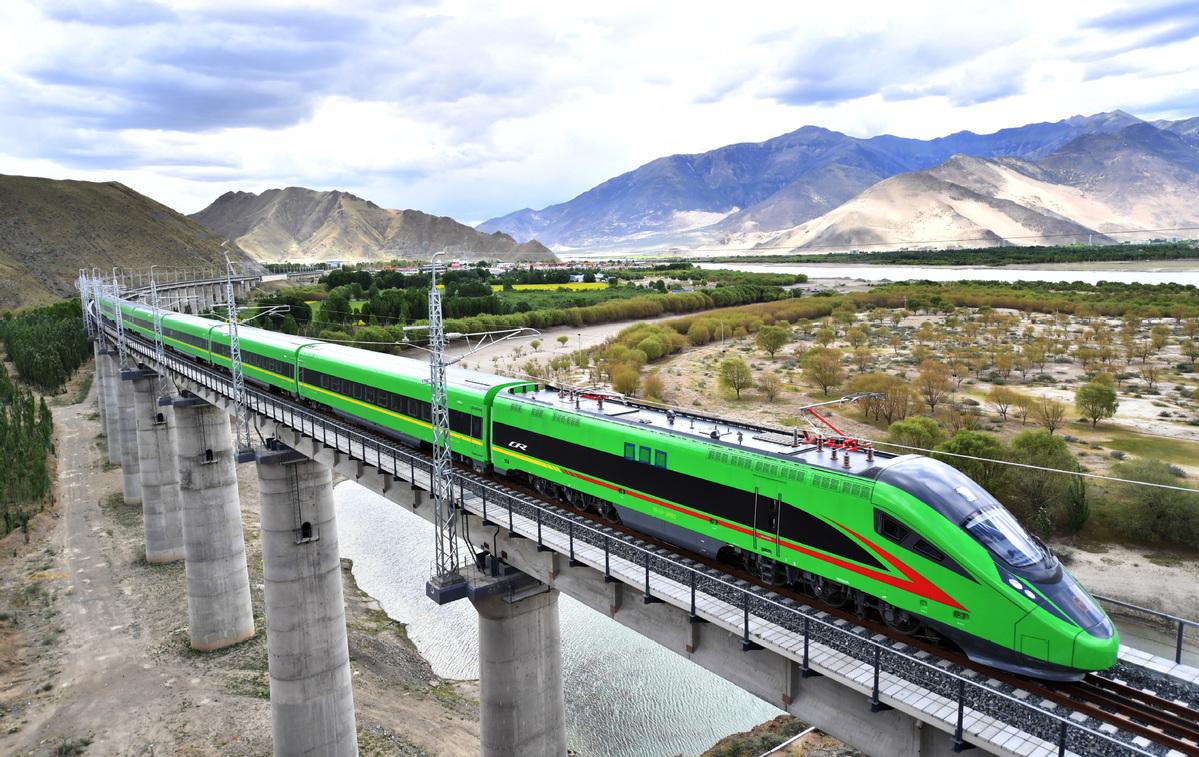 A Fuxing bullet train runs on the Lhasa-Nyingchi railway during a trial operation in Shannan, Southwest China's Tibet autonomous region, June 16, 2021. [Photo/Xinhua]
The Tibet autonomous region plans to build multiple railways in the near future so that 55 counties and districts in the region are connected by rail service, according to the regional Development and Reform Commission.
According to a rail network plan released by the commission on its official website recently for the 14th Five-Year Plan period (2021-25) and for the medium- and long-term, the region will expand its railway network and improve its quality. Coverage will see significant growth, and the contribution of railways to local economies and social development will be further strengthened.
The plan notes that by 2025 multiple railway projects will have seen progress, including the smooth implementation of the Ya'an-Nyingchi section of the Sichuan-Tibet Railway (currently underway), the Shigatse-Pakhuktso section of the Xinjiang-Tibet Railway and the Bomi-Ra'uk section of the Yunnan-Tibet Railway.
Key railway projects, including the electrification of the operational Qinghai-Tibet railway, the renovation of the double-track railways of the Pakhuktso-Hetian line of the Xinjiang-Tibet Railway and the Lhasa-Nyingchi Railway.
It was also noted that the construction of a railway in the region's Gyirong Port is expected to be launched, and the region's total mileage of rail network will reach 4,000 kilometers by 2025.
Under the plan, the region's total distance of rail network is expected to reach 5,000 km by 2035, and a comprehensive railway network linking the neighboring provinces of Qinghai, Yunnan, Sichuan and major land ports will be formed by then.
It will further improve the railway network of the region, which will be of great value in promoting social and economic development and safeguarding national security in the region, it said.
By Daqiong and Palden Nyima