Drone-based IoT helps monitor ecosystem of Qinghai-Tibet Plateau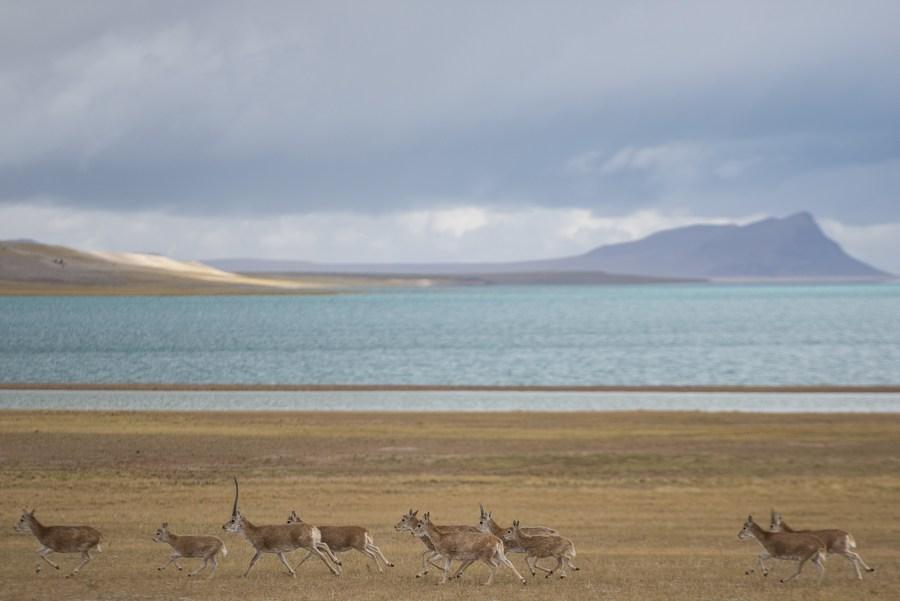 Photo taken on Sept. 23, 2021 shows Tibet antelope by a lake on the Changtang Plateau, in southwest China's Tibet Autonomous Region.(Xinhua/Sun Ruibo)
LANZHOU, Jan. 31 (Xinhua) -- Modern technologies are enabling people to better understand the vast Qinghai-Tibet Plateau as Chinese scientists put the drone-based Internet of Things (IoT) into its ecosystem monitoring.
An innovative system has been deployed to retrieve monitored data on wildlife, phenology and the environment on the vast and remote plateau via integrated technologies and devices.
A joint research team has improved the previous drone-based Internet of Remote Things system and innovatively integrated the system with devices for ecosystem monitoring, and the data remotely retrieved by drones.
The study and innovative application sustains high-efficiency data transmission from remote regions, shedding light on real-time ecosystem monitoring and further protection on the plateau, according to Li Xin, researcher with the Institute of Tibetan Plateau Research (ITP) under the Chinese Academy of Sciences (CAS).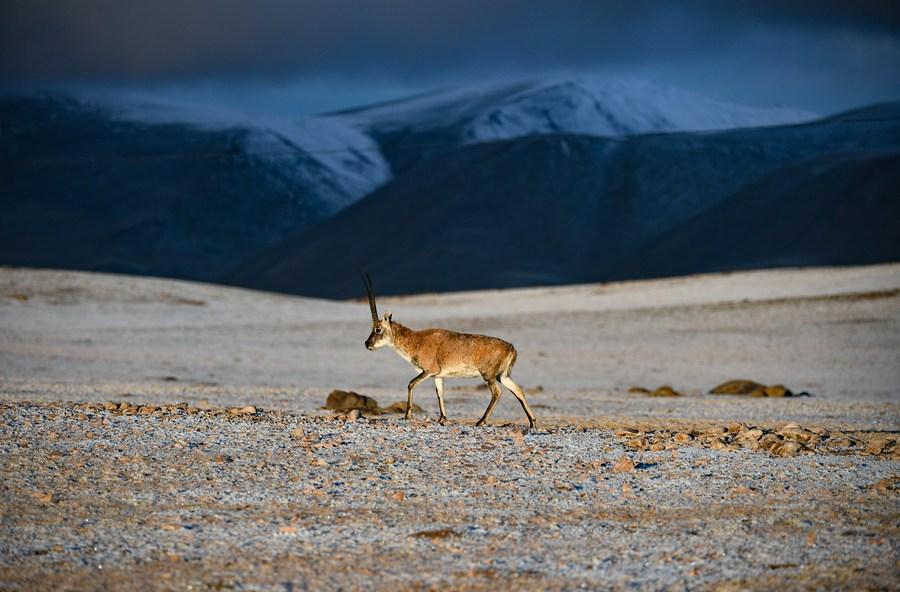 A Tibetan antelope is pictured at the Qiangtang National Nature Reserve in southwest China's Tibet Autonomous Region, Sept. 25, 2021. (Xinhua/Jigme Dorje)

"The roof of the world" also the "Asian Water Tower," the Qinghai-Tibet Plateau is of great importance to ecology and environment.
Real-time ecosystem monitoring is highly anticipated to help fully understand the complex interactions of ecosystem progress on the plateau. It could be achieved via the in situ deployment of multiple devices, such as the automatic weather stations for environmental variability monitoring and infrared cameras for wildlife population dynamics and behavior monitoring.
However, scientists still face the challenge of collecting and transmitting massive data in extreme areas without a public network.
The study team unites researchers from multiple institutions, including the ITP, Lanzhou University of Technology, Lanzhou University, the Northwest Institute of Eco-Environment and Resources under the CAS, among others.
Scientists integrated multiple technologies, such as drone, IoT and ecological monitoring devices.
Their experimental results indicated that the data transmission rate between the drone relay and the terrestrial terminal can reach up to 10 to 15 MB/s, making it possible to send the monitored images and videos.
They also introduced a signal strength-based priority strategy that can reduce the time needed for data transmission between the drone relay and the terrestrial terminal.
They have successfully realized the drone-based high-speed remote data transmission of monitored data on blue sheep, spruce and environmental elements on the Qilian Mountains on the northern foot of Qinghai-Tibet Plateau.
The study proposes a new sci-tech solution to data retrieval in extremely remote areas, where the ground public network is absent or remote and hard to reach, Li added.
by Xinhua writers Hu Tao, Zhang Wenjing