Teacher opens home to Tibetan students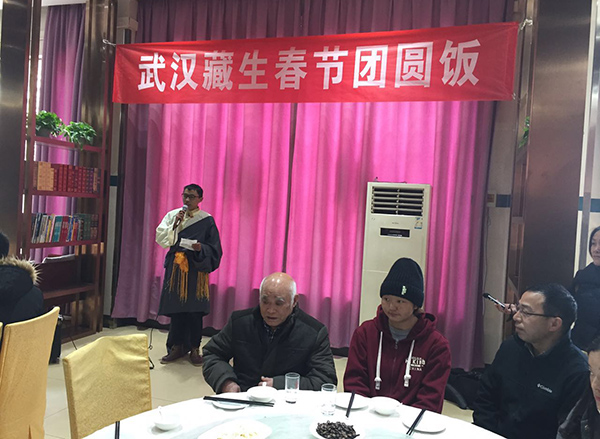 Yang Changlin and Tibetan students have reunion dinner at Wuhan University. [Photo/Zhou Lihua]
Since 1978, Wuhan University teacher Yang Changlin, has invited Tibetan students who could not return home for Spring Festival, to his home for dinner every year.
"At the beginning, we had the reunion dinner at my home. Later, as more and more students came to my home, we moved the dinner to a restaurant," Yang said.
Yang, who graduated from Wuhan Institute of Physical Education in 1965, voluntarily applied to work in Tibet. In Ngari Prefecture, he met his Tibetan wife Tsering Dekyi.
In 1976, Yang had a high altitude heart attack and he had to go back to Wuhan to work.
After his return to Wuhan, Yang's house became the home of Tibetan students studying in the city. In addition to the Spring Festival reunion dinner, Yang also organized football matches and traditional dancing events for the Tibetan students every year.
Over the years, the number of Tibetan students that Yang has invited to dinner or helped reaches more than 10,000.