China calls for rationality in Sino-U.S. trade ties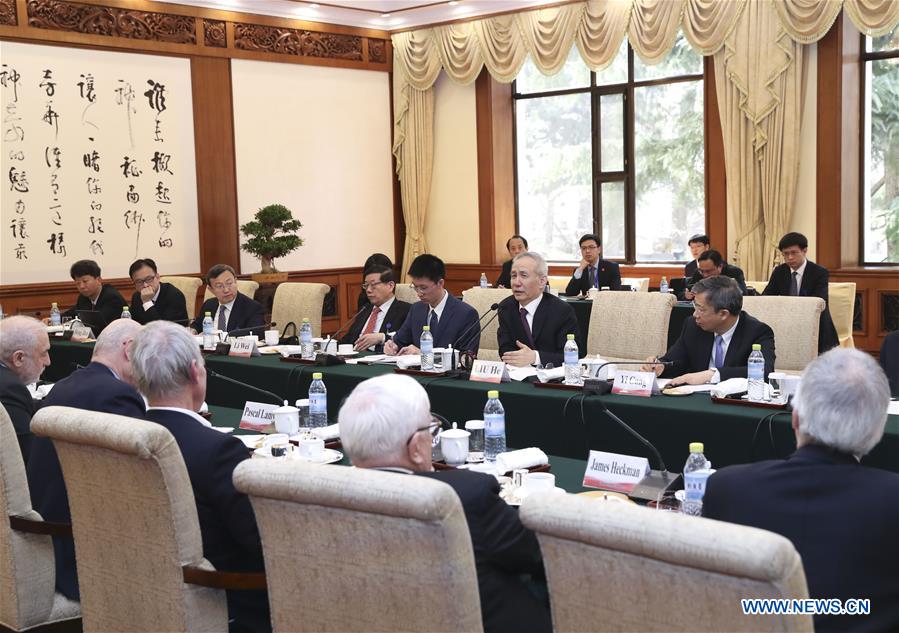 Chinese Vice Premier Liu He holds a symposium with representatives from international organizations and scholars attending the China Development Forum (CDF) 2018 in Beijing, capital of China, March 25, 2018. (Xinhua/Pang Xinglei)
Chinese Vice Premier Liu He has called for rationality and joint efforts by China and the United States to safeguard the stability of China-U.S. trade relations.
He made the remarks at two symposia on March 24 and 25, with over 20 representatives from international organizations, entrepreneurs and scholars who were in Beijing to attend the China Development Forum 2018.
Liu said China would continue its reform and opening-up, support economic globalization, and promote the building of "a community of shared future for humanity."
Liu said the recent U.S. release of a Section 301 investigation report ran counter to global trade rules, and was detrimental to the interests of China, the United States and the whole world.
"China is ready and has the strength to safeguard its national interests," he said.
Many participants at the symposia consider the releasing of the Section 301 investigation report as politicizing a trade issue, posing a threat to the global multilateral trading system.
They believe the trade war is not the correct solution to the trade imbalance between China and the United States, and that the U.S. government should squarely face the deep structural reasons for its trade deficit, instead of blaming economic globalization and major trading partners.
They also suggested that China should take the lead in the multilateral trading system, create a favorable business environment for foreign enterprises in China through further reform and opening-up, and promote and lead economic globalization.
The participants include former director-general of the World Trade Organization Pascal Lamy, Nobel Laureate in Economics Michael Spence, Nobel Laureate in Economics Joseph Stiglitz and Nobel Laureate in Economics James Heckman.