The times are a-changing in Nixi
The streets of modern-day Shangri-La have become somewhat of a magnet for couples tying the knot. On any given day, you'll likely stumble upon a wedding party.
Wander the city's lesser-travelled streets on a quiet day, however, and you might hear the whisperings of an ancient saying: "you will regret it if you did not taste chicken soup in Nixi black pottery."
So what exactly is this fabled black pottery of the Nixi? The pottery is now a national intangible cultural heritage and is every bit as charming as the town of the same name in which it originated – Nixi.
Nixi is inhabited by Tibetan ethnic group and is nestled along the popular adventure route from Zhongdian to Deqing in the Diqing Tibetan autonomous prefecture, Yunnan province.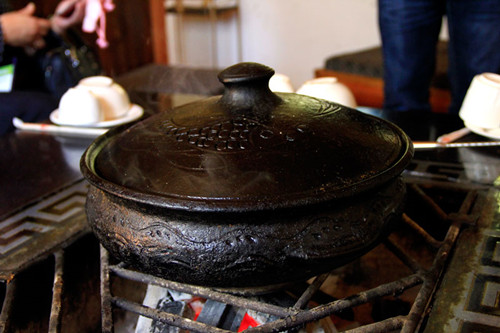 A black pottery made in Nixi township, Yunnan province, is used to boil food and generate a unique flavor. [Photo/Xinhua]
Caravans along the ancient Tea Horse Road would pick up fine black pottery from the village while ferrying brick loads of tea to and from Tibet for trade.
Until modern kilns developed, the pottery was hardened in low temperatures. Most Tibetan households own one or two Nixi pottery sets, which is said to give a unique and delicious taste to soup or tea brewed in it.
Dangzhenpichu is a local black pottery artist who has made Nixi pottery for over 38 years. Though he maintains age-old traditions in the essence of the work he creates, Dangzhenpichu is contantly adding modern twists to appeal to new buyers.
"Time evolves. Black pottery craftsmanship must keep up the speed of the social development or it will die," the pottery artist said, while spinning a lump of clay.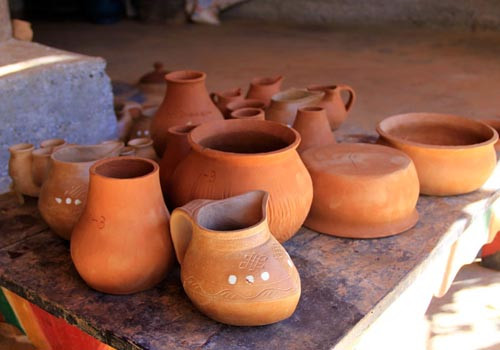 Heir of black pottery craftsmanship, Dangzhenpichu from Nixi township, Yunnan province, makes a pottery carefully. [Photo/Xinhua]
"Nixi black pottery now can be made into over 120 classifications used as religious articles, travel souvenirs, ethnic featuring handiworks."
According to Nixi's deputy township head, Dunzhuciren, the black pottery is the main source of income for most people in Nixi. Over 100 villagers make black pottery in the town and can earn several tens of thousands of yuan a year. To preserve the cultural significance of the intangible cultural heritage, the town's authorities have set aside eight million yuan to build an earthenware cultural center.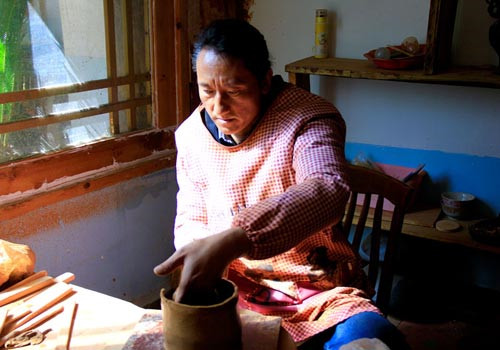 Pre-fired pottery dried under the sun. [Photo/Xinhua]