9 Tibetan monks take Geshe Lharamba summer pre-exam
The summer pre-examination test for the 2018 annual Tibetan Buddhism Geshe Lharamba title exam took place on July 11 at Drepung Monastery in Lhasa, capital city of southwest China's Tibet.  
The pre-exam was organized by Drepung Monastery in Lhasa, Tashilhunpo Monastery in Shigatse, Bashu Monastery and Champaling Monastery in Chamdo, and Redeng Monastery in Nagchu. Nine student monks recommended by their monasteries after signing up took the exam.

Students are tested through debates and an assessment of cultural knowledge to prepare them for the examination for the Geshe Lharamba qualification and title ranking next spring.

Geshe laramba is the highest degree for the Gelug sect of exotoric Tibetan Buddhism; it is the equivalent of a doctorate in modern education. After lamas complete compulsory studies in exoteric Buddhism, they can test for different "geshe" rankings and can then become abbot (called khenpo in Tibetan) of dratsang or medium and small-sized monasteries.

Monks who are eligible to enter the Geshe Lharamba exam must be proficient in the five classical theories in Tibetan Buddhism. The Geshe Laramba title is the goal of every monk of the Gelug Sect. Those who have obtained the ranking are generally very influential to monks and laypeople and are qualified to interpret the dharma for others.

Exams for the "Lharamba Geshe" title are held in summer (pre-exam) and winter (final exam). Candidates can only take the official winter exam held during Tibetan New Year at Jokhang Temple after they have passed the summer pre-exam. The exam is held by the three largest monasteries in Lhasa—the Ganden Monastery, the Drepung Monastery, and the Sera Monastery, which are also the most influential monasteries in Tibetan Buddhism. Monks and Buddhists from all over Tibet and Tibetan-inhabited areas can observe the exam. Monks taking the exam must answer difficult questions on Buddhism from high monks in front of thousands of people, and only after participating in both exams can they earn the degree.

Lharamba Geshe is an old monastery examination system, which mainly focuses on knowledge of Buddhist doctrine. In order to suit social developments, the High-level Tibetan Buddhist College of China has organized a Thoramba advanced degree exam, which tests modern knowledge like computing in addition to Buddhist doctrine.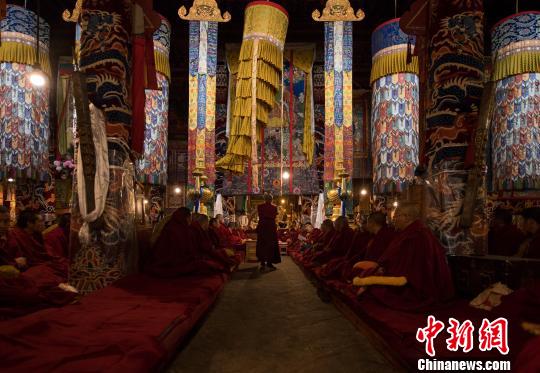 Site of the pre-exam. [Photo/Chinanews.com]

Student monks are debating sutra with the evaluation teacher in the pre-exam. [Photo/Chinanews.com]

Teachers pose questions to students taking the pre-exam. [Photo/Chinanews.com]

Evaluation teachers at the site of the pre-exam. [Photo/Chinanews.com]