Intangible cultural heritage items performed in Aba
The 2017 Aba Ethnic and Folk Intangible Cultural Heritage Performance was opened on April 28th at the Cultural Palace square of Barkam, the prefectural capital of Aba in southwest China's Sichuan Province. [Photo/Sichuan Online]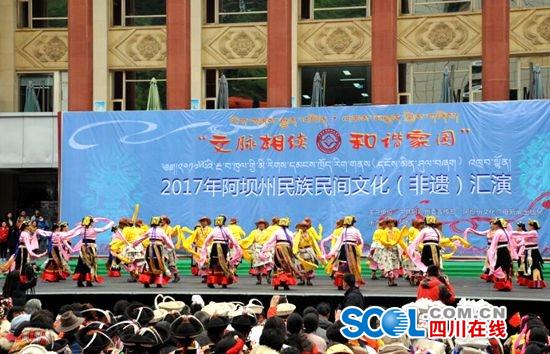 The 2017 Aba Ethnic and Folk Intangible Cultural Heritage Performance was opened on April 28th at the Cultural Palace square of Barkam, the prefectural capital of Aba in southwest China's Sichuan Province. [Photo/Sichuan Online]
The 2017 Aba Ethnic and Folk Intangible Cultural Heritage Performance was opened on April 28th at the Cultural Palace square of Barkam, the prefectural capital of Aba in southwest China's Sichuan Province. [Photo/Sichuan Online]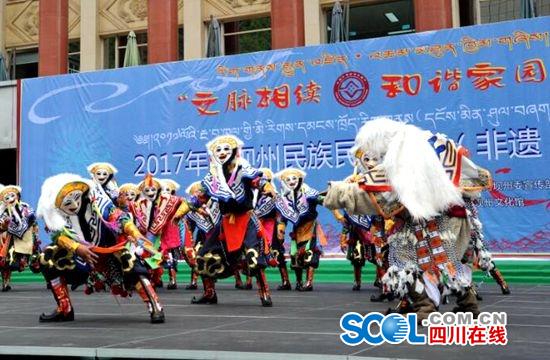 The 2017 Aba Ethnic and Folk Intangible Cultural Heritage Performance was opened on April 28th at the Cultural Palace square of Barkam, the prefectural capital of Aba in southwest China's Sichuan Province. [Photo/Sichuan Online]
The 2017 Aba Ethnic and Folk Intangible Cultural Heritage Performance was opened on April 28th at the Cultural Palace square of Barkam, the prefectural capital of Aba in southwest China's Sichuan Province. [Photo/Sichuan Online]
Accompanied by melodious folk songs, the 2017 Aba Ethnic and Folk Intangible Cultural Heritage Performance was opened on April 28th at the Cultural Palace square of Barkam, the prefectural capital of Aba in southwest China's Sichuan Province.
A total of 14 performance groups and more than 500 people presented a "cultural feast" of original Tibetan and Qiang songs, dances and operas to the local residents.
"I know that we have various intangible cultural heritage programs in our prefecture, but I have not had the opportunity to watch them. Today, finally I can satisfy this craving; it's very exciting," said a resident of Barkam.
The73-year-old Namgyamo from a township of Songpan County is a national-level intangible cultural heritage inheritor of multiple vocal parts for Qiang ethnic folk singing. He and two young people performed a Qiang song dance on stage together, expressing their passion for life.
A Tibetan opera troupe from Jangzha Township in Zoige County performed the traditional Tibetan opera Prince Drimed Kunden. What's more, three nine-year-old children also danced the Tibetan opera on stage with the adults.
Garang Tashi, leader of the opera troupe, said that in order to carry on Tibetan opera, every two or three years they will recruit young people to their troupe.
One of the head with the Aba Prefecture Cultural and Media Bureau said that every one of the intangible cultural heritages is a "living fossil", which has been passed down through thousands of years, becoming a very valuable cultural resource today.
More shows will be held in the future, "not only to enrich people's cultural life, but also to encourage and promote the sustainable development of local cultural industries," he said