QINGHAI RANGERS RISE TO MEET CHALLENGES
QINGHAI RANGERS RISE TO MEET CHALLENGES
Nomads experience changes in role they play
A bird's-eye view of Sanjiangyuan National Park, Qinghai province. The venue is due to open later this year and officially become China's first national park. CHINA DAILY

When Tashi, a 49-year-old park ranger, rose at 6:30 am, his wife was busy preparing a breakfast of milk tea and tsampa, a pastry made from highland barley.
Even though the rising sun's rays shone through the window, the September morning air on the Tibetan Plateau was cool.
Tashi is now in his fourth year working as a ranger at Sanjiangyuan National Park, in Qinghai province. The venue is due to open later this year and will become China's first national park.
Thirty minutes after double-checking his baggage, which included a tent, oven, different-sized sacks to collect litter, some fast food and a bag packed full of tsampa, Tashi went to meet his 14 teammates.
Each team member needs to carry enough food to survive for at least two nights at an altitude of 4,700 meters above sea level.
The team comprises 15 men and women from the Tibetan ethnic group, whose ages range from 18 to 55. Years of nomadic life have left them with dark complexions, in good physical shape and also given them the courage and experience to survive in challenging terrain.
For the next two days, Tashi and his colleagues crossed woodlands, wetlands and grasslands before entering the Sanjiangyuan area, also known as the Source of Three Rivers-the Yellow, Yangtze and Lancang. Outside China, the Lancang is known as the Mekong.
The rangers' work includes preventing grazing in prohibited areas and other activities that are banned. They also record traces of wildlife, monitor changing conditions in lakes and wetlands, protect animals and clear up litter.
The team, which uses an app to report and record its work, is taking part in the "ecological ranger" program, launched by the authorities in Qinghai in 2012 to introduce indigenous people to ecological management and enable them to earn more. Tashi's monthly salary is 1,800 yuan ($257).
Known as the "Water Bank" of China, an average of 60 billion cubic meters of clean water is pumped downstream from the Sanjiangyuan area each year, supplying more than 1 billion people in Asia.
The changeable weather and high altitude are distinctive characteristics of the plateau.
For hundreds of years, raising animals was the primary source of income for people living in the river sources area.
However, overgrazing of cattle, climate change and mining activities accelerated desertification in the area in the 1990s, in turn reducing the herdsmen's income. Poverty and deteriorating environmental conditions followed.
Tobdan, 68, head of Geduo village in Dawu township, Maqen county, Golog Tibetan autonomous prefecture, said: "Four decades ago, the vast area of land around this village was black, deserted and barren. Rats ran wild. Livestock starved."
He is one of the pioneering locals who fought desertification before the government organized such work. For the past 16 years, Tobdan and other villagers, who have devoted themselves to growing grass on the land, have turned 101,980 hectares of barren terrain into lush meadowland.
Sanjiangyuan National Nature Reserve, founded in 2000, obtained State-level status in 2003, after which environmental improvement efforts were made in the area. One of the key projects involved relocating herdsmen living on badly degraded land.
Sun Lijun, deputy director of Sanjiangyuan National Park, said: "Resettlement does not mean driving them away from their homeland, to which they are deeply attached. Rangers help protect their homeland while preserving their traditions."
There are 145,100 ecological rangers in Qinghai, including 17,211 in the national park area.
Each day after leaving their homes in villages and towns in the province's four Tibetan autonomous prefectures, hundreds of ranger teams patrol on horseback or on motorcycles.
Roaming bears
Dothar, 43, head of the ecological protection station in Huanghe township, Madoi, said: "Not everyone has the ability to do this job. A ranger can protect a place only when he knows it well.
"We (Tibetan herdsmen) know the waters and mountains here like the backs of our hands and we know how to cope with the capricious weather. So, we have an advantage."
Rangers must be able to adapt to the harsh environment. At such an altitude, even locals experience headaches and shortness of breath.
From January to last month, 879 rangers from the seven villages in Huanghe carried out 260 patrols in the area they are responsible for, saving injured wildlife more than 60 times and clearing away more than 3 metric tons of waste.
Tashi, the 49-year-old ranger, who is from Jiangpang, one of the seven villages, said: "We never patrol alone, always in groups. The weather here can suddenly change. The roads are often destroyed by heavy rain in summer, while in winter, our vehicles are buried in waist-deep snow. You can never be sure of being home on time."
Last winter, it took Tashi and 10 colleagues several hours to rescue a wild horse trapped in snow, their clothes becoming frozen during the attempt.
However, in summer, brown bears-which even the most-experienced herdsmen fear-begin to roam the area.
Tashi said: "The bears can tear our tents down with just a swing of their paws. We are all afraid of them. As the environment improves, we are now seeing them more frequently, but the animals are protected at national level, so we need to be careful not to hurt them.
"If you spot one, it's best to just sneak away, but they often just appear from nowhere. If you find that one is approaching, you should shout out and fling rocks to scare it away.
"I like my job, as it's more stable and interesting than merely herding, which was our old lifestyle. In particular, it's meaningful because we are protecting our homeland for coming generations."
A buteo chick on an artificial nest is offered water by a ranger.CHINA DAILY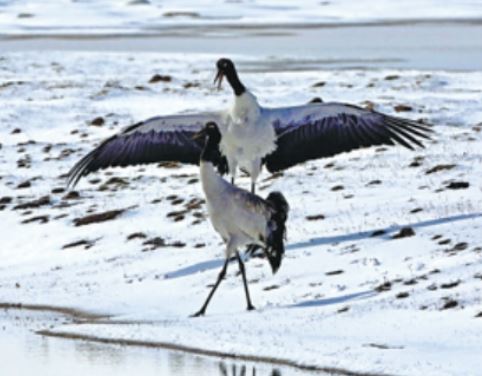 A black-necked crane performs a courtship dance.CHINA DAILY
Nest-making team
Every April, when spring arrives on the Tibetan Plateau, Dothar looks forward to seeing his old friends-black-necked cranes, which are under second-level State protection.
During the month, these beautiful migratory birds return to Huanghe from southern locations, nesting on mud islands in a large area of shallow wetland, breeding and hatching their eggs. They remain in the area until October, when their fledglings mature and the birds fly south again.
However, over the past three years, Dothar noticed the cranes' nests were destroyed when the frozen river thawed in May. Rain fell and the birds' eggs were washed away.
Dothar thought long and hard about a way to save the nests. After observing them closely, along with the changing water level, he found a solution through trial and error.
On April 2, he and six colleagues began making nests for the cranes. They used steel bars and wiring to make a solid foundation, overlaying it with grass, twigs and some mud from the birds' old nests to attract them to their new homes.
Dothar, who made four nests with his colleagues said, "It takes six or seven people a whole day to make them."
On April 10, about a dozen cranes arrived. They flew cautiously onto and away from the new nests, identified the smell of the mud, and finally settled in. In the following months, the four nests withstood the rising water level.
The birds laid eight eggs and all the fledglings hatched successfully.
Dothar could not be happier. "The chicks are maturing. In less than a month, the birds will fly south, but they will return, as this place is one of their homes," he said.
"We were not ordered to make the nests. We just reacted to what we saw and did what we had to do."
The cranes are not the only rare species the rangers have tried to protect.
For example, they have also made nests for buteos, large birds of prey commonly seen in pastureland whose diet includes rats, which are responsible for grassland degradation.
"Each species is an indispensable part of the ecological chain. They deserve the same treatment, and it's our responsibility to protect them all. We are not just doing it for us, but for the country and its people," Dothar said.
Positive results
Restoration of the Sanjiangyuan area has produced positive results over the past decade, especially since 2016 when the pilot project for the national park was launched.
According to a report by the National Development and Reform Commission in 2018, the volume of water flowing out of the province has increased annually by 6 percent and the area of grassland has expanded by 11 percent a year. Since the national park project was launched, the number of Tibetan antelope in the area has risen from 20,000 to 70,000.
Sotrin, 43, from Duojiang village, Huanghe, who has been a ranger for four years, said: "I used to see our land dying as a result of degradation. Four to five years ago, one of the rangers' main tasks was to clean garbage. We didn't even dare to drink spring water then.
"Now, the rivers and lakes have regained their purity. We don't need to take water on our patrols anymore, and I've seen flowers growing that I've never seen before."
Sotrin said that every piece of waste he has picked up and every small task he has done have been worthwhile and made him happy.
Sun, the park's deputy director said: "Their work as rangers has transformed these nomads from being pure utilizers of nature, to helping build and guard it. What impresses me most is their enthusiasm, strong sense of responsibility and pride.
"Such strength, coming from the grassroots, is the engine needed to build a legacy like Sanjiangyuan, which will be with us for a long time and will benefit everyone.
"It is important to involve the indigenous people in ecological restoration and environmental protection work at the Source of Three Rivers. We will safely be able to say that the greatest feature of Sanjiangyuan National Park is its harmonious co-existence with humans and nature. Natural resources matter, but people matter, too."
Tashi, from Jiangpang village, has a 3-year-old daughter. Every time he returns home from a patrol, she often asks him to tell her stories about the rangers. She used to ask him why he and others risked so much to be rangers.
He replied: "Because the grassland is our home, and animals are our roots. We rely on each other."
SHEN WENDI in Madoi county, Qinghai
shenwendi@chinadaily.com.cn
Rangers repair fencing in an area of Huanghe township, Qinghai, where grazing is forbidden. CHINA DAILY

A ranger collects waste on a roadside in Madoi county, Qinghai. CHEN WEIBIN/FOR CHINA DAILY

Rangers patrol at Sanjiangyuan National Park. ZHANG KE/FOR CHINA DAILY