Ranger photographs rare leopard in NW China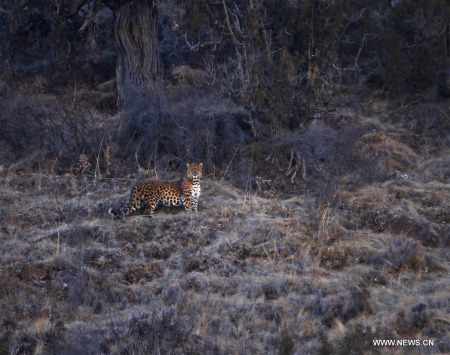 Photo taken on Feb. 20, 2018 shows a rare species of leopard in the Lancangjiang park, northwest China's Qinghai Province. (Xinhua/Kungkyap Chophun)
A wildlife ranger has captured photographs of a rare species of leopard in the Sanjiangyuan area of northwest China's Qinghai Province, local authorities said Thursday.
This was the first time a person has taken a photograph of the endangered species in the Sanjiangyuan area, according to Tsetentso, head of the Lancangjiang park management committee.
Sanjiangyuan, which means "source of three rivers," is home to the headwaters of the Yangtze, Yellow, and Lancang (Mekong) rivers.
Wildlife ranger Kungkyap Chophun saw a leopard on the other side of the Lancang river during a patrol in a canyon in late February. The leopard rested there for three hours, allowing the ranger to take multiple photographs of it.
Since 2014, the Zadoi County government, which administers the canyon, has cooperated with the Shanshui Conservation Center to set up around 100 infrared cameras across an area of 1,400 square kilometers.
"In China, most photographs and videos of leopards are captured by infrared cameras. It is rare for a person to take a photo of this species," said Zhao Xiang, director of the Sanjiangyuan project at the Shanshui Conservation Center.
Zhao said they have not yet confirmed which sub-species of leopard the one photographed by the ranger belongs to.
Due to habitat fragmentation and less prey, China's leopard population has been decreasing. The animal is rarely seen in the wild.
"Surveys and studies on leopards can enrich our understanding of Sanjiangyuan area," said Feng Limin, deputy director of the Northeast Tiger and Leopard Monitoring and Research Center.
Leopards are under top national-level protection in China and are listed as vulnerable on the International Union for Conservation of Nature (IUCN) Red List of Threatened Species.