Local travel business heating up in China's Tibet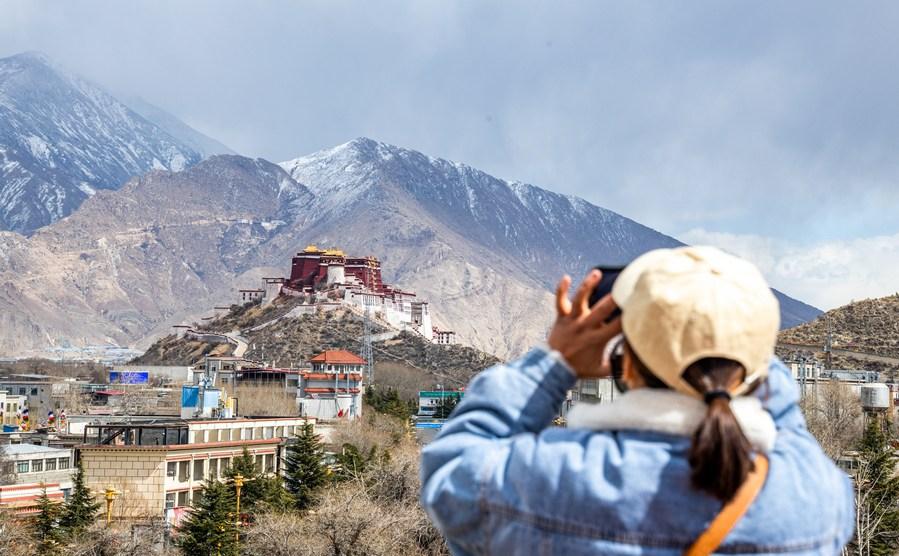 A tourist takes photos of the Potala Palace after a snowfall in Lhasa, southwest China's Tibet Autonomous Region, Feb. 24, 2023. (Photo by Tenzin Nyida/Xinhua)
LHASA, May 19 (Xinhua) -- Southwest China's Tibet Autonomous Region held tourism and culture promotion activities on Friday at Junpa fishing village in the suburbs of the regional capital Lhasa, as part of the broader China Tourism Day event.
The activities at the village were aimed at injecting vitality into short-distance travels around Lhasa, said the organizer.
Nagwang, a local 33-year-old fisherman, took part, along with his traditional cowhide boat.
"When the local tourism project was launched in 2012, the village could only offer traditional cowhide boating activities on the Lhasa River. Nowadays, we can provide various tourism options, such as camping, painting and bonfire dinners," said Nagwang.
To attract more tourists to the region, Tibet launched six short-distance travel routes earlier this month, promoting rural tourism in villages, according to the regional tourism development department. The routes feature attractions such as rich cultural resources and intangible cultural heritage.
"The Junpa fishing village, located adjacent to the urban area of Lhasa and the regional capital's airport, has raked in more than 70,000 yuan (about 9,950 U.S. dollars) thanks to its intangible cultural heritage experience tours since May," said Dondrup, the department's deputy head.
The village's short-distance travel boom has also effectively driven a rise in incomes among the local residents, the official added.
The region has launched a digital travel card for tourists to experience more than 20 famous tourist attractions of Tibet, including Namtso Lake and Norbulingka, a world heritage site, Dondrup added.
During this year's May Day holiday, Tibet received more than 1.16 million tourists, with a total tourism revenue of 848 million yuan, up about 137 percent and 42.3 percent, respectively, compared with the same period of 2019, indicating that the tourism sector is recovering to pre-COVID-19 levels.