Development boosted by improved transport links
The Tibet autonomous region made further progress in transportation infrastructure development in 2022, bringing the total length of roads open to traffic to 121,400 kilometers, the regional transportation authority said in early March.
In 2022, the autonomous region invested almost 16.39 billion yuan ($2.36 billion) in fixed assets for road transportation.
"Tibet will complete fixed asset investment of 26.3 billion yuan in road construction and increase the length of roads open to traffic to 124,000 km this year," said Liu Zhiqiang, head of the regional department of transport.
Since 2016, the region has spared no effort in investing in the development of rural road networks. As of now, 662 townships and 4,382 villages in Tibet have been linked by paved roads, meaning 95 percent of its townships and 78.76 percent of its villages are now connected, the department said.
The region saw an increase of 720 km in its rural road network last year.
In 2022, 185 road construction projects were undertaken and 117 unsafe bridges were renovated in the region's rural areas. Passenger bus services in rural areas increased, with 612 townships and 3,705 villages, approximately 90 percent and 69 percent, respectively, gaining access to shuttle bus services.
The region's traffic and transportation sectors last year moved 3.98 million passengers and a freight volume of around 39 million metric tons.
With the total highway length expected to reach 124,000 km by the end of this year, more than 95.5 percent of the region's townships and 82 percent of its villages will be accessible by road.
The improvement of transport has greatly contributed to the region's overall social and economic development.
Residents of Tashi Choten village in Tradruk township, Lhokha city, have been operating family inns to generate income in recent years.
Tashi Choten is said to be the cradle of Tibetan Opera. After the village became accessible by a paved road in 2019, a large number of tourists have flocked there for sightseeing and experiencing traditional Tibetan culture.
Li Yuwei, the leader of Tradruk township, said that more tourists have been coming to the village to observe its Tibetan Opera culture and local customs.
"The road has led to the development of the opera, homestay and catering industries in the community," Li said.
"More than 70 households operate family inns, and it's clear that rural roads are a driving force for rural vitalization," Li added.
Drolma Yangzom, a resident from Tsodo township of the region's Lhundrub county, said she had to travel around three hours from Lhasa to her home village years ago by car, but nowadays the same journey is less than two hours.
"Half of the journey from Lhasa to my home county has been upgraded into high-grade highways, and it is much safer and faster," Drolma Yangzom said.
China Daily - Xinhua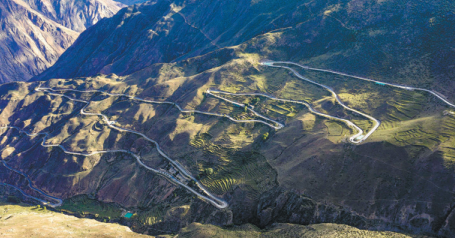 A rural road winds its way on the slopes of Tibet's Pashoi county. TANG DEHONG/FOR CHINA DAILY