More than 1 million visit sites during May holiday
The Tibet autonomous region received more than 1.17 million tourists during the May Day holiday spanning from April 29 to May 3, a surge of 73.25 percent year-on-year, the Tibet Tourism Development Department said on May 5.
The region raked in 848 million yuan ($122 million) in tourist revenue during the five-day holiday. The figure represented a surge of 61.52 percent compared to the same holiday of 2022, signaling a recovery of the industry following the pandemic.
The Potala Palace, a UNESCO World Heritage Site in Lhasa, received a total of 27,701 visits. Meanwhile, the Basum and Namtso lakes as well as the Yarlung Zangbo River Grand Canyon were among the most-visited scenic attractions in Tibet during the holiday.
The average occupancy rate for Tibet's star-rated hotels reached 74 percent during the holiday, according to the department's data.
The department's officials said Tibet is one of the most favored destinations among tourists from across the country.
"I'm from Northeast China," said a tourist surnamed Wen after visiting the famed Potala Palace. "This is a long trip. But it's worthwhile when seeing the unique landscape and culture in Tibet."
The holy lake of Namtso, which is on an altitude of about 4,700 meters, opened to visitors just before the May Day holiday.
Kelzang Tashi, a staff member of the Namtso scenic area, said: "We received about 1,500 daily visits recently. I believe there will be a substantial increase in tourist number in the summer."
In addition to welcoming tourists from the rest of the country, the regional tourism development department launched six staycation tours for locals, promoting rural tourism and villages with features such as intangible cultural heritage.
"Spending the holiday in the countryside was refreshing. Our children loved activities such as traditional cowhide boating, kayaking, camping and dinners with a bonfire," said Tenzin Drolkar, a resident of Lhasa, who spent two days in a village near the Lhasa River.
Tibet's tourism industry began its growth momentum at the start of this year. The autonomous region received more than 2.55 million tourists from home and abroad in the first quarter, raking in tourism revenue of more than 2 billion yuan, local tourism authorities said in mid-April.
The autonomous region reported a year-on-year increase of 39.63 percent in the number of visits and 42.89 percent in tourism revenue for the first three months. This indicates its tourism sector has vitality with positive growth momentum, according to Wang Xiaodong, head of the regional tourism development department.
China Daily - Xinhua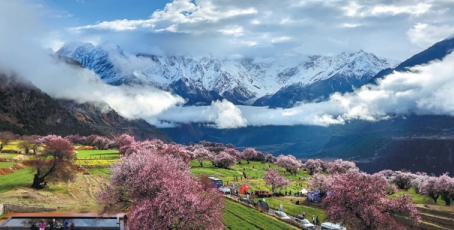 Peach flowers bloom in early April in Nyingchi city, attracting a group of self-driving tourists. JIANG FAN/XINHUA