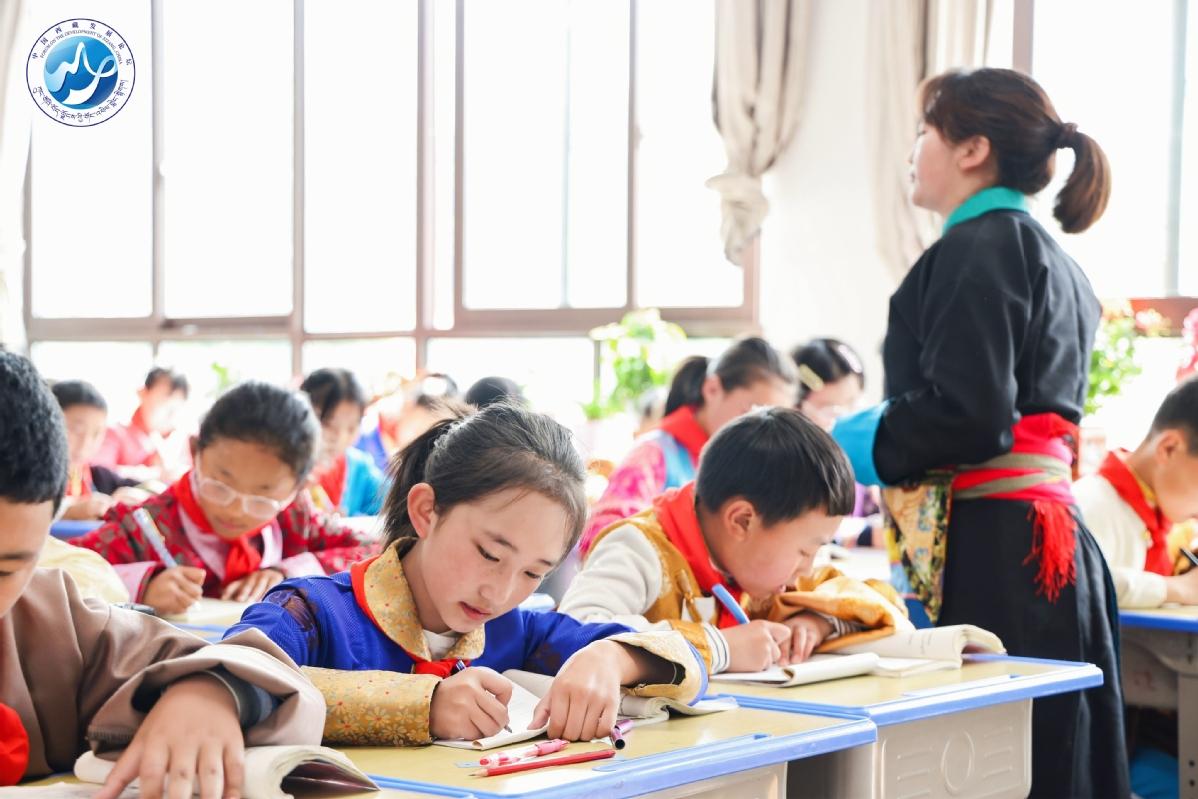 Students write under the supervision of their teacher during a lesson at Nyingchi No 2 Primary School in May. [Photo provided to China Daily]
Students reap rewards of shared, inclusive development in Tibet autonomous region, Alexis Hooi reports from Lhasa and Nyingchi.
Growing up in a traditional herder's family, Tibetan Penba Tashi always wanted to help those around him and contribute to society.
For the past three years, the 22-year-old has been studying and training as a medical major at Tibet University — steadily working toward his childhood dream of becoming a physician.
"I am the first in my family to attend university. It's thanks to the help and support from the Xizang government, its policies and subsidies for needy ethnic students like myself," he said, using the Chinese name of the Tibet autonomous region. "Studying and living with students of other ethnic groups also helps us understand and learn from each other."
The undergraduate also lauded the efforts of regional authorities that attach importance to Tibetan knowledge and other ethnic resources for multi-disciplinary education — the university library, for example, with its more than 800,000 books covering the ethnic Tibetan and Han languages, 2,400 traditional woodprints, 16,000 ancient works, 5,000 foreign language publications, and nearly 30 terabytes of digital data on such things as e-books, academic papers, and teaching materials provides an invaluable, comprehensive channel for enriching his medical studies and life, he said.
"Ethnic Tibetan and Han students here all help to complement each other's studies," Penba Tashi said. "I can explain some of the Tibetan customs, practices, and traditional medicinal knowledge, while my Han classmates help me with the details of language, like Mandarin."
His experience in the regional capital, Lhasa, reflects the rewards being reaped by residents, from the latest developments in the education sector, in line with the inclusive, shared, and sustainable growth pursued throughout the region and beyond.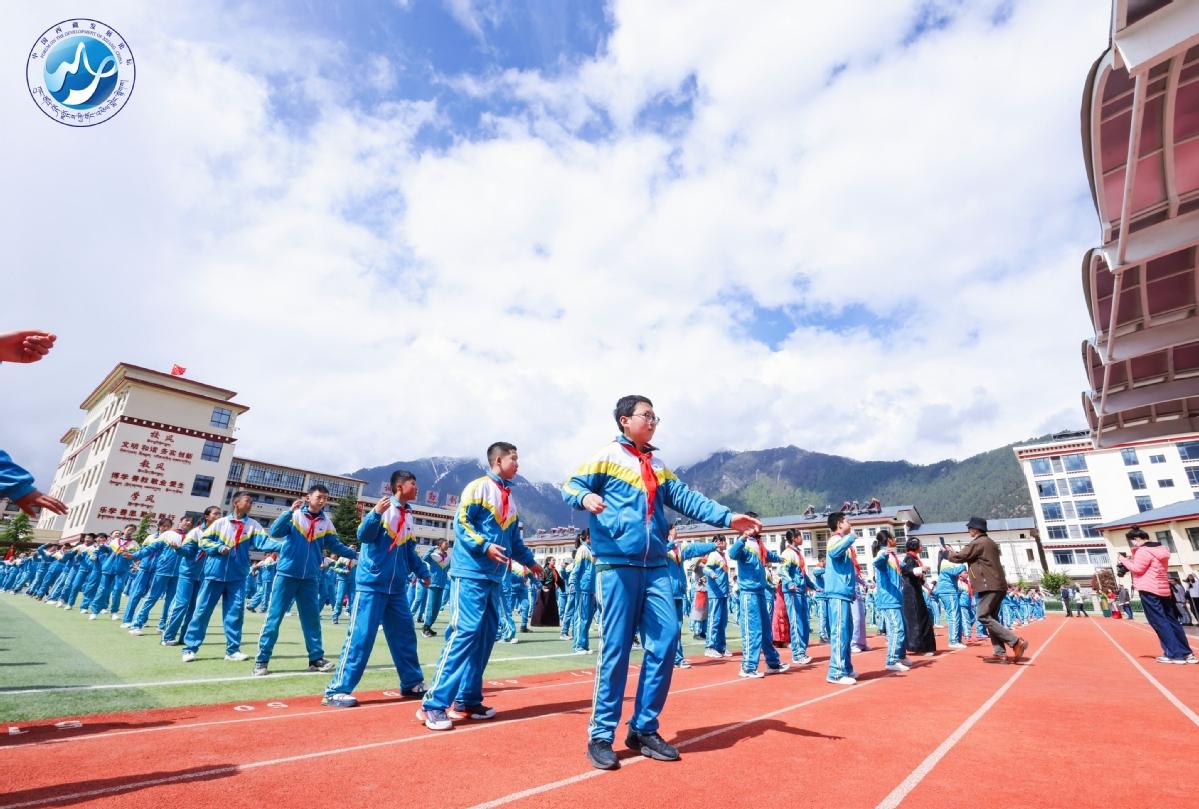 Students assemble on the track at the school to exercise. [Photo provided to China Daily]
In late May, President Xi Jinping sent a congratulatory letter to a major forum in Beijing on the development of Tibet, and urged the region to speed up high-quality development in the new era and ensure its residents live a better life.
"People's happiness is the ultimate human right, while development holds the key to delivering better lives to the people," Xi, who is also general secretary of the Communist Party of China Central Committee, said in the letter to the opening of the 2023 Forum on the Development of Xizang, China.
The forum, the seventh since the first was held in Vienna, Austria, in 2007, was jointly hosted by the State Council Information Office and the regional government.
Tibet should continue its people-centered development philosophy and improve people's livelihoods as the goal of its economic and social development, said Li Shulei, a member of the Political Bureau of the CPC Central Committee and head of the Publicity Department of the CPC Central Committee.
"More fruits of modernization should be shared with the people of all ethnic groups in Tibet in a more equitable way, bringing a greater sense of gain, happiness, and security," Li said at the forum.
Wang Junzheng, the autonomous region's Party secretary, said at the forum that Tibet's high-quality development will follow the principle of seeking progress while maintaining stability and actively serving as well as integrating with the new development paradigm.
"We will attach great importance to cultivating and developing industries and the real economy, continuously optimize the business environment, vigorously promote the development of strategic emerging industries such as clean energy, the digital economy, general aviation, and cultural tourism, and actively develop industries closely related to the work and daily life of the people, striving to protect and improve people's livelihoods," he said.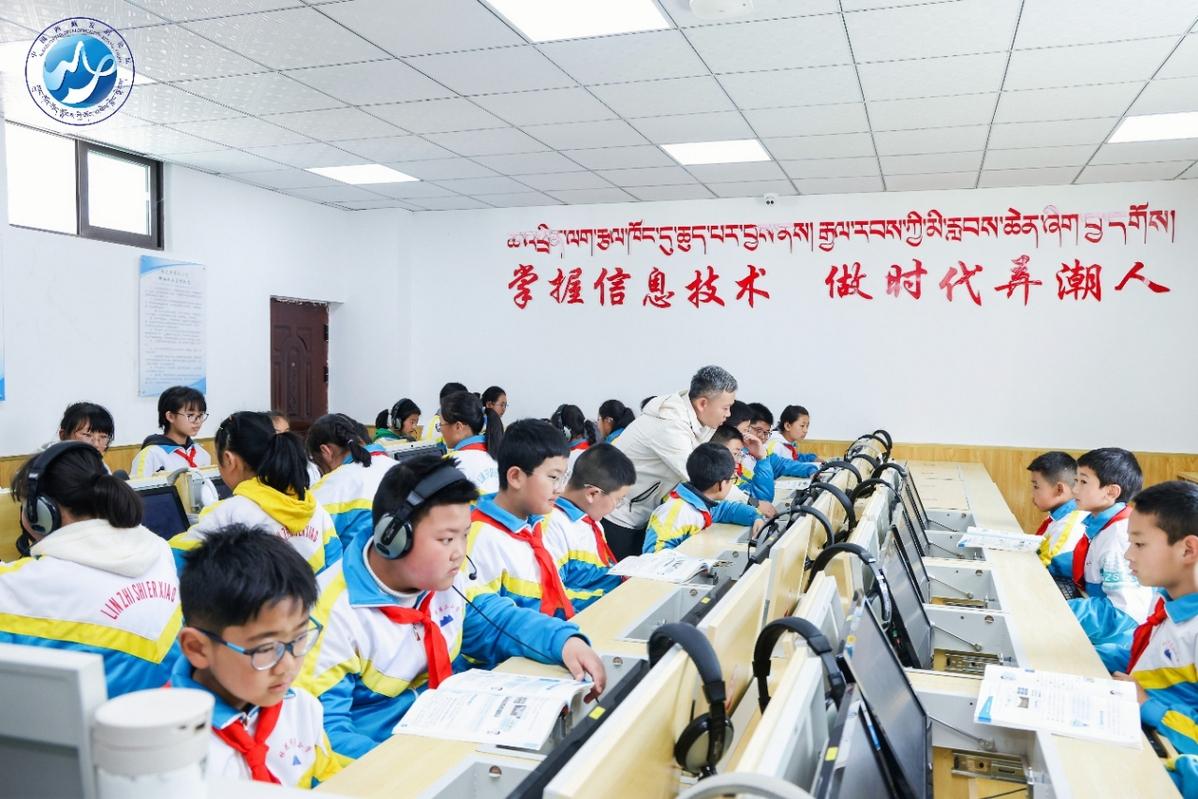 A teacher at Nyingchi No 2 Primary School explains concepts to students during a multimedia class. [Photo provided to China Daily]
To that end, the central government has invested more than 224 billion yuan ($31.5 billion) in regional education during the past seven decades, with at least 3,000 schools of different levels enrolling more than 790,000 students, who can enjoy 15 years of publicly funded compulsory education, according to a white paper on the sector.
At the Beijing Experimental High School, Lhasa, the government began investing 250 million yuan nine years ago, to build a new campus that has grown to cover 13.8 hectares, with 56 classes of lower and upper secondary education for more than 2,400 students, taught by 300 teachers.
Educational resources to aid the development of the school and meet the diverse needs of students include 167 teachers sent in four groups and management teams from Beijing, study tours, youth tutors, and more than 50 elective courses.
In 2016, the Education Ministry applied the school's model to other parts of the country.
Student Tsering Sangpo, 14, said the school provides him with an all-round education and ensures he can pursue his interests, which include sports, with a diverse group of schoolmates.
"I enjoy the classes here with friends from all parts of the community," he said. "I want to be a soccer player, working well with teammates with many opportunities to shine."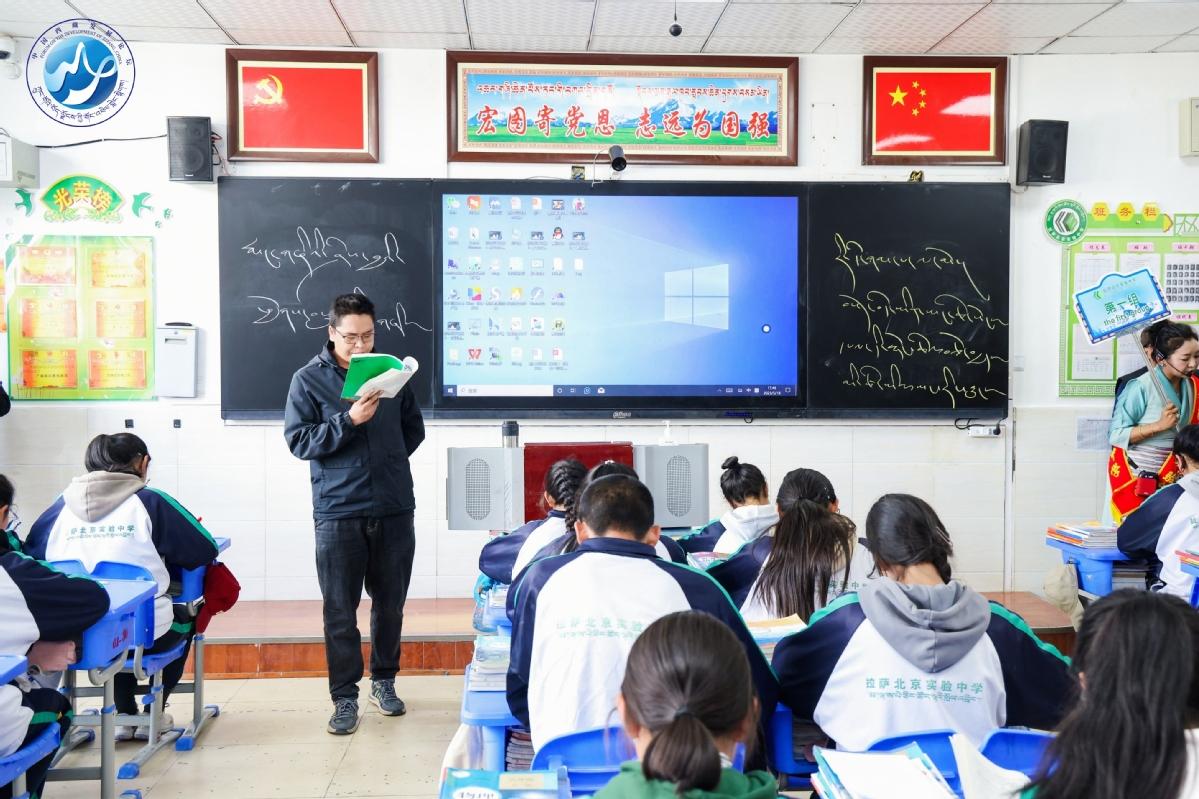 A class is underway at Beijing Experimental High School, Lhasa, in May. [Photo provided to China Daily]
An educational philosophy of creating ample conditions for healthy and harmonious development is also making positive impacts on ethnic students at the Nyingchi No 2 Primary School.
Located in the center of the southeastern city, the school comprises 45 classrooms, four laboratories, 60 multimedia rooms, three sports fields, and a library with more than 35,000 books for about 2,000 students taught by nearly 150 staff.
More than half of the students are Tibetan ethnic group members, who are able to attend classes that include calligraphy, art, and language that help preserve and promote their heritage.
Promoting the qualities of "erudition, good teaching, dedication, and love for students among its staff, and the willingness to learn, think, ask questions, and put learning into practice among its students" has achieved remarkable results, according to school authorities, with students placing among the best performers in local examinations in past years.
The school has also won more than 100 national, regional, and municipal honors for its educational model and achievements.
Zhao Tangtao, 35, who has taught at the school for a decade, said its students get to learn from each other and share their various backgrounds as members of ethnic groups that include Tibetans and Han.
"I would use the word 'harmonious' to describe us," she said. "Our experiences and successes here reflect how we are living in harmony with one another."