Heavenly kindergartens built in remote villages in Tibet
Early morning on the plateau, the sapphire-like sky is reflected in a lake under snow-capped mountains. Four-year-old Drolma carries her schoolbag and sets off to school. Today, she got up even earlier than the livestock in her family's pen, and now holds her mother's hand as she scampers off to the "new home" at the entrance of the village.
The village kindergarten in Shentsa County, Nagqu Prefecture in Tibet, 4,850 meters above sea level.
As soon as she enters the kindergarten classroom, little Drolma cheerfully calls out, "Hello, Teacher! Goodbye, Mama!" and runs to the middle of a group of children to play with her friends.
"In the old society before the 1950s, people wouldn't be able to read even at six or seven years old. Now, young children are able to read and count." Tashi Dhundrup, the oldest person in the village, exclaimed.
Shentsa County in Nagqu Prefecture is located in the northern part of the Tibetan Plateau. It has an average altitude of 4,700 meters and lies 600 kilometers away from Lhasa. It is spread over 20,000 square kilometers and has a population of more than 20,000 nomads. Its high altitude, remote distance, and spread out population not only restrict the economic and social development of the County, but also affect the progress of people's way of thinking to a certain extent.
Since 2012, the CITIC Group, which is supporting Nagqu Prefecture, has done a lot to consistently improve people's livelihoods and ensure that the majority of people in Tibetan-inhabited areas share in the results of reform and development. In terms of education and the lack of a village-level kindergartens in Shentsa County, CITIC Group invested 8.1797 million yuan through its subsidiary CITIC Securities, to assist in building village-level kindergartens in six villages , all over 4,850 meters above sea level.
In the past four years, the six kindergartens have enrolled 233 students, with 139 continuing on to primary school. 662,000 yuan from the Citizen Benefit Fund for the "Three Guarantees" (i.e. covering expenses for food, housing, and basic school needs) has benefited 156 rural families and helped 156 nomadic families get out of poverty. Even more gratifying is that bilingual education for kindergarten-age children in nomadic areas is now starting two to three years earlier.
After several years of cooperation from Aid Tibet corporations, workers, and local residents, various educational assessment indicators show that Shentsa County now ranks among the best after ranking in the middle of the prefecture several years ago.
Aid Tibet worker Chen Renjie carries out research.
Chen Renjie, deputy secretary of the Shentsa County Party Committee, has been an Aid Tibet worker for three consecutive terms. In August 2012, Chen Renjie came to the County from Hangzhou. Faced with the vast Changthang Grassland, in a geographical location and cultural background that were almost isolated from the outside world, the thoughts "why aid Tibet", "what should be done in Tibet", and "what should I leave behind" often lingered in his mind. In less than three months, Aid Tibet workers visited nearly 40 of the 64 villages in the County to understand the local living conditions and in particular to get first-hand information on early childhood education in these nomadic areas.
Whether under the hot sun or in pouring rain, parents in nomadic areas always carry their children on their backs when taking the livestock to graze, and children grow up alongside their animals. This sight made Aid Tibet workers feel worried. The distance between villages is not only vast but also blocked, and children between the ages of four and seven had to go to the county seat and township centers to attend kindergarten, a distance that was almost too far to complete. There were also hidden dangers on the road. Once, two students who attended primary school in the local township ran away from school because of homesickness. On their way home, they were washed away by the river and never seen again.
So what can be done? Aid Tibet workers started thinking about ways to solve these problems. Driven by a strong sense of responsibility, the idea of "building kindergartens" gradually became clear in the mind of Chen Renjie. In 2012, the county's fiscal revenue was only 8 million yuan, which was far less than the collective economy of a developed village in eastern China. Early childhood education was also almost nonexistent.
In order to fill this gap, Chen Renjie wrote down detailed plans for building kindergartens with reliable data and specific, realistic examples. This happened to coincide with CITIC Securities' use of the Aid Tibet platform to expand its Aid Tibet projects. Plan it well, and then do it. Taking responsibility for the nomads, for the children, and for education, Aid Tibet workers asked a design company and a construction unit from the Aid Tibet Program to build safe and comfortable kindergartens that respected local ethnic customs and characteristics. At the same time, in addition to building the school, they dealt with continuing problems like the schools' teaching contents, the three meals of a day, and teaching staff, all of which were part of the project of building kindergartens. Solving these issues, they were finally able to build kindergartens that would serve as examples for village-level kindergartens on the plateau.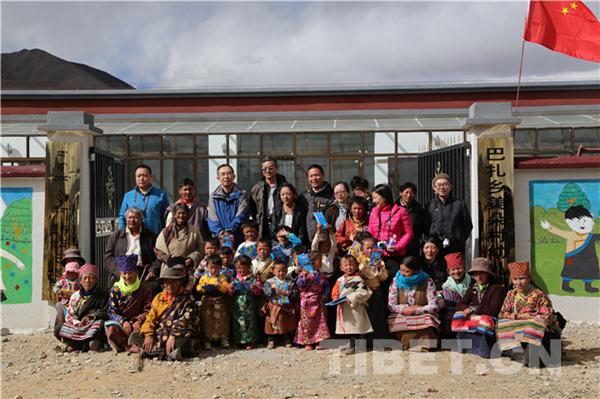 Local children wear their best clothes at a ceremony for the completion of the Badrak Township Medog Village Kindergarten.
On the day that the Badrak Township Medog Village Kindergarten was completed, the sky was blue against a backdrop of snow-covered mountains, and children and their parents dressed in their best clothes as if for a festival, joyously participating in the opening ceremony. With the sound of firecrackers and warm applause from the audience in the background, a plaque announcing the Tibetan-Chinese Bilingual "Badrak Township Medog Village Kindergarten" shone in the sunshine.