Eco-conscious people in an ecological village
Zamtang Community
Tashi, who is working out on the community fitness equipment, is 75 years old now. He is local to Zamtang community, and has witnessed the great changes that have taken place here. When he was 13 years old, he left his monastery during the democratic reforms. Afterwards, his life gets better and better. "I am a farmer, but everyone says that my life is now like a retired cadre," Tashi said happily.
Tashi
In 2013, Zamtang Community in Nedong district, Lhoka prefecture, Tibet was rated a ecological village with unique tourism resources. Famous Lhoka scenic spots such as Tsegyur Stupa, Shita Monastery, and Yulakang are all located in Zamtang. So, local people begin to make money by run businesses. For example, The Women's Home Tibetan Restaurant in the community is very popular. Yeshe is making cold noodles as she tells reporters that she now earns more than 40,000 yuan per year. Last year, her child was admitted to a Tibetan Class in Tianjin, and the village community helped pay for tuition and travel costs for him.
Yeshe
Chamgar Village
The Chamgar Village Nursery Base has ushered in another harvest season. Lhakpa Tsering, Party secretary of Chamgar Village says, "We are building an autonomous region-level ecological village." Chamgar Village Nursery Base was built in 2015. It adopts a business model of "village party branch+company+impoverished households", under which the nursery base are being contracted and leased. The annual income for the village collective increases by 100,000 yuan each year.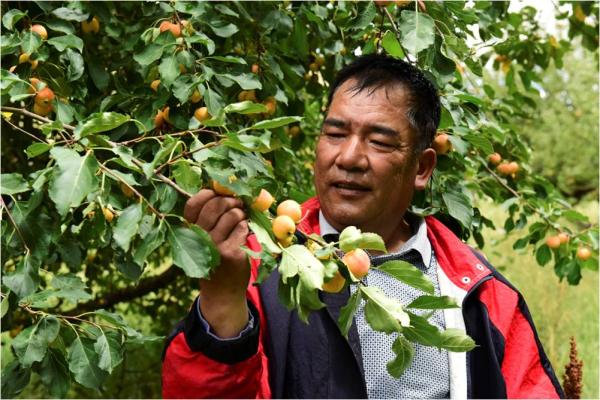 Lhakpa Tsering, Party secretary of Chamgar Village
44-year-old Lodre of the village says that in his daily work, though sometimes he feels pain in his back, he feels exhilarated and spirited when he sees the trees.
Lodre
From 2009, the village arranged for him to manage the public forests because of his talent and interest. His main responsibility is to check whether there is any deforestation caused by humans or livestock in his jurisdiction. "The ecological construction in these years has been carried out well. Every year, the village organizes afforestation activities, and wherever trees can be planted, they are." Lodre laughed, "I don't have any space left to plant even if I wanted to."
Donggar Village
Sonam Chunpey, who used to live a nomadic life, brought his family to Donggar Village in Chusum County in 2017 for a more stable life. Sonam Chunpey's new home has a clean and tidy courtyard and a spacious and bright living room. His cute little grandson is learning to speak, and he is so happy to see us that he starts dancing.
Sonam Chunpey and his family
Xialuo Village
Painter Kelsang Dawa is the youngest member of Xialuo village's choir, but he has a job, too. He often goes into the county or the surrounding counties to make indoor Tibetan-style decorations or cabinets, and he earns an income of more than 30,000 yuan per year.
Painter Kelsang Dawa
There is also a chicken farm in Xialuo Village, which was the "industry" of a university graduate who is the first one returning to his hometown Xialuo Village to start business. When we reporters enter the home of Lobsang Tsering, the latter is wearing a leather jacket and a pair of sneakers while feeding chickens in the yard. He hopes to build a brand for his village through effort.
Lobsang Tsering
Samye Neighborhood Committee
Sonam Gyatso, a resident of Samye Neighborhood Committee, earns his income mainly from a shop and two sand trucks that carry sand and gravel. In 2016, he earned nearly 600,000 yuan from transporting sand, but since May 2016, the sand and gravel plant was shut down to protect environment. At first it was difficult for him, but later, with the words "green mountains and blue rivers are gold and silver mountains", he slowly understood that environmental protection is more important than anything else.
Sonam Gyatso