Chinese Tibetologist delegation visits Latvia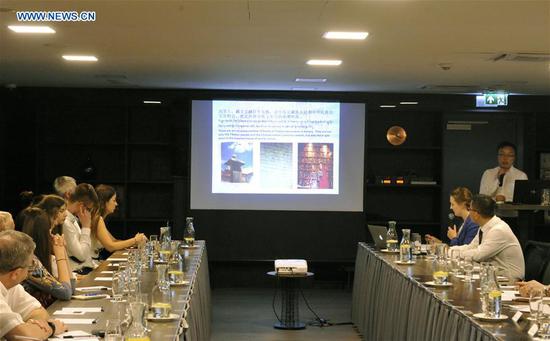 Chinese Tibetologists hold a meeting with Latvian representatives in Riga, Latvia, May 28, 2018. (Xinhua/Janis)
A delegation of Chinese Tibetologists, currently visiting Latvian capital Riga, had a meeting Monday with Latvian lawmakers, officials, academics and representatives of the public during which they provided a comprehensive insight into Tibetan history, culture and religion.
Zhang Yun, head of the delegation and director of the institute of history studies at China Tibetology Research Center, used photographic images to introduce the audience to Tibet's history, language, religion, culture and social development.
Later, other members of the delegation took over, telling how the Tibetan language is being studied, used and developed in China in four aspects: the legislative aspect, research, extensive use and comprehensive development.
They also told about Tibet's cultural diversity and interethnic unity, as well as the government's efforts and achievements to that effect.
Representatives of the Latvian side noted that the event represented a good opportunity for Latvia to learn about Tibet and expressed hope that there will be more opportunities for communication in the future.
Earlier in the day, the delegation met with Dace Balode, head of the institute for religious studies at the University of Latvia.
During the meeting, Zhang told Balode about the China Tibetology Research Center and its latest achievements in Tibetan studies.
Balode informed that the institute is still in the process of development and that interest in Tibetan Buddhist is very strong among its teaching staff and students.
Both sides expressed hope for active cooperation in the future and academic exchange through sharing resources and exchanging visits of teaching staff and students to jointly promote studies in Tibetology.
The delegation arrived in Riga on Sunday for a three-day visit.