Plateau wolfberries aim at high-end markets
Photo shows just-picked wolfberries from the Eco-Tourism Industrial Park in Bainang County, Shigatse, southwest China's Tibet. [Photo/Economic Daily]
The Wolfberry Eco-Tourism Industrial Park in Bainang County, Shigatse, southwest China's Tibet has an area over 15,000 mu (100 hectares) and a total investment of 298 million yuan (45 million US dollars). Its main purpose is wolfberry cultivation, making dried wolfberries and wolfberries tea leaves, and the research and development and deep processing of wolfberry enzymes. Right now, the picking period has already begun for a portion of the wolfberries in the park.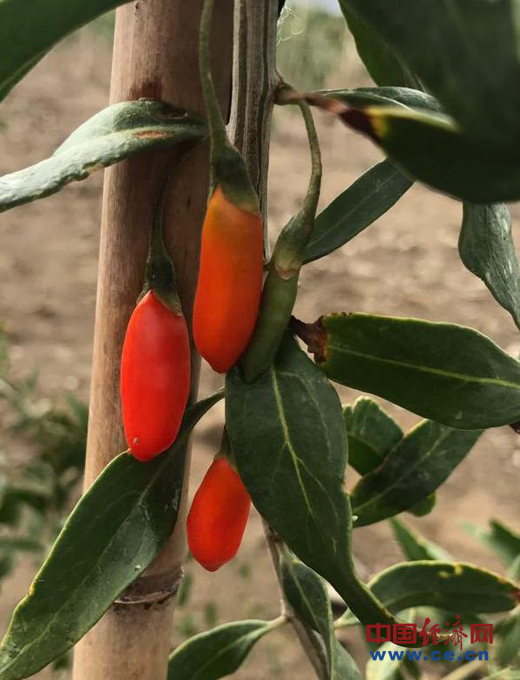 Photo shows some wolfberry trees already have full, red, and mature wolfberries in the Wolfberry Eco-Tourism Industrial Park in Bainang County, Shigatse, southwest China's Tibet . [Photo/Economic Daily]
Because the planting season does not begin until April, only a few trees have produced fruit that can be picked right now, but they cannot enter the market until this time next year, when their quality and yield will have significantly improved.

Why choose to plant wolfberries 4,000 meters above sea level on the snowy plateau? One official person in charge said, "We have been conducting agricultural research and development in Tibetan regions, for example on pastureland grass, fruit, etc., and the results found that Tibet is particularly suited to planting wolfberries. They don't require greenhouses and can be planted directly outdoors. Because the plateau doesn't have air pollution, the quality of the wolfberries grown here can be first or second in the world. We can grow a very good quality wolfberry."

After a survey here Ffrom August 7 to 9, experts concluded that the quality of the Tibetan wolfberry is unique due to the unique geographical location and climate conditions here. A decrease in wolfberry plant diseases and insects combined with the pollution-free high plateau means the area is suitable to the development of wolfberry cultivation, and wolfberries can be chosen for high-end markets.