Tseyang's Journal:Earthquake survivor opens a restaurant in Zhangmu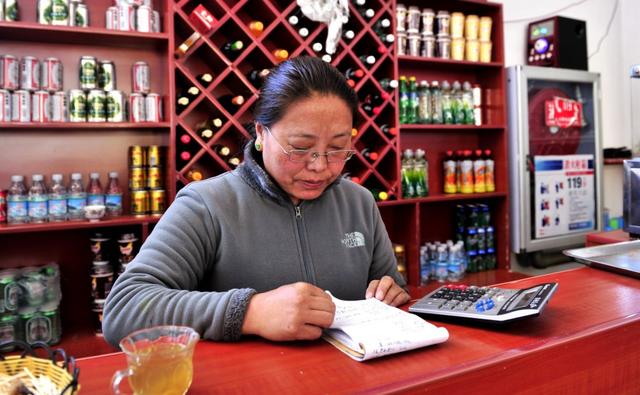 Fifty-year-old Tseyang is a new resident in Shigatse City, Tibet. She has lived in temporary housing since the earthquake. Her old home and land are in Zhangmu Village of Zhangmu Town, bordering Nepal, which is at the end of Road 318 toward the Southwest, about 500 km of mountainous miles.
The major earthquake on April 25th of last year seriously damaged Zhangmu Village. The whole village had to be evacuated. Tseyang, along with 545 village families, a total of 1,851 people, were relocated. First they moved to Lhatse County, then on October 20th, they settled down in Zhangmu District inside Shigatse City. It was the first time many villagers had been to a big city, and they had to get used to everything.
In November, Tseyang convinced a few housewives to start a restaurant, calling it the Zhangmu Women's Association Namaste Restaurant.
"I was the head of the women's association in Zhangmu Village." Tseyang said. "Namaste is Nepalese for hello, same as Tashi Deleg in Tibetan and Ni Hao in Chinese. We new settlers have to find employment, we can't wait around for handouts."
"How is it? This is our home cooking." Tseyang watched as the reporter tried the beef combo meal. "We haven't worked in restaurants before. I was just a civil servant." The Nepalese style meal cost 35 yuan.
Tseyang said, thanks to the 30 thousand yuan in renovation fund from the village outreach squadron with the People's Hospital of Tibet Autonomous Region, they were able to open this business. The rent and tax are all free, and they made money their first month. The restaurant gives the village association 2,000 yuan/month and also donates 200 yuan to needy women.
The restaurant is inside Zhangmu Mall; its main clientele are business employees and customers of the mall. The mall opened on June 25th, 2015, and was the government's way of helping earthquake survivors from Zhangmu, a major border trading town, recover. There's 550 daily visitors, and over 1000 people visit on the weekends.
"We split our earnings four ways." Tseyang said. Every investor makes about four to five thousand a month, with at least two thousand a month in income. Hanging over the restaurant entrance is the banner, "Earthquake is ruthless but people are not; Blessed to have help from around the country."
They feel blessed and are also motivated to innovate. Several months after the opening, Tseyang grew more ambitious. "I want to expand and open a branch in the city." She explained that Zhangmu District has over 100 women over 40 who couldn't find work as easily as younger people.
"I want to get them all started as entrepreneurs. Nepalese restaurants are the best choice right now since housewives don't need training to cook popular dishes. There's a dozen villagers interested already." Tseyang seemed full of confidence.
Zhangmu Mall is about three to four km away from downtown. "This is still too far from the city and doesn't get enough traffic. But opening restaurants in the city costs more in transfer fees and rent, we would need a bank loan." Tseyang said.
She has done the research. There are five Nepalese restaurants in the city, so there is room for growth. Tseyang was confident about the restaurant partnership and housewives' business ventures. "I want to get a loan of 200 to 300 thousand yuan. I can definitely pay it back in two years."
When talking about the "Women Eradicating Poverty" movement, Tseyang, a Party member of three years, was excited. "I'm starting the business but need funding. If government policies can help me be the debt guarantor, we can save on or not pay loan interests at all, that'd be fantastic!" Tseyang smiled.