Qinghai-Tibet Railway tourist train sets off
Passengers are passing the "Star City" tourist train as it's about to embark on its first trip
On June 24, the Qinghai-Tibet Railway Company's "Star City" Y965/6/7/8, Y966, Y967 and Y968 tourist trains set off on their first trip.
The train set off from the ancient plateau city Xining (Qinghai provincial capital) towards Delingha, Qinghai's second largest city. The journey lasted two days passing eight scenic spots on the way, including Qaidam's thousand-acre wolfberry garden, the alien ruins, Chaka salt lake and others. The train has distinctive ethnic features and is decorated with the famous natural landscape of Delingha.
Train conductor Liu Jing said that there are poverty alleviation counters on the train where they sell pure green products from poverty-stricken areas. Li Chunsheng, mayor of Delingha, said that the opening of the tourist train is an important milestone for improving the Delingha tourism environment and improving the convenience of tourism.
Train attendants are waiting as passengers are boarding.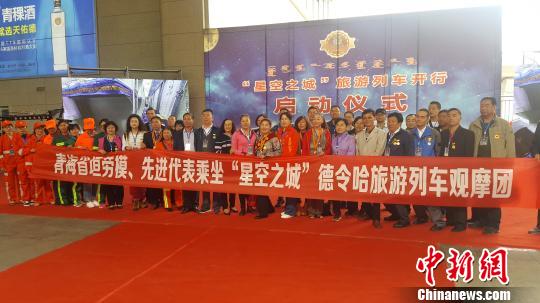 It is understood that free health examination was offered to 60 people including model workers, sanitation workers, teachers and students from special education schools on its opening day.
A Leader unveils the first "Star City" train.