Tibetan border town holds first Rhododendron cultural tourism festival
On May 1, Yadong County in Shigatse, Tibet, ushered in its first "Yadong Himalayan Rhododendron Cultural Tourism Festival". The County is reputed as "the most beautiful border town on the Qinghai-Tibet Plateau".
Plateau rhododendrons do not flower for very long, from the middle of April until the end of May. Places such as Yadong County in the southern foothills of the Himalayas have the highest concentration of rhododendrons.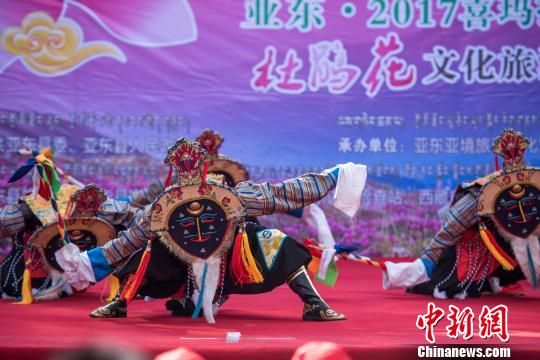 A Tibetan opera performance at the opening ceremony of the festival
"Yak Dance" from the Yadong County traditional folk dance troupe performed at the opening ceremony of the festival.
Rhododendrons bloom all over the mountainside in Yadong County.
Visitors at the opening ceremony of the Tourism Festival