Yulong Snow Mountain is the landmark of Lijiang and a beautiful backdrop for other tourist attractions around the city in Yunnan province. [Photo by Zhang Wenyin/For China Daily]
Majestic mountain views, an excellent stage production and a fascinating local culture make a visit to Lijiang a trip to remember, as Guo Yali discovers.
It was my good fortune that it snowed two days before I arrived in Lijiang in late January. Not only was it sunny and warm by the time I arrived, but I could see the snow-capped Yulong Snow Mountain glittering magnificently in the sun against the bright blue sky.
We set off at 9 am after a relaxing breakfast at the Grand Hyatt Lijiang's Lakeside Restaurant, from the window of which I had been admiring the mountain. After a half hour drive north in the hotel bus, we arrived at the foot of the mountain, known as the Jade Dragon Snow Mountain in English.
The bus navigated the winding road through forests of spruce and pine trees to the cable car station, which is situated in the forest at an altitude of 3,356 meters. The tour guide advised us to inhale oxygen along the way while enjoying the changing views - starting from green forest at the bottom to the rocky mountain top.
Impression Lijiang is a grand spectacle staged in the open coliseum-style theater and features a cast of 500 farmers. [Photo by Guo Yali/China Daily]
Most people will not feel any discomfort in Lijiang, which is 2,400 meters above sea level, but many do get some symptoms of altitude sickness - dizziness, nausea, vomiting, difficulty breathing, headache, chest tightness, palpitations or blue lips - when they take the cable car to near the top of the mountain, the highest peak of which soars to 5,596 meters.
It takes 20 minutes for the cable car to ascend to the upper terminal at 4,506 meters above sea level. And it is a true test if stamina to climb the remaining height before reaching the 4,680-meter viewpoint, which is as high as tourists are able to go.
The remaining 174 meters is not as easy as it sounds. Along the plank path, people were climbing at different paces. I stopped several times for a rest and some oxygen, and, of course, to take some photos. The views were spectacular, especially as the sun was shining and the sky was a clear, bright blue.
Even so, I almost gave up at the last few steps because of a tight chest.
There is a sense of accomplishment upon reaching the viewing platform with its stone indicating the height of 4,680 meters. The majestic views lifts the spirit to even greater heights.
A 20-minute cable ride takes tourists to 4,506 meters above sea level on the Yulong Snow Mountain. [Photo by Wang Hongyu/For China Daily]
Showtime
After a quick meal of yak meat hotpot at one of the restaurants back down in the park, we walked to the nearby Ganhaizi Lanyuegu Theater for the next grand spectacle - Impression Lijiang.
The second of a series of outdoor shows co-directed by the film director Zhang Yimou, with Wang Chaoge and Fan Yue, Impression Lijiang was first performed in 2006 after two years of preparation. A cast of 500 local farmers, from 10 ethnic groups from 16 nearby villages, present the beauty of their ethnic cultures during the 60-minute show in the open coliseum style theater, 3,100 meters above sea level.
The show is divided into six parts: the local people's lives along the ancient tea road, the bold and unrestrained ethnic drinking customs, a beautiful but heartrending Naxi love story, the Datiao dance, and the drum dance for worship and sincere prayers for blessings for all.
The most impressive and moving part for me, was the telling of the legend of Yulong Third Country. The Naxi people traditionally believed that if a young couple committed suicide for love at the Spruce Meadow on the Yulong Snow Mountain, their spirits would enter the third country of Yulong and receive eternal happiness.
At first I did not realize it was tragically beautiful, but the narration of the legend left many in the audience sobbing, as the couple eventually disappear between earth and sky.
The praying for all, in which the performers and audience all stand up and raise their hands to their foreheads, brings the show to an end.
"This is a place of magic. Heaven answers when you call, and the Earth answers when you call ... Make a wish and we sincerely pray in front of the majestic Yulong Snow Mountain for you who come from afar. We pray your wishes will come true and we pray for the blessings for you."
I found the ritual deeply moving, my heart was touched and I too found tears in my eyes.
Souvenir shops line streets in the Old Town of Lijiang. [Photo by Wang Hongyu/For China Daily]
Three old towns in one
The Old Town of Lijiang is a World Culture Heritage site that actually comprises Dayan, Shuhe and Baisha old towns.
Boasting culture, history and natural beauty, the Old Town of Lijiang was first built in late 13th Century by the ruling Mu family as a trading spot along the ancient Tea and Horse Road connecting Yunnan province and Tibet.
Walking is the best way to explore the cobblestone streets lined with wooden houses with black-tiled roofs.
Boutiques and stores line the streets selling hand woven cotton scarves, ethnic embroidery, clothes and silver jewelry, copperware and flower cakes.
Settling into a good vantage point on Shizishan, a small hill above Dayan Old Town, offers the opportunity to take in some grand panoramas of the numerous well-preserved Naxi buildings.
Once back in town, there are plenty of bars to go for a drink, music and perhaps a little romance when it gets dark.
However, many people complain Dayan is too crowded and commercialized today, and I preferred Shuhe, about 4 kilometers north, which is equally prosperous, but more peaceful and easier to explore.
Tian De Neng cafe in a quiet courtyard house in Shuhe is a good place to relax after you get tired of souvenir shopping. Tian De Neng was the Chinese name for the French missionary who first brought coffee plants to Yunnan in the 1890s.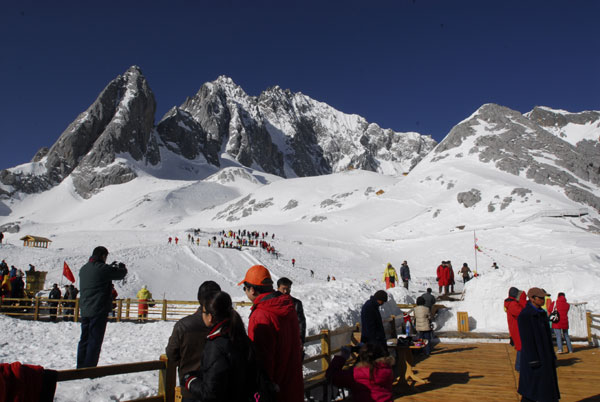 Snow-capped Yulong Snow Mountain.
For lunch or dinner, you can just pick a local restaurant to try some of the famous regional dishes, such as preserved rib hotpot. Large pieces of preserved pork meat can be seen hanging from the ceiling in most of the restaurants serving local cuisine. And some even keep a whole preserved pig.
Baisha, which is about 5 km north from Shuhe, is mainly one long street, and is for those who want a more authentic taste of local Naxi life. There are also vintage shops, but mostly run by local residents who quote much more reasonable prices.
We walked past Dr Ho Shi-xiu's Jade Dragon Snow Mountain Chinese Herbal Medicine Clinic and tried to visit, but were shooed away because a woman was describing her personal problem to the healer. But I could not help finding out the story of this 92-year-old legendary doctor, who was born in Baisha, studied English in Nanjing in the 1940s and has become a legendary herbalist. He was introduced to the outside world by the writer Bruce Chatwin, and since then he has become an international celebrity, visited by admirers from local villagers to Western royalty.
A coffee break at Mr Yang's House, also brought surprises. At first I thought Yang was just a local farmer who owns a house on the street, but he turned out to be a retired police officer who also studies the Naxi culture in his spare time. He has published essays about Naxi culture and customs in many publications.
A piece I picked up was about the love suicide tradition of the Naxi people, which reminded me of the love story in the Impression Lijiang show.
Breathtaking Lijiang
Updated : 2017-02-21
(China Daily)
If you go
There are direct flights from Beijing, Shanghai, Guangzhou and other major Chinese cities to Lijiang Sanyi Airport. It is about 35 minutes from the airport to the city by taxi.
There are also trains between Lijiang and Kunming, the capital of Yunnan province.
Where to stay
Grand Hyatt Lijiang
Combining traditional architecture with contemporary facilities, Grand Hyatt Lijiang offers character and comfort at two locations - one within walking distance of Shuhe Old Town, the other at the foot of Yulong Snow Mountain.
Address: No 8 Xiangjiang Road, Gucheng district, Lijiang.
Tel: 888-5311-234.
Web: http://lijiang.grand.hyatt.com
The InterContinental Lijiang Ancient Town Resort
Old world opulence and modern luxury combine at Intercontinental Lijiang Ancient Town Resort, which is situated near the southern gate of the Dayan Old Town.
Address: 276, Xianghe Road, Old Town district, Lijiang.
Tel: 888-5588-888.
Web: www.ihg.com/intercontinental/hotels/gb/en/lijiang/ljgac/hoteldetail/about-the-hotel
Banyan Tree Lijiang
Spa resort, recently recognized by EarthCheck for its environmentally friendly practices, offers a variety of luxurious villas including one- and two-bedroom accommodation, with private gardens and plunge pools.
Address: Yuerong Road, Shuhe Gucheng district, Lijiang.
Tel: 888-5331-111.
Web: www.banyantree.com/en/web/banyantree/cn-china-lijiang