International visitors: One look at Tibet is worth a thousand words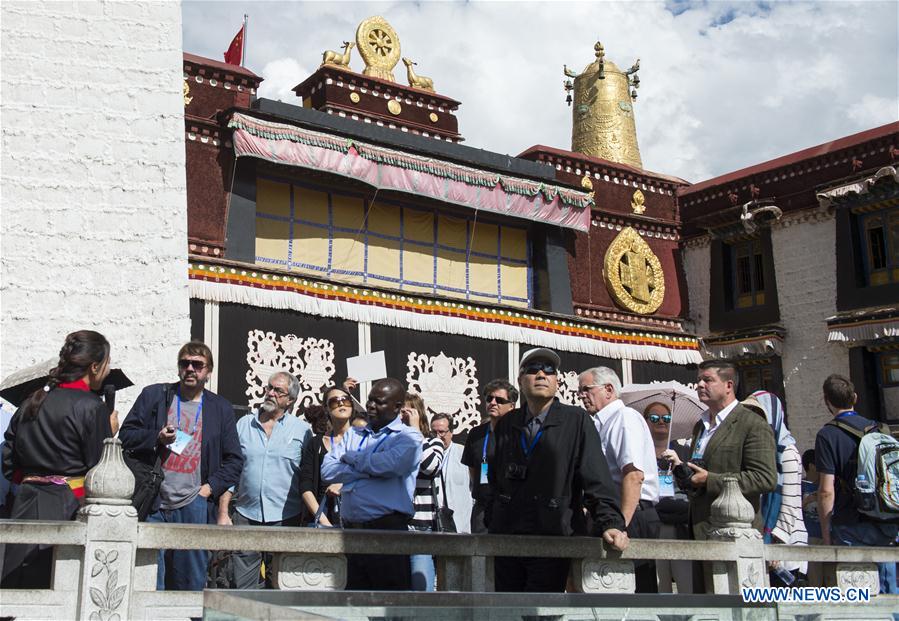 There is a Chinese proverb which says, "One look is worth a thousand words." Liljana, a researcher with the Asia and Africa Research Center of El Colegio de México, has found Tibet to be very different from what she has heard.
The "2016 Tibet Development Forum" is about to commence in Tibet. The 100-plus guests in attendance are visiting and researching in Lhasa and Lhoka of Tibet on July 4th-6th.
When talking about Tibet, Liljana said she has often wanted to visit this mysterious holy land, but she "knew nothing" about what the place was actually like.
In Liljana's view, China has not introduced Tibet to the overseas audience very much in the 80s and 90s, but there have been more and more materials about Tibet's sights, ethnic customs, architecture, religion, etc. in recent years, "there's plenty of materials."
Before she came to Tibet, what she knew of Tibet came from the Sichuan Tibetan writer Alai. "I really like his writing, he made me understand the distinctive character of Tibetan thinking." A while ago, Liljana has finished the English translation of Alai's book, "The Silversmith in the Moon."
"Wow!" "Is it real?" While visiting Samye Monastery on July 5th, Liljana was curious about every Buddhist statue and wall painting. She could not believe the monastery was built more than 1200 years ago and still in great shape.
Samye Monastery is located in Samye Village and Chatang County ofLhoka, Tibet. It is the first monastery combining the Buddha, the dharma, and Buddhist monks in Tibet. The temple honors multiple Tibetan Buddhism traditions, including the Nyingma, the Sakya, and the Gelug.
The tour guide said the word "Sakya" means "different from expected" in the Tibetan language. Liljana said, "That is what I felt on this trip too, it is beyond my imagination and expectation."
Jim T. W. Stoopman, a Dutch visitor, spent four months in Tibet six years ago, traveling to as far as Zhangmu Port in Shigatze. On July 4th, while he visited the Barkhor Street in Lhasa, he marveled how the place was cleaner and neater than he remembered.
"Lhasa's city planning has done a lot in the last six years, there's so many changes, I almost don't recognize it anymore." Stoopman works as a researcher at the European Institute for Asian Studies in Brussels, primarily focusing on "One Belt, One Road" research. He said that he came to the forum partly in preparation for an academic paper.
"Tibet's recent development is connected to the promotion for 'One Belt, One Road,' especially in highway construction. A trip from Lhasa that would take six, seven hours before would take only two to three hours now." Stoopman believes that highway construction has made the exchanges between regions in Tibet much easier.
Erik Nilsson, Assistant to the Director of China Daily's Special Assignments Section, fell in love with local farmers' homemade "tsamba cake" while touring Kesong Village inLhoka. Unlike other international visitors who do not know about tsamba, Nilsson is familiar with the food.
"I don't like yak meat, but I ate so much of while living in Yushu of Qinghai Province, it was part of every meal. Then I tried tsamba for the first time and loved it." Said Nilsson.
In 2010, after the major earthquake in Yushu, Nilsson went to the Tibetan area of the Qinghai Province for the first time. While he was doing special journalistic reports, he and his wife also worked as volunteers to help Yushu rebuild. Since 2011, the couple has traveled to Yushu for four straight years to work for public interest programs in Qumarlêb County, providing hot water heaters to residents and improving medical services for kids, etc.
Nilsson remembers the Tibetan region in western China vividly and is full of curiosity about Tibet, which he has never visited before.
""What you hear may be false, what you see is true.' This place is so different from what I have heard." In the two-day-long visit, Nilsson would draw and write in his journal constantly. The grand sights along the way really impressed him too. On the way toLhoka, Nilsson saw the tree seedlings planted along the road to combat sand. "I can see the priority the Tibetan government has placed on protecting the environment."
The hectic trip has not lessened the enthusiasm the international visitors have for Tibet, in fact, they felt that they are adjusting to Tibet's climate and culture.
Liljana said, "When I flew to Lhasa from Beijing, the altitude grew more than 3000 meters. And my body needed some adjustment. Now, my mind has slowed down but I feel really great."