Panchen Lama prays at Jokhang Temple in Lhasa
On the morning of July 27, the 11th Panchen Lama Bainqen Erdini Qoigyijabu prayed before the statue of Sakyamuni Buddha inside Jokhang Temple in Lhasa, capital city of southwest China's Tibet, and blessed the monks of the monastery by touching the top of their heads.
At 5 a.m., the Jokhang Temple in the center of Lhasa was brightly lit by butter lamps. Monks from Ganden Monastery, Drepung Monastery, and Sera Monastery waited at the doorway of Jokhang Temple for the Panchen Lama's arrival, and a team of monks holding dharma flags lined up on both sides of the temple doorway leading to the main hall of the monastery, which is one of the highest honors in Tibetan Buddhism.
At 5:30 a.m., the Panchen Lama and his entourage arrived at Jokhang Temple. At the same time, the sound of dharma trumpets and gongs rang out. As monks chanted sutras, the Panchen Lama was led slowly into Jokhang Temple by high monks carrying incense burners and blowing suona horns, a kind of woodwind instruments. One by one, they stopped to pray inside the Ganden Lhakang (temple hall), the Hall of Avalokitesvara, and others. Everywhere they went, the Panchen Lama chanted scriptures, prayed devoutly, and presented khata scarves to the Buddha statues.
Then, the Panchen Lama came to the statue of Sakyamuni Buddha. With his hands pressed together, he solemnly worshipped the Buddha three times, presented a khata scarf to the statue and spread gold powder on the Buddha's face.
According to historical records, the Sakyamuni Buddha statue inside the hall is a figure of the 12-year-old Buddha brought by famous Princess Wencheng in Tang dynasty when she came to Tibet.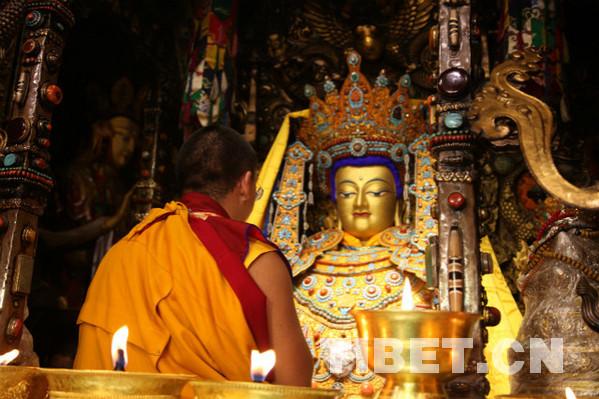 Photo shows the Panchen Lama presents a khata to the statue of Sakyamuni Buddha and spread gold powder on the Buddha.
Afterwards, the Panchen Lama sat on the throne over against the statue of Sakyamuni Buddha. Facing the statue, he led monks in chanting sutras and praying for world peace and national prosperity.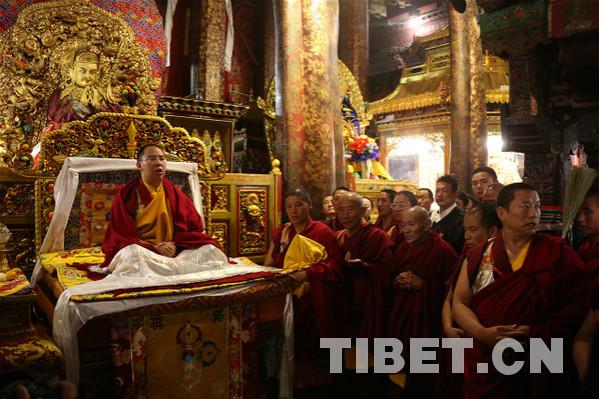 The Panchen Lama and monks chant sutras.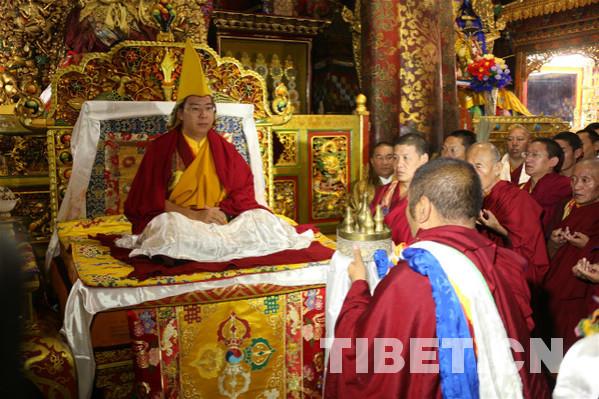 At 6 a.m., in accordance with Tibetan Buddhist traditions, high monks of Jokhang Temple offer auspicious Manja to the Panchen Lama.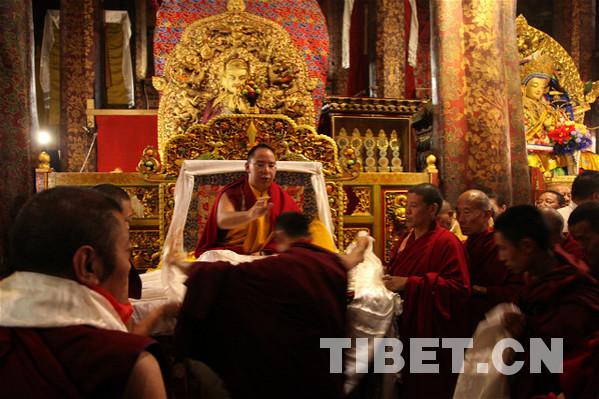 After the prayer, the Panchen Lama blessed the monks of Jokhang Temple. 
Monks of Jokhang Temple line up and wait to be blessed by the Panchen Lama.