Craftsmen from Tibetan-inhabited areas in SichuanⅡ
Tsega
Tsega is a 44-year-old weaving craftsman who comes from Jiagan village, Puma, Dege County, Sichuan.
She learned how to sew from a young age with her mother and while living the herding life learned how to sew traditional shepherd pendants and accessories, such as horse head ornaments, yak wool rope and other shepherd daily supplies.
In 2001 Tsega officially joined the Ziwu team and is responsible for making Ziwu handmade accessories. She has already become a senior creator for Ziwu custom accessories and has nine local female apprentices.
Tashi Namgyal
Tashi Namgyal is a 82-year-old black pottery teacher. "When I was a child my parents often said that black pottery craftsmanship can not only maintain personal livelihood, but poor and rich people alike can't live without black pottery products. Like a shepherd eating tsampa, my life has always had black pottery. Living accompanied by black pottery craft is very a gratifying and warm feeling."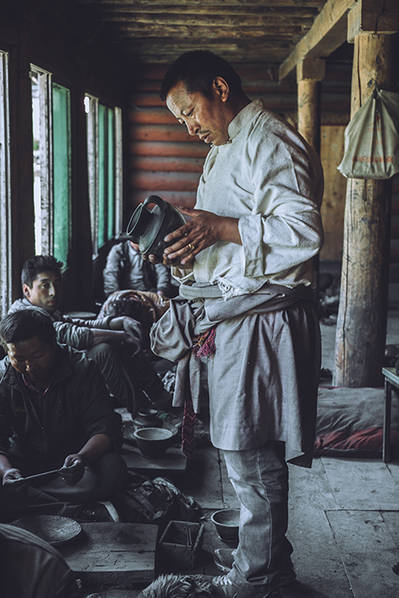 Jamyang Geleg
Jamyang Geleg is a 40-year-old black pottery teacher.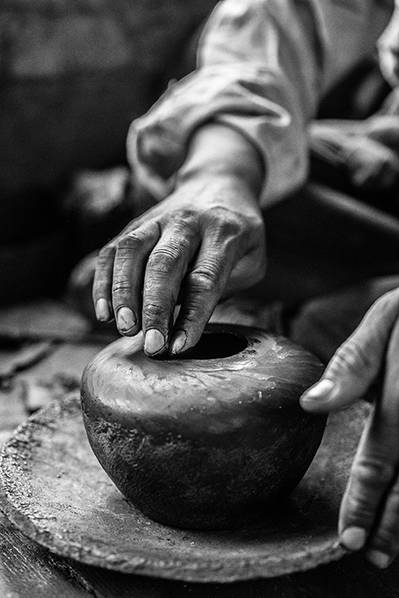 Before the age of 16 Jamyang remained at home herding. His father was a black pottery craftsman, but learning this craft wasn't down to him or his father. One day teacher Phuntsok told his father: If your son doesn't inherit the black pottery craft, this valley will no longer have anyone that has mastered the craft of traditional black pottery. It is for this reason that Jamyang Geleg started learning how to make black pottery.
In 2009 he became one of his father's black pottery teachers and in the years that he's been teaching he hasn't deliberately been to recruit students, but still has a steady stream of villagers studying black pottery craft.
Bolo
Bolo is a 54-year-old blacksmith teacher. It wasn't through is parents' coercion that he first came into contact with this craft; he naturally followed his own interests and learned from his uncle Tashi Dorje.
Before the age of 25, Bolo had made Tibetan traditional jewelry for men and women and was responsible for the forging work on the temple's golden roof. Nowadays, Bolo's main source of income comes from working on temples such as Gonchen Monastery, Dzongsar Monastery, and monasteries in Lhasa, Chamdo, Hongyuan, Ngapa and other regions.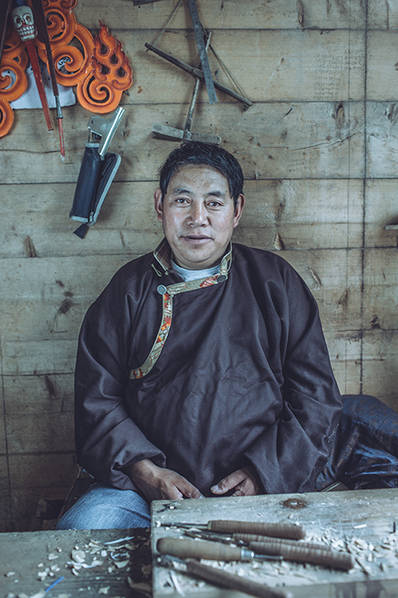 Tsewang Phuntsok
Tsewang Phuntsok is a 51-year-old wood carving teacher.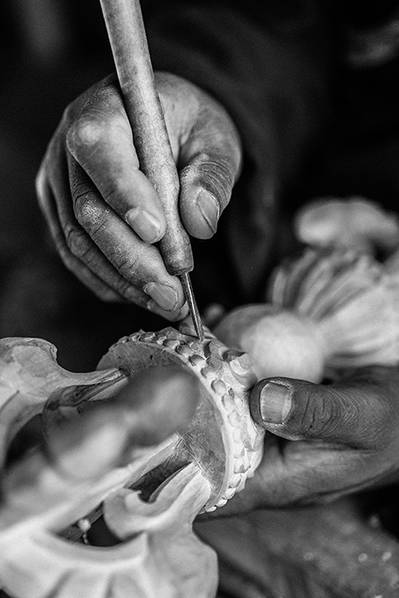 From the age of 18 he studied painting, architectural painting and other forms for six years.
Maisu wood carving craft is known to be the best, so Tsewang was concerned about its heritage. Many of his students are now living in other places, but when a client makes an order he draws the model on a wooden board and sends it to his students so that they can make customized wood products based on these samples. This not only ensures that the students have a source of income, but also that the long tradition of wood carving is passed down.
Tsewang Phuntsok has been teaching the craft since 1997 and has taught a total of more than 90 students, most of whom come from Maisu and Baiyu in Sichuan, Regong in Qinghai, and Gannan Tibetan Autonomous Prefecture other places.
Dawa Drakpa is a 25-year-old copper casting teacher. "When I was a child I often picked up white stones called 'Xieduo', then I would lie on the concrete floor at home and doodle on the dark stones. At the time it was hard to buy a pencil and notebook so my trousers were often ruined by the rough stones. My mother would blame me for being a naughty boy who likes to paint."
Maisu copper casting was passed down in the 19th century by Dzongsar Monastery's first Dzongsar and is also the only Tibetan area to retain and pass on this most complete and exquisite Tibetan craft.